You open a new video game with brand new, state-of-the-art graphics. The game let's you get a few steps in, maybe you kill a thing or two and then it asks, "Hey! Who are you?". Then, you spend the next three hours of your life perfecting useless tattoo details on your character that you can't even see under your armor. This is what we know as "character creation."
But in 3DX, that armor isn't a problem. We're all going to see those tattoos. But because 3DX is such a unique medium, we're also going to see her personality or lack thereof. Making your ladies beautiful is always going to be the highest priority. It doesn't mean it should be the only priority. A set attracts more attention if the characters are more relatable and likable. With those two traits, it'll also be memorable and that's what everyone wants, right? Characters to remember and imagine vividly while masturbating.
Common Denominators
When we think of traditional porn, some common stereotypes come to mind. Some common ones might be, "oh no, I can't pay the super hot pizza guy" or "fuck me in the shower while my oblivious husband gets ready. He won't notice!". These things are overplayed and cheesy but there are some common 3DX archetypes that are getting just as much use. 3DX is not a tabletop RPG. You don't have to pick a type and class of character when you decide to include another woman in your 3DX worlds.
Some of the common archetypes I've seen can be classified under the titles adventurer, innocent, and the aggressor.
The adventurer

plays off the idea that an independent woman faces defeat or danger as she explores instead of welcoming the advances of certain monsters.

The innocent

comes from 3DX's origin story in hentai and animation. This kind of character is timid and hesitant. Sometimes she hands herself over completely to her lust, but she never initiates sex.

The aggressor

comes from the land of traditional porn. It puts at least one of the women in the situation into a "teacher" role. But sometimes it also makes how much this character wants sex to be intimidating.
Many women are sexually active before the age of 18. They know what kind of sex they like and often don't fit into the three archetypes I see so commonly depicted. Humans are sexual creatures and I find that that kind of burning curiosity is lost when you fit a character into an archetype like the ones I've mentioned.
Classic vs. Single Edition
Another thing I've noticed that's fairly common in 3DX is a preference for either Eastern Asian or Eastern European looks or entirely non-realistic cartoonish girls. In a recent Naughty Thoughts article, Marie mentions as a heterosexual female that, "a dickgirl isn't just a girl with a dick; she's the epitome of a girl who also has a dick. She has the perfect hips, waist, tits, hair, makeup, legs, hands, and feet that many girls want." And I agree. I think that it's fairly common to model girls after this Western ideal of beauty.
However, I think variety in female characters is important. If 3DX has something for everyone, it might be exciting to see more women that don't fit this ideal. I, myself, and not turned on at all by women who fit the classic "perfect" look. To me, it's all about that unique and exotic look. Take the below image, Mizuage by RGUS for example.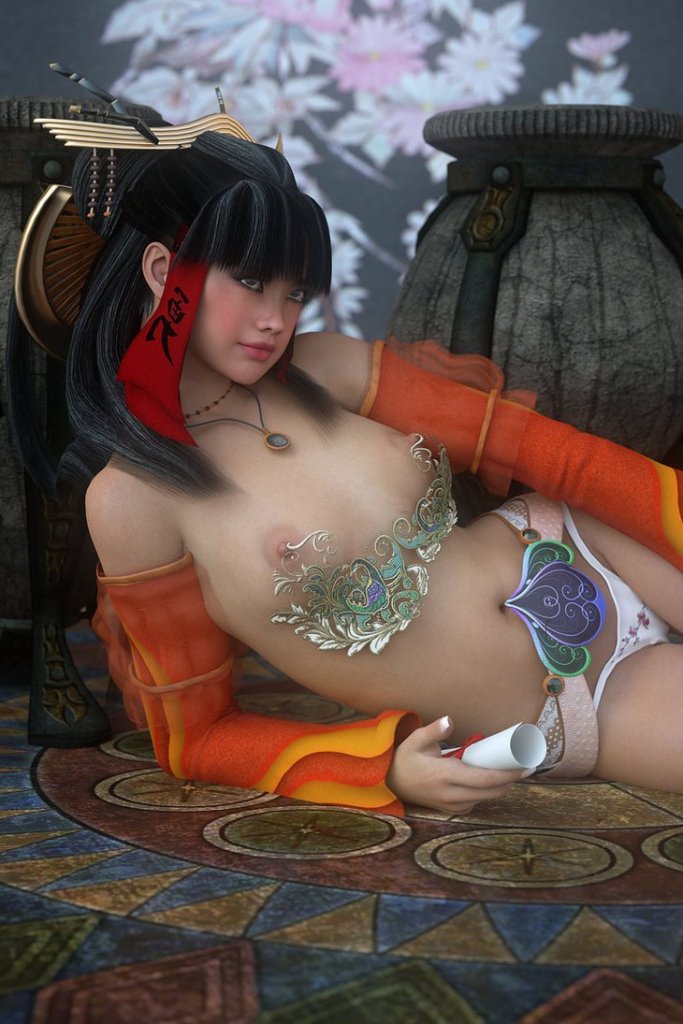 Mizuage is unique, detailed, and colorful. Her details are fun like her cherry blossom themed thong and the image continues to emphasize women as sexual creatures with that gorgeous, particular look. The relative novelty of the picture adds a chance for stand out creativity.
Let's Get Dangerous
What's more traditionally dangerous than a woman with ideas? I'll tell you what: a woman with ideas who also likes to get fucked, regularly, by different men. If you read the articles from the ladies of Affect3D, you'll notice that we're all different in our desires. Marie mentions in the above article that she can't deny a cock, it's a weakness of hers.
Personally, I like to turn over control to a very skilled and older set of hands. My fantasies lie not in dickgirls, but in sexy monsters and men in kilts. So why are the women of 3DX primarily the adventurer, the innocent, and the aggressor? I don't think Marie's or my descriptions fit into those categories. I think it's time we tried out some new roles. Female detectives, lawyers, laborers, mediums (woo, ghost sex!) might create a new ideal for the working woman. WFUTA (3DZen) and Sudden Invasion (Amusteven) bring in the female reporter, and let's not forget our female writers. We have pretty exciting imaginations!
Another archetype is the fantasy main character. She's the center of every young adult book trilogy, romance novel, female centered fantasy epic. I think the fantasy heroine really opens a lot of doors. A chosen leader whose powers could destroy the world while making horrible decisions and who also has to choose between two hot guys? That sounds like the beginning of an awesome set by set porn of a girl who enjoys her sexuality and whose magic powers and bad decisions get her into rather interesting situations.
What's important here, I think, is to be clear that what makes these archetypes new and exciting is that these women are multifaceted. They manage jobs and exciting situations as well as fit large dicks in their mouths. All the archetypes I've described require women to display cleverness, self-awareness, and an excitement about their dangerous and sexy lives. It might be more exciting to see a woman look at a monster as a challenge rather than as a threat, like you see in Velna 3.
Sugar, Spice, and Sexy
Adding personality to a character can be more subtle than making the Powerpuff Girls. It can, in fact, be really subtle. Squarepeg3D's Unconventional is a great example of this. The girls in that set are cosplaying their favorite characters at a convention, where people often feel like they can be their nerdiest, secret selves. The characters the girls have chosen say a lot about their personalities and they let their secret desires be free. Just setting up the set with two established characters with individual likes, dislikes, and sexuality adds more to it than just two girls in a bathroom. In Unconventional 1.5 goes even further into that personality by diving right into the characters' minds.
I've heard artists say before that people don't have a lot of interests in following a comic for too long. But, I think that if we build characters the right way, people would be as interested in their antics in fucking as they are in following other popular media characters. We already have some great examples in the store of well established female leads. But we need more and we need them to be interesting. They should be built first and placed in situations, not created to suit a situation. We can make 3DX a place where women are new, unconventional, and sexy as hell.
[Feature Image by DoubleDirk]