Edgar Degas, a French artist, said, "Art is not what you see, but what you make others see". Over the last few months in this column we've discussed how to better utilize facial expressions, settings, and body language. This month, I want to talk about something that involves all that and a little bit of lighting too. It's an old-fashioned classical art term called composition and, we'll give it some new life this Halloween.
What is Composition?
Composition, as defined from the Oxford Dictionary, is "the placement or arrangement of visual elements or ingredients in a work of art, as distinct from the subject of a work." In simpler terms, it means the way an artist positions the characters and lights the image is a separate structure. It's like plot and setting being different parts of a story. Composition is the concept that everywhere the eye goes in an image is a controlled and conscious aspect of the artwork.
Our eyes follow light and color, a little bit like cats with a laser beam. That means we find the brightest thing first and follow it to the next brightest thing. We follow this by moving on to the surrounding area. Then we back to the things made of light and color that drew our attention in the first place. When an artist draws our attention to something and your eyes follow a curve to the real point of the image, that's what we call curvature. An artist can hold that laser beam and control the light and color in an image. That placement allows the artist control over where the viewer looks first. They can also direct the viewer to follow a straight or curving line.
Learning to Control the Force
Ok, composition is not the manipulative energy of the fabric of the universe. But it is pretty cool and I think it has a strong place in 3DX. Every 3DX image is bought or designed, posed, and edited. "But Bianca, doesn't that mean composition is already involved in the piece?" No, it does not. It means that while every 3DX piece is deliberate, composition means that an artist could create an image with the viewer in mind. What should they notice about this first and why? How can I make them look at this piece and see what I think of as the main point first?
People are a bit like their tiny feline rulers, as I mentioned earlier. We like color and brightness and we tend to look straight ahead. So think about the image of two women standing side by side, naked. One is wearing thin gold bracelets and the other has red lipstick and tan heels. So our eyes are going to follow the colors and lighting from brightest to dimmest; from the lipstick to the bracelets to the heels. While we'd like to think we're going to look immediately at what we find sexy, that's not in our nature. We have to take what draws their attention and make it sexy.
Going back to the example, this means that we're looking from top down; from one woman to the next and then right back to the first. If this artist used composition as a technique, the bright accessories draw our eyes to the main lady of the set; that's the person we must pay attention to.
Gaining the Upper Hand
Composition is all about control and I think that it's best use is in sets. Like any essay for school or business, at some time in something that long, we may lose the point. We might find it in another few paragraphs, but it was still missing for a bit. Granted, it's hard to lose the point in a sexy set. However, it might be easy to  have just a few images here and there that lack a center focus. But if an artist can look at a piece and then ask themselves what they want viewers to see, each image can be used to a greater advantage, like the other features we've discussed.
It's also useful in making a point. Keeping in mind our earlier statements about light and color, composition can help with plot. Shining light on or adding color to something in an image that points to a big reveal or climax can help the viewer spot it first. It becomes the difference between showing a point and making sure people see the points in the proper order.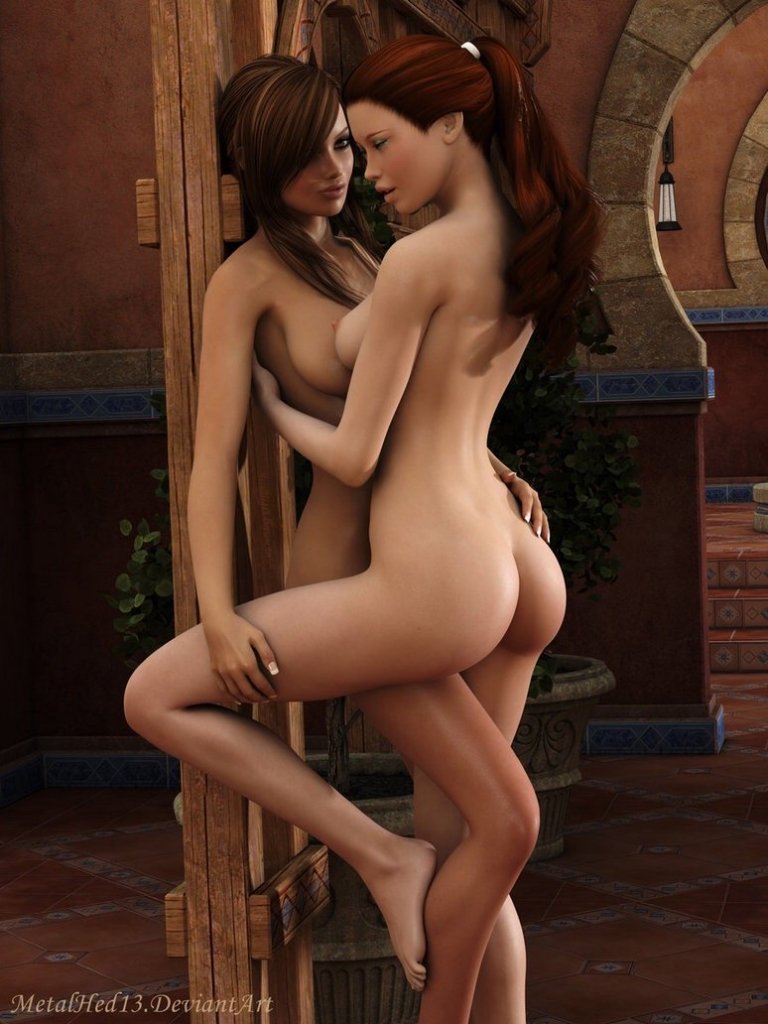 Working in Composition
So I've talked about what it is, but haven't really mentioned how you can go about doing it. You can ensure the woman or monster in an image stands out before everything else; and when that changes, the audience will be sure to notice. That's one great example of how to make these changes count in plot.
You can make sure that no image is too busy. Setting is important, but never more important than your actual subject. Instead of adding things, you can add focus points; like colorful make up and accessories or detailed genitalia as in the examples in this editorial.
By keeping composition in mind you can draw the eye to the first thing you want them to see. By changing that during a set, you can add substance to the plot or change a viewers focus on purpose. It has a significant place in 3DX and deserves consideration, even if its origin is the minds of classical artists. Let's keep in mind that they painted an awful lot of naked women, too!