As many long time fans will know, for the past few years Affect3D has coordinated a number of charity drives around Christmas. It's been nearly a year since we released our 2016 Christmas Charity Set, and today we are please to announce that in that time the set has raised a total of $2802.24. Last year we chose two charities to raise funds for, Against Malaria Foundation and Amnesty International, and today we've donated an equal portion of the total sales to each charity. If you contributed to this set as an artist or a donor, thank you! ❤️
2017 Christmas Charity Drive: Sign up now!
As the fundraising period for our last set concludes, we are now taking sign-ups for our 2017 Christmas Charity Drive. If you are an adult content creator, please consider donating your time and creative talents to our charity set. Traditionally we have released a large bundle of mini image sets, but we are open to featuring other types of 3DX media content, including animated gifs and videos, mini-games, wallpapers, and more.
Submissions are due by the end of day on December 15, 2017. You can sign up and submit anytime between now and the submission deadline, but we encourage you to sign up early so you can participate in picking and voting on charities, be included in previews and promotions, have the opportunity to collaborate with other creators, receive expert assistance and feedback, and get project reminders.
To sign up, use this form, then head over to the Charity Drive channel on the Affect3D Discord to get answers to any questions you may have or start collaborating!
More about our 2016 charities and donations
We thought we'd re-share some info on our 2016 charities, in case you forgot what they did, and wanted to better understand the impact of your donations. The Against Malaria Foundation included a breakdown on our receipt to show how many mosquito nets our donation will purchase and distribute: 561 nets to protect about 1009 people. In the future they'll also be able to update us on what countries and regions these nets were dispersed to, and we'll update this post at that time.
(Amnesty International said they would email us our receipt in a few days. We'll include it in this post once we receive it)
Against Malaria Foundation provides funding for long-lasting insecticide-treated net (LLIN) distributions for protection against malaria in developing countries. Malaria kills half a million people every year, with 400 million falling ill. Before bed nets were available, it was three or more times that.  AMF is currently the top rated charity on givewell.org, a nonprofit organization that assesses cost-effectiveness of charities in terms of number of lives saved (or improved) per dollars spent. Givewell.org's process for selecting charities, including AMF, is thoroughly outlined on their site.
The objective of Amnesty International is to conduct research and generate action to prevent and end grave abuses of human rights; and to demand justice for those whose rights were violated. Amnesty draws attention to human rights abuses and campaigns for compliance with international laws and standards. It works to mobilize public opinion to put pressure on governments that let abuse take place. The organization received the 1977 Nobel Peace Prize for its "campaign against torture," and the United Nations Prize in the Field of Human Rights in 1978. They are advocates for the worldwide decriminalization of sex work,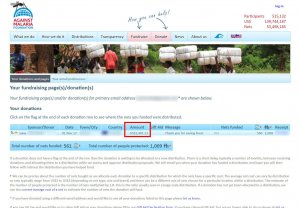 Once again, thank you to all our 2016 artists and donors! We look forward to continuing these projects in the future with your help and contributions!