Katawa Shoujo is an indie Visual Novel developed by Four Leaf Studios. It was released for free to the public and is still available on their site.
The story is of a young man and five women (these being the main characters that are romance-able), along with a support cast of characters that play less of a role in the over-all story. The main aspect of the game is that the main character Hisao Nakai has a dormant heart disease called cardiac dysrhythmia, which forces him to transfer to Yamanku High School after a prolonged hospitilization. This is the basic opening story and sets up what I consider to be the best Visual Novel I've ever played.
Let me just get this out of the way. Upon nearing release, this game got tons of flak from media sites to gaming sites, who toted this game as nothing but pure amputee porn or disability smut. Those chose to focus upon one aspect of this game and that was you can have sex with girls suffering from disabilities, completely ignoring the fact the main character also suffers from a major disability. To be quite honest, they came across as if people with serious disabilities shouldn't be able to find love, have sex or build a relationship because they're broken and should be shoved into a dark corner and forgotten about. That's what I saw at least. But let me just say this: This game is much, much more than just amputee porn. So let's take a look at what I consider the best VN ever.
Format

Since this game was, and still is, released free to the public, I shall be taking a look at the over-all format and presentation of the game. Frankly, it's one of the best looking VN's I've seen, well ever. The font is well chosen and doesn't clash with any aspect of the game. The art style and layout is damn near perfect and the option menu is more fleshed out than most big-budget VN's on the market. It's quite clear a lot of love and attention went into this game since the amount of polish the end result has shows through, even when you're playing. Everything is easy to find and looks incredible. To be honest there isn't much else to say. Just see for yourself.
The Girls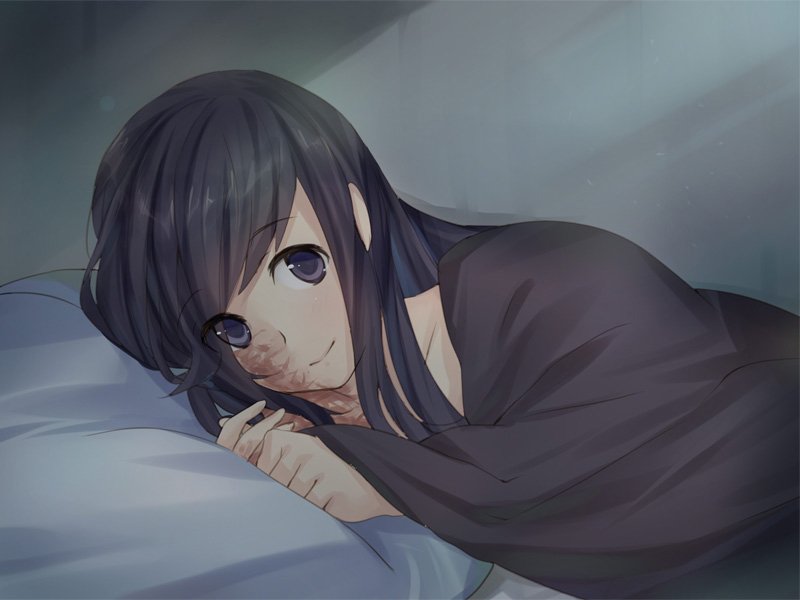 There are 5 incredible unique girls in this game, each suffering from a disability and each just trying to live a normal life. In a way, meeting these characters is an eye-opener. At first, you can only see their disabilities, but after spending hours with the characters, you don't even notice them. You literally only see the person, not what's happened to them. It's an incredible experience. Each character is very well designed, the art superb and the dialogue feels like it was written as if intended to make the characters a human as possible. You'll find none of the standard anime or manga tropes here, except perhaps for Emi, who comes across as what people might see as tsundere. Aside from that, each character has a personality behind them, and it's not a race to see who you can fuck first.
Something else to note is that the characters are very reserved, not in personality, but in art style. Nothing is over the top or over-exaggerated. Every feels down to earth and real.
Animation / Music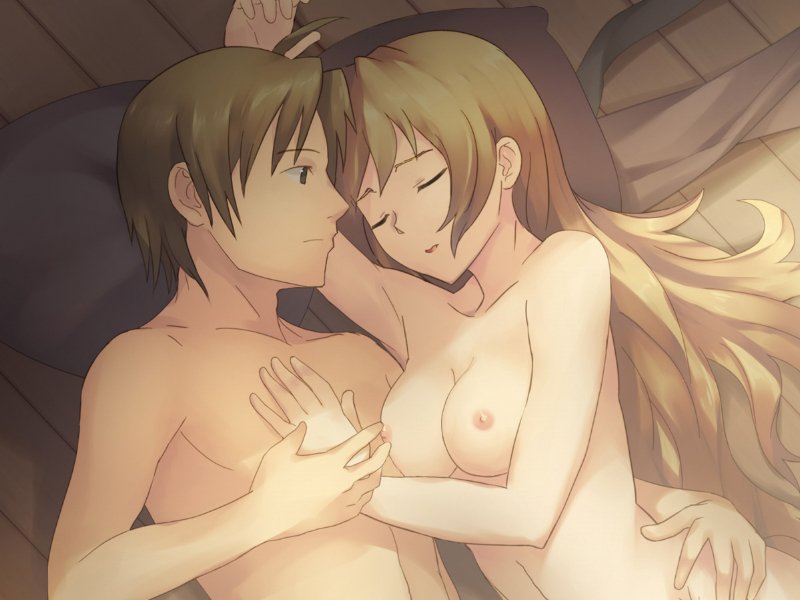 The music is some of the best music I've ever heard in a VN. Aside from some major big budget ones that is. It's subtle, gentle, and damned if I don't get teary eye'd every time I hear the opening song. Without the music, the story would feel like something is missing. Thankfully in this case, it isn't, and it mixes in perfectly. If I had to say anything bad, is that the "comedy" music seen when the other shut-in guy appears is a little off, at least for my ears. It feels like a huge contrast to the gentle music we hear through-out most of the game and takes you out of the immersion just a touch.
The game also has some sound effects, and while these are very welcome, if they disappeared, it wouldn't be the end of the world for me.
Katawa Shoujo features some pretty damn good animation, with an opening and ending animation for each of the 5 major characters in the game. It's nothing sexual. It's more along the lines of showing how the main character has impacted the girl in question, and how their relationship has developed. It could use some work, but since this is an indie game, I won't mark the game down for this.
Story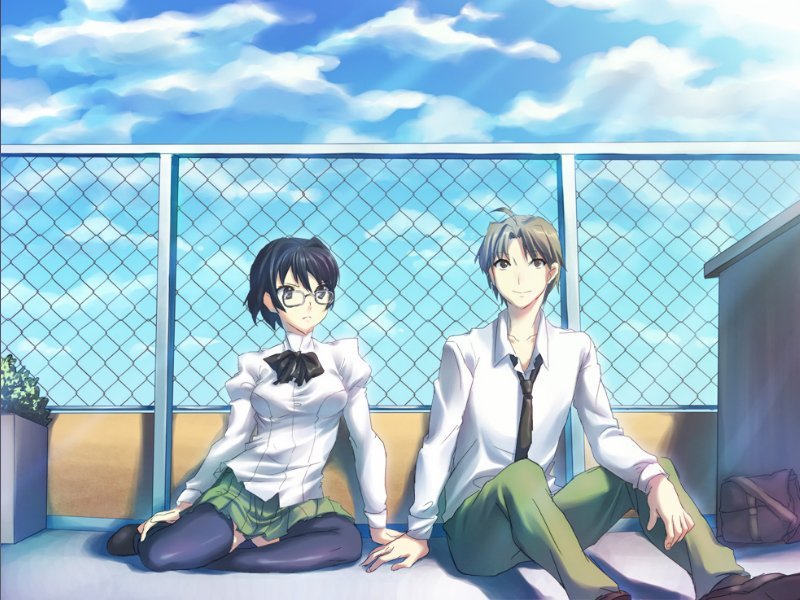 As stated above, the main character, Hisao Nakai suffers from a dorment heart condition known as cardiac dysrhythmia, which places him in Yamaku High School for disabled children. The five main characters, Emi, Hanako, Lilly, Rin and Shizune, each play a huge part in the opening of the game until the player decides which one to pursue (yes, even this isn't different than a VN). The major difference in this game that separates itself from any other VN is the sheer emotion and personality the game brings. Emi is head-strong and full of energy, Hanako is incredibly shy, Lilly is reserved, Rin is subdued yet strong and Shizune is out-going. Each character's story had me in tears at the end, so while this is a review, I won't be saying much about what happens, because I truly feel there isn't words to describe what you go through, it's something you have to play to experience.
The elephant in the room also needs to be addressed. The game has fundamentally changed how I view the disabled, mainly by the fact that they aren't "the disabled" anymore. They're people, unique and different as you or me. When I first played this game, I could only see the disabilities, something I'll admit freely. After 3 hours of playing, it wasn't "the girl without feet" or "the blind one". It was Emi or Lilly. You learn to look past their disabilities and see the person as they are. This is where the game becomes one of the most interesting and unique games I've ever played. It changed how I view the world and I can't say that about every game I play.
Sex Scenes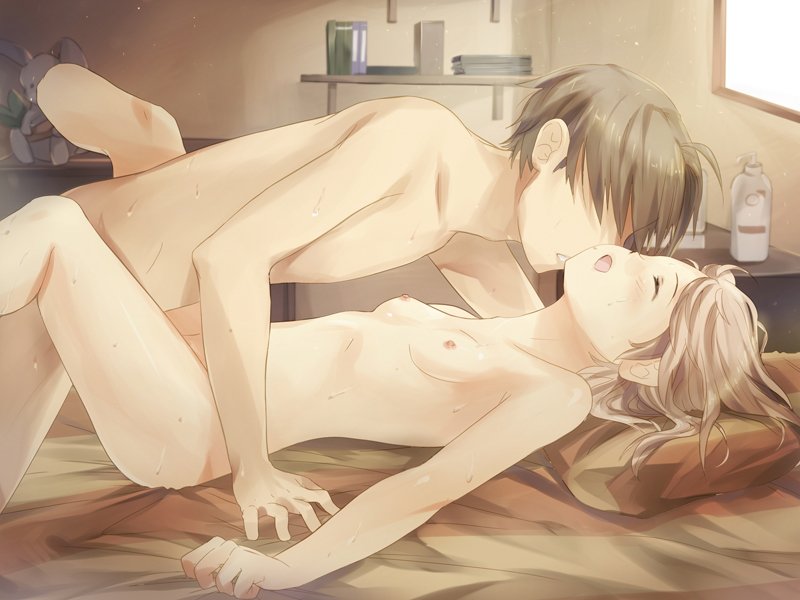 I played this game originally with the adult content turned off, and I treat this game as if I were just playing a story, not an Eroge. The second time I played it, I turned them on, and was surprised to see that the sex doesn't detract from the game. In fact, it adds to it. The story builds, as does your investment, and everything comes to head with the sex, which is handled incredible tastefully, something I was worried about when I first got to them. I was afraid it would change to the standard pump-n-cum formula that most VN's seem to follow. Boy was I wrong, and while I personally didn't masturbate to it, I certainly felt a warm when I was reading them, it felt like I was witnessing the coming together of two people that actually love each other, something rare to see in VN's.
Just remember, while there is sex, it's not the focal point of this game. If you're looking for some fap-n-go material, look elsewhere.
Overall Impressions
This is easily the best Visual Novels you will ever play. The characters, the story, the music, everything comes together to make a heart felt and warm story, that will more than likely have you in tears. If you want a quick fap, look elsewhere. If you want to go for the ride of your life, give this game a chance. It's free and will only cost you your time, which I can assure you will be well spent.