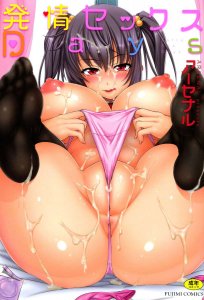 It's no surprise about how much of a harem lover I am, but another fantasy I enjoy with my hentai is the "imouto" genre. Needless to say, when I came across the cover art of Arsenal's Mating Sex Days, I was baited; hook, line, and sinker. It has the best of both worlds, a harem of promiscuous little sisters! Arsenal provides a 198 page story that will get your blood pumping from start to finish.
The story revolves around Kazunari who became an older brother of three adorable little sisters when his mother remarried ten years ago. He was worried that he wouldn't get along with them well, but they immediately took a liking to him. As the years went by, their familial bond remained strong as ever, but to Kazunari's surprise, all three of his precious little sisters came to love him as man. Overwhelmed by their sudden confession, he informs his parents concerned that this was an affair to be taken seriously and much to his chagrin, he was given their approval to date his sisters due to the fact they aren't blood related.
Three weeks have passed since the confession and Kazunari continues to hold onto his brotherly role by not responding to their feelings. The girls remain patient, realizing that anyone would be taken aback in his situation. All except the youngest sister Rin, that is. While her elder siblings continue to wait for Kazunari's response, she decides to make the first move…
THE GIRLS/CHARACTERS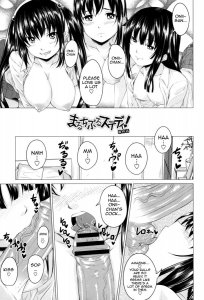 From youngest to oldest the three sisters seduce their unwilling brother, starting with the busty Rin. Despite her age and childish personality, she's deceptively smart. She ambushes the exhausted Kazunari in the bath by pleasuring him the moment he began to soak. Rin also takes advantage of playing the "youngest sister" card by guilt tripping how he really feels about her. When Kazunari tells her that he loves her (as a sister) she turns a simple sibling bath into a steamy love session.
Wearing nothing but a tight school swimsuit, Rin continues to entice her brother with her voluptuous breasts and forces a kiss on him. This ultimately causes his reasoning to fly out the window and begin to see his cute little sister as a woman. After indulging themselves with some fetishistic foreplay, the two deepen their bond by crossing the line for multiple rounds.
Two weeks have passed and Kazunari begins to reflect on his actions with Rin. At first he still did his best to resist her only to be swept up by her aggressive pace. With Rin's naked body still lingering in his mind he decides to refresh his thoughts by masturbating, but he is discovered by a peeping Sayaka, the middle sister. Sayaka is already aware of Kazunari's relationship with Rin and informs him that all three sisters desire to be his girlfriends. He tries to reason with the dignified Sayaka however his body betrays his claims. Sayaka decides to help her brother masturbate (despite his refusal) by giving him his first fellatio.
Unlike Rin, she has smaller breasts, but what she lacks in her bust, she has confidence with her ass which she uses to pleasure him with a 69. Overwhelmed by instinct, Kazunari ends up crossing the line with Sayaka as well. After tasting the fruits of her love, Rin barges in and things quickly escalate into a threesome! Sayaka earns a spot as my favorite girl for masking a hardcore masochist underneath her refined nature. Her love scenes are a definite plus for those of you with an ass fetish like me.
L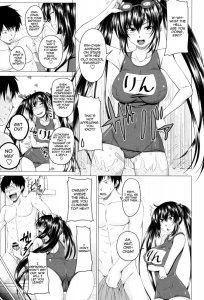 astly there's Satsuki, the eldest of the bunch. She also wants to do naughty things with her brother, but she isn't as daring as her sisters. There is an air of innocence to her shy demeanor that makes her just plain adorable.  Since Satsuki has yet to take action, Rin and Sayaka devised a plan to get her alone with Kazunari. After a moment of awkward silence, Satsuki finally takes the initiative by confessing her love to our protagonist. He gladly accepts her feelings stating that he has resolved to date all three of his sisters.
As the oldest of the three, Satsuki's figure has the appropriate boob-to-butt ratio. Not too much booty and not too much chest. Her body is just right. She gets out of her comfort zone by pleasing her brother first which later turns into her long awaited union with him. For someone so passive it's a refreshing to see the shy Satsuki to have a high sex drive and a carnivorous personality as she continues to ride the already climaxed Kazunari. Once they finished embracing each other, Kazunari's harem route finally begins as the other two make their appearance.
ART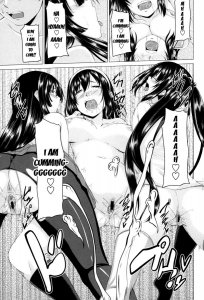 After reading this story I've become a fan of Arsenal-sensei's art style. Not only is he able to create sexy love scenes, but he's also able to add well timed reactions to go with the story's humor which I greatly appreciate. There's also a certain level of realism he adds to his characters ranging from their expressions to their movement during erotic scenes. As I've mentioned before, each girl has a body type that sets them apart from the other which makes each encounter exciting. You're not seeing cut-and-paste characters; you're enjoying a bevy of beauties who are guaranteed to stimulate your viewing pleasure. Arsenal also does a great job building up the romance between his characters by giving foreplay a much needed spotlight. If you prefer an appetizer before the main course, Arsenal is sure to please with this story.
LONG-TERM VALUE
Is Arsenal's Mating Sex Days worth giving a read? The answer is a definite yes! If you have a harem or imouto fetish this is the story for you. It also makes good fapping material. Not only do you get an erotically funny story between an older brother outnumbered by his three sisters, but you also get to enjoy a total of five bonus stories that give this hentai a high rereading value.