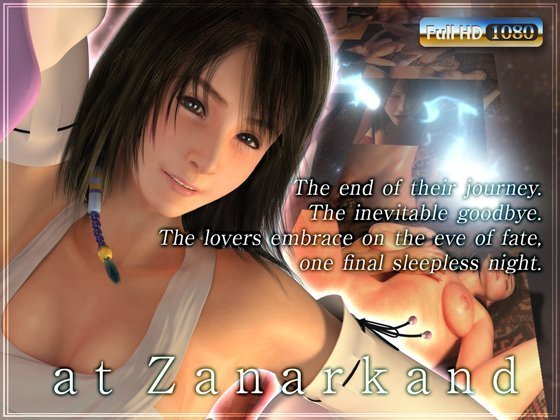 Going back to the days when JRPGs were king and the name Final Fantasy meant a must-buy…here we have an unofficial side story from Final Fantasy X and its uniquely named sequel FFX-2. Probably meant for a Valentine's Day release, this one will either be tugging on your heart strings or have you tugging on something else…
Format
This beautiful animation piece comes in a Mpeg format which I managed to play without any issues using my regular media players. It comes in at a hefty 2.3 GBs but you'll understand why as it's presented in a FULL HD 1080p making the 20 minute video some of the nicest visuals you'll see in 3Dx. And because we watch these for the story (all 2 or 3 of you in the audience), At Zanarkand has very natural sounding subtitles translating the Japanese dialogue.
The Girl
Yuna-chan is looking pretty good here, maybe not quite as good as the cutscenes from the original game, but it's pretty up there. She has very realistic proportions in a good way, she has curves where you want them and her boobs are just the right size without going overboard. Her hair flows very smoothly and her outfit looks great as she looks like she just stepped right out of FFX to perform a quick sex scene for the perv gamers out there! To be fair, she's a 9 if I wasn't a boobman :p
Graphics
I'll be honest, I haven't played FF past part 7 so I can't really comment on the geographical importance of the setting. The entire animation takes place on a rock surrounded by flowing water in the middle of space where there are glowing stars floating around in the background. (lots of nice lighting effects, even lens flares for you JJ Abrams fans out there!!) Quite the spectacle when you compare to most animated 3Dx titles out there. The bodies look lifelike with the perfect amount of flesh tone and sheen. Tidus has a pretty detailed outfit for a male character too, if you care.
Animation
This is the 1st time I've seen work from Atelier KOB, and I must say that I was pretty impressed. The acting really drew me into the story when most of the times in 3DX you're rushing to get to the sex, but here you don't really mind the 2 characters taking their time. The timing of the body movements had nothing really out of place, just nice smooth flowing animation which goes a long way during the sex. Throw in some boobs jiggling, and butt wiggling on top of some cute facial reactions and you got just the right mix of quality animation. Simply put, nothing under-animated and nothing over-animated!
Sex Scenes
Now although, it's totally got a romantic vibe (consensual vanilla style)…the sex here is still very fap friendly. It starts off with some touching and teasing but before you know it, Yuna's giving our man here a sensual blowjob to where he loses it and pops a load in her face which Yuna accompanies with a cute giggle. A little later, Tidus mounts her for some traditional doggystyle action. Very well done, the rhythm really gets you going with her hair swaying, his hips pumping, her ass jiggling with each thrust, I love this! There's another beautiful scene where Yuna is riding him cowboy style and we get a nice ass view from the rear where the camera rotates around in a slow 180 degree angle… her bubbly butt is bouncing around to the point where you want to spank the monitor! Did I say I love this yet? If I counted right, there's about 5 or 6 positions so there's definitely a good variety here. And as I alluded earlier, I MUST say the camera work is top-notch! KOB pans, rotates, and zooms in all the spots at all the right times to give you the most pleasurable viewing angles, artistic technique and skill.
Overall Impressions
What can I say, I didn't know what I was getting when I thought it was just going to be another FF hentai knockoff piece. To my surprise, I really really enjoyed it because it had the perfect mix of story, dialogue, eroticism, and visuals. Being animation from Japan, (aside from the BJ scene) the censoring/pixilation is very minimal to where I find it doesn't hinder the appearance at all, that's rare for J3DX (is that a term even?). Another one of my petpeeves that was avoided when it comes to Japanese voice acting…she actually doesn't sound like she's in extreme pain and in the middle of giving birth?! HOORAY, she's enjoying sex! (queue the Final Fantasy battle victory music!) So unless you only get off at giant monsters with tentacle dicks fucking chicks with humungous watermelon tits… do yourself a favor and check out AT ZANARKAND, a quality title. Highly Recommended!