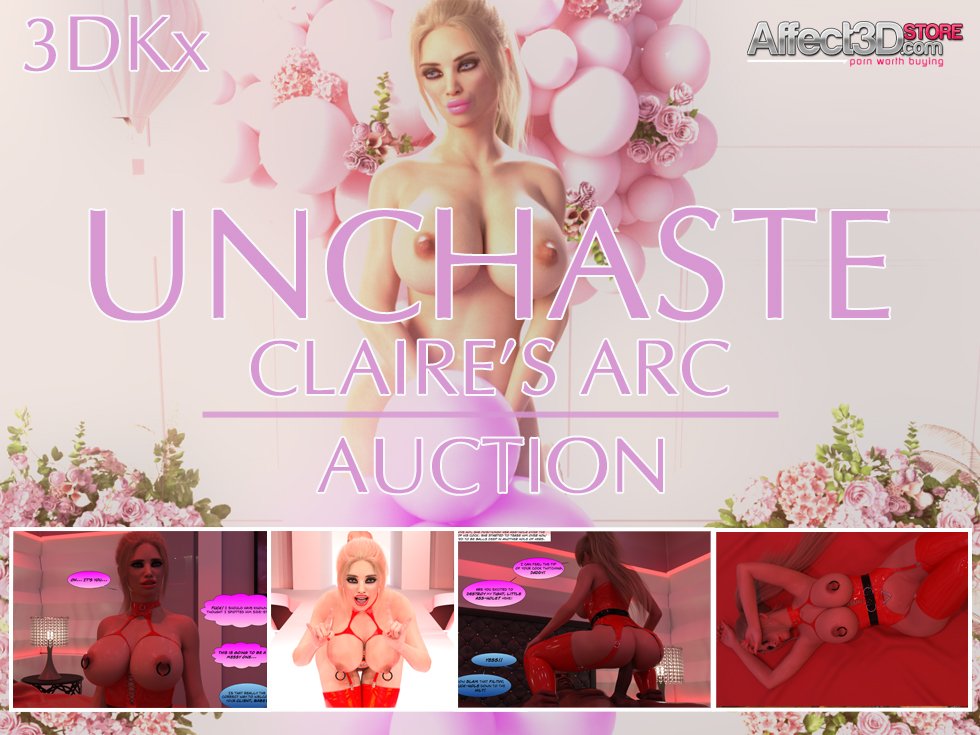 Their previous (and first) release with us started off the series Unchaste, showcasing blackmail, emotional manipulation, sluttery and orgasms galore. Both a great read and quality smut, 3DK-x started strong and has continued in the same vein with Unchaste – Claire's Arc – Auction, showing what Priya's friend Claire is up to during her introduction to the fuck-business.
I'm not sure which character I like more now; Priya's clearly going to have some of that 'sweet-to-slut' descent arc going on, but Claire is clearly a hot fucking mess and she's going to cause all sorts of sexy trouble. Exactly the kind we like around here. 😉 Side note: I bloody love the runny mascara look on Claire in this one. It's hot af.
An auction begins that night between Claire, top dog of the lineup in their establishment, and recent young comer Lia. Claire's bimbo presentation and willingness to do anything for clients belies her cunning nature – as she's equally willing to do what it takes to remain the number one slut in the house.
Decimating Lia's stunning performance in the auction, she's bought by her long-time client Mark. She enjoys how much he degrades her – almost as much as he enjoys it. After making her choke on his thick cock and filling her ass with cum, he ends the encounter with a slap in the face by saying he's done with her. This leaves Claire somewhat stricken, but what shocks her to her core is when Luke informs her Mark left a four-star rating.
Claire's never had less than a five-star before, and it leaves her reeling. She quickly comes to a plan, though; if she can keep Priya working there and as the other top gal in the house, she can control both top spots, as Priya would never betray her. Would she? 😉
You can get the 65-page set from the store now for $8, and enjoy all the depraved fucking and story in 3DK-x's second release, Unchaste – Claire's Arc – Auction. Worth every penny, imo.