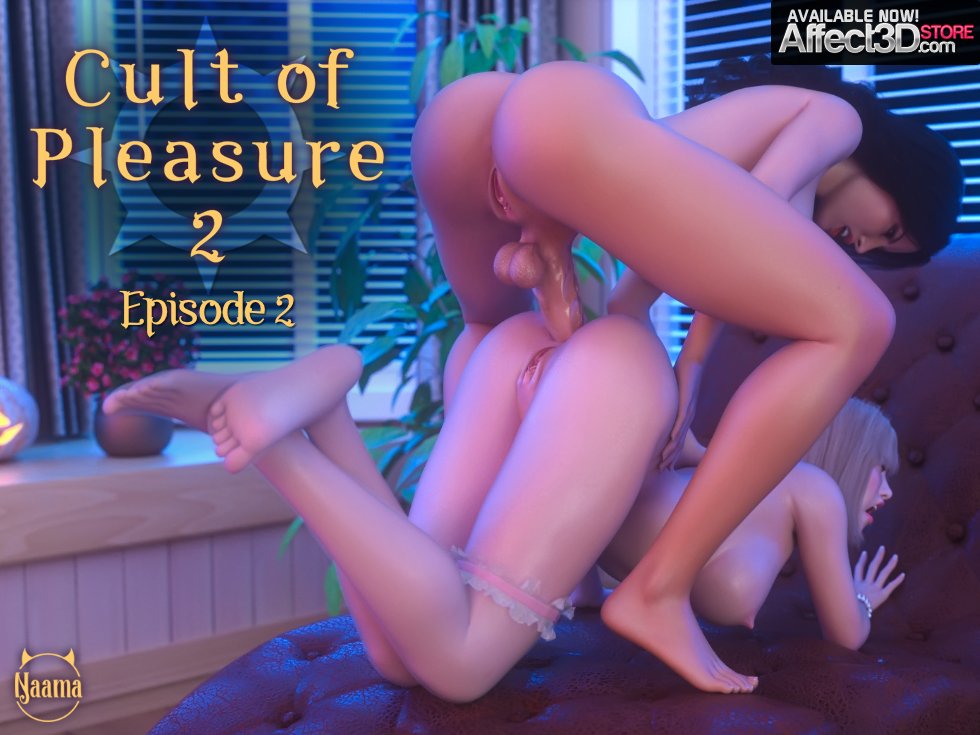 Today hails the release of my favorite occult series Cult of Pleasure 2 Episode 2 by Naama! This new installment continues on with the nympho demon hell-bent on fucking and killing her way through her time on earth! It's available now in the Affect3D Store!
We pick up where Episode 1 left us, with a hot blonde babe being fucked hard by the succubus brunette. Indeed, the latter has her bent over and begins fucking her from behind. Her massive cock then rams the hypnotized "victim" in missionary before she hops on said dick for a ride. This leads to a first creampie. Without hesitating, the demon then fucks the blonde up the ass – first in doggy style, on her side then reverse cowgirl and on her stomach. Naturally, the pair finish off with a second creampie deep in the blonde's perfect ass.
As the petite entranced blonde takes care of her new mistress, showing the demon her wardrobe after that rough pounding, the blonde's boyfriend happens to turn up. Guess this is just one case of wrong place, wrong time! The murder of this unfortunate, however, leads to their discovery by the forces of good. But that's for another episode!
Cult of Pleasure 2 Episode 2 is available now for a mere $10! And for that devilish price you get 67 HD renders of one naughty demon fucking the hell out (or in this case in) of an unsuspecting blonde babe! So thank you Naama and can't wait for the next chapter!