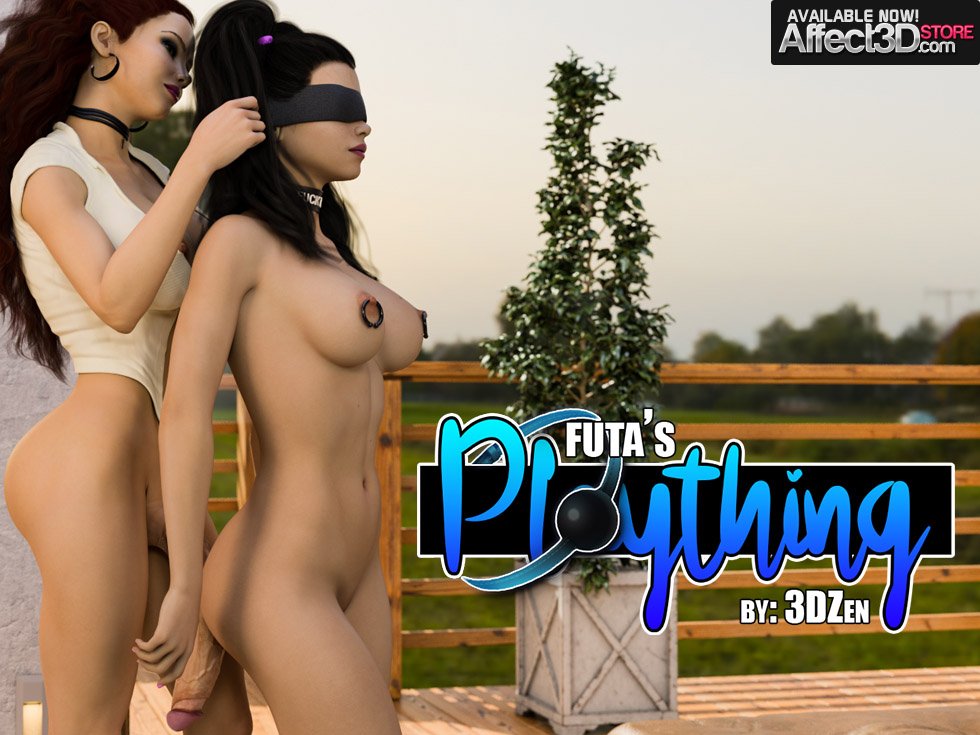 We have a new release from a very talented artist – the one and only 3DZen! Futa's Plaything takes us on one hell of a ride folks, and it's available in the Affect3D Store for your perusal!
Valerie and Gina have a very special relationship. And by this, I mean a dominant futa with a massive cock fucking her little female sex slave to her heart's (and cock's) delight.
So the pair are having a typical morning. Yup, the submissive little minx is, as per her usual, waiting on her mistress, seated at the table. She has to chose from a variety of sex toys and picks out a buttplug that she inserts immediately. Now, she may look cute but this darling gal ha obviously been a bad girl who needs a spanking. And, as her cock gets hard from the act, her mistress gets about just that.
The dickgirl mistress isn't without generosity however as she then dispenses her slave's reward – a bowl of her cum. To get things really rolling, the cute brunette female then lets her mistress fuck her mouth and throat on her knees which leads to a cumshot.
Things only get more interesting as the submissive is blindfolded before taking all of her mistress' massive cock up her tight ass. What devotion! But wait, there's more!
This deep ass fucking leads to a perfect creampie before the brunette is made to lick her mistress' balls to make her hard again. After all, we are on cumshot number three! What ensues is a more traditional doggy style fuck before the futa decides to titty fuck her lover and simultaneously destroy her mouth. Naturally, another cumshot (down the brunette's throat this time) ensues.
Now, of course, every self-respecting futa mistress has her own dungeon. And this is precisely where she takes her slave to chain her up and fit her with a latex mask. The ultimate throat fuck then follows, ending in a sublime cumshot, right into the slave's little tummy. What a morning, folks!
3DZen has never disappointed, and they're certainly not letting us down with Futa's Plaything! So be sure to indulge in some futa-on-girl fun for a superb $11.99, in-store now!