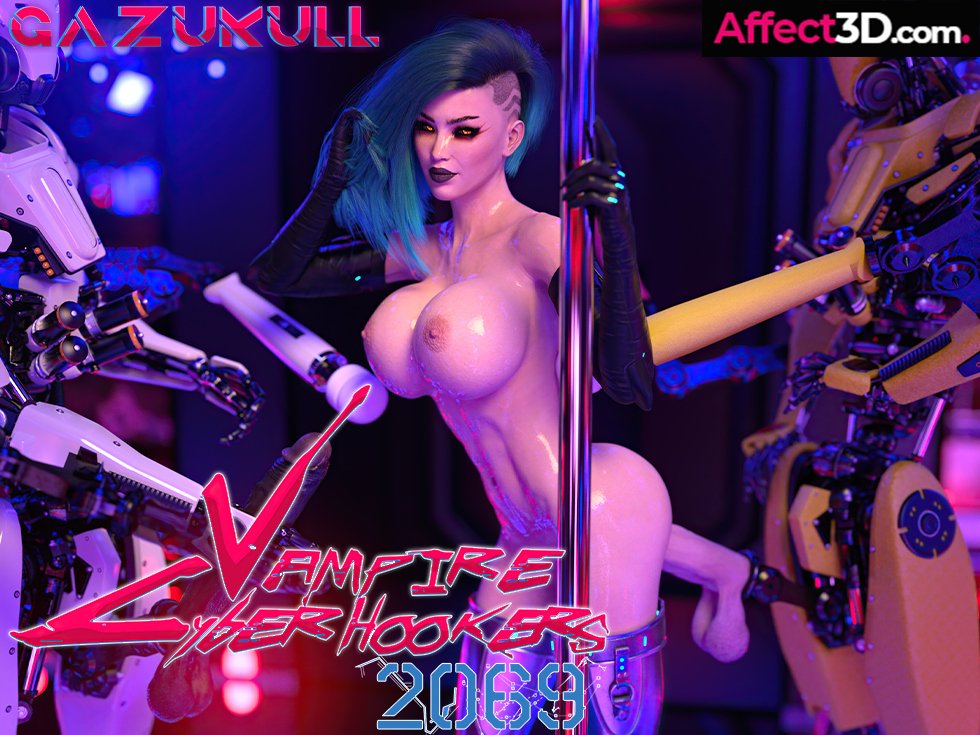 Are you ready for some new Gazukull cyber madness? Well I definitely am, as this talented artist releases Vampire Cyberhookers 2069!
Set in the not-so-distant future, in a dystopic city where sex is literally everywhere, one uniquely hot vampire hooker is going about her nightly routine. The scene starts off with this babe working out. Naturally, Gazukull gives us a great vantage point as she bends and lifts both in a skimpy cybersuit and naked. The vampire then heads to the showers where she finds her first client of the night jerking off in front of the female showers. In exchange for some credit, she jerks the hunk off.
Then we go straight to the streets as the vampire babe heads over to her usual strip joint to get to work. Here, she offers us quite the show as she first strips and then begins blowing to androids with huge cock appendages. This leads to the hooker being fucked in all positions – from standing to sitting on both cocks simultaneously in an impressive double penetration. Finally, our cyber vampire heroin finishes off in style as she makes both androids cum onto a platter. Of course, she then empties the contents of the plate onto her face and body.
Gazukull continues on with the usual weird, yet stunningly hot style with this 125-image set in three resolutions: from standard def to 4K! It's available in the Affect3D Store now for $7.99!