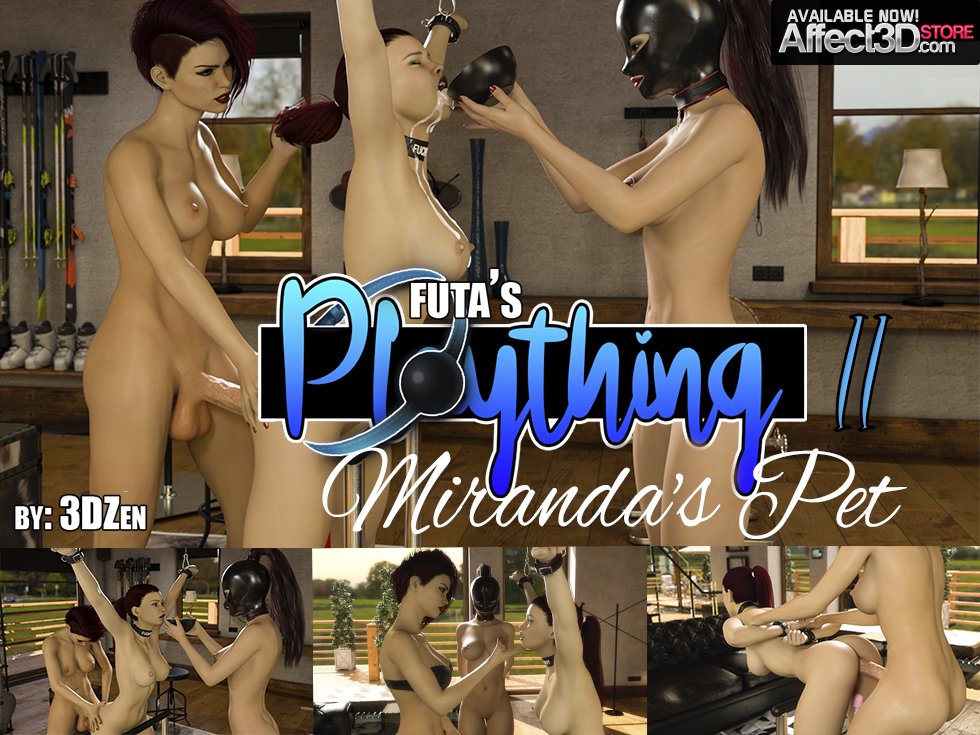 The kinkiest release of the year is back guys! That's right, 3DZen's Futa's Plaything Miranda's Pet is here! If you missed Part 1, be sure to check it out for one bdsm hell of a ride!
Turns out, the mistress in the previous installment has a daughter. And as it happens, this daughter is part of a "team". Well, let's even say she's the team captain. Now, any team has a way of initiating new members, breaking them in so to speak. In this case, it also happens to be an incredibly hot and fucked up initiation!
Kate, Taylor, and Miranda are sitting outside the latter's mom's house after a game. It's at this point that Miranda decides to show Kate the ropes and what the team is really about. You see, Miranda's mom is both the dean to the school all three attend and the mistress futanari with a massive cock from part 1.
Taylor or rather "Pet" quickly changes into her real uniform – a latex mask… and nothing else. Kate, now to be known as "Fuck Toy" is to be prepared for her initiation. Pet starts off by securing her with handcuffs before loosening up her virgin ass with some geisha balls. Miranda, or rather the Mistress; walks in to reveal her true nature: her mother's daughter. And by that of course I mean she also has a massive cock.
Pet immediately gets about getting said cock hard with a blowjob and titty fuck before she makes her mistress cum into a bowl. Naturally, being a good pet, she laps up some of the contents of the bowl. Resisting at first, Fuck Toy is presented with the bowl in turn. To get her to open up, the mistress uses a simple method: she inserts her cock into her tight ass. And it's not long before she's licking up cum!
It's at this point though, with Pet joining in to lick Fuck Toy's pussy and ass, that she realizes she actually enjoys this. The new sex slave teammate is then made to sit on her mistress' cock before she cums deep inside her. As a final testament to her breaking in, she kneels and lets Pet give her her true uniform – her own latex mask! Naturally, it's not long before her mistress' cock is balls deep down her throat.
Right on time, the mother, or rather "Madam" arrives to join in and fuck Pet's ass.
Unfortunately for Fuck Toy, formerly known as Kate, it so happens that a few weeks of this treatment see her pregnant and kicked out of home. And so, in a twist of fate, the poor girl has to live at her mistress' home, to be their slave and "team manager". Well, I'm sure we'll be hearing plenty more on the subject soon!
3DZen's Futa's Plaything II is just as saucy and kinky as the first chapter! So make sure you grab a copy in the Affect3D Store for a mere $12.99! And you know what, we're even doing a bundle release that includes both chapters for an amazing $15.99!