Development Updates In A Nutshell
On September 15th 2020, we upgraded Affect3DStore.com to a new system and server, along with an improved website design. We hope you're enjoying the new look! 🙂
Development and optimization of the new store is ongoing, so we've decided to begin posting store related development updates to keep you all informed about bug fixes and site enhancements.
In these updates, we will mainly discuss site developments that you as a customer will visibly notice when you browse the store. Besides development to improve your shopping experience, our programmers will also continue working on upgrades and tools that you may not directly notice any effects of, but our store administrators, customer service staff and artists will benefit from. Sometimes the focus will be more on customer experience related tasks. Sometimes it will be on backend upgrades for our staff or artists. As such, the development updates will be sporadic as we'll only discuss topics that are of interest to Affect3D Store customers. The posts will not follow a set schedule, but we will tag each post with a3dstoredev and we'll send out a tweet when there's a new one.
Development Update #1
Currently our main focus is the improvement of the store's loading speed. Our programmer and server host team have been working on the issue. We appreciate your understanding and your continued support, and we ask that you allow a little more time than you may be used to for store pages to finish loading while you are browsing the store as we continue to work on the solution.
The items that we'd like to highlight in this update are the My Downloadable Products page and the Wish List page.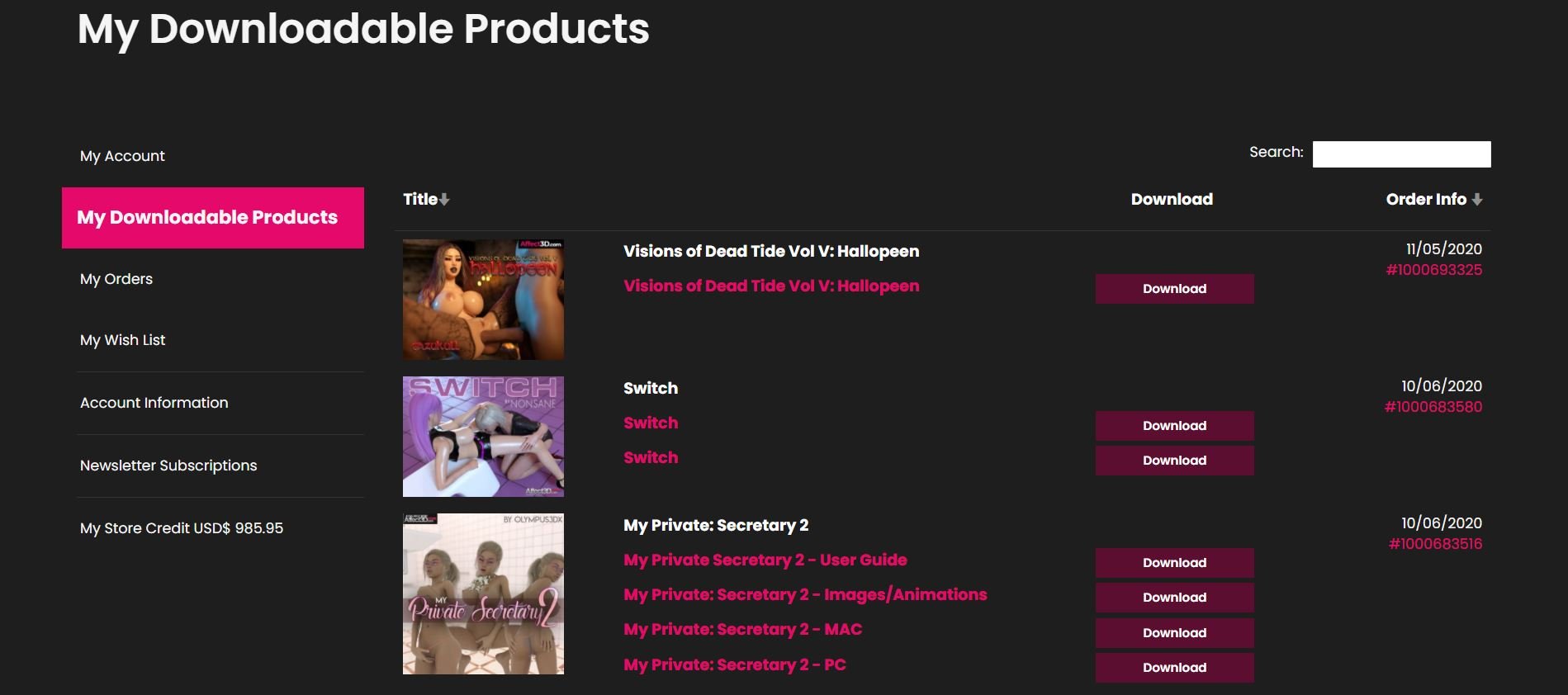 My Downloads Page
We gave the Downloads page a new look at the start of November. We have (re)added:
product thumbnail images. We also removed some redundant columns and reorganized the page structure.
a search engine so you can find a specific product more easily.
the ability to sort downloads alphabetically – just click on the arrow icon next to Title. Arrow facing up indicates A-Z sorting; arrow facing down indicates Z-A sorting.
the ability to sort downloads by order date – just click on the arrow icon next to Order Info. Here again, arrow facing up indicates A-Z sorting, and arrow facing down indicates Z-A sorting.
You can either click on the pink product title or the Download button to start your download. To view the order information of your download, click on the # order number in the Order Info column. In the future we will refine the page design some more, but we hope you enjoy using the current page. 🙂
Solving Download Issues On Chrome browser
Like several other sites, the Affect3D Store has been impacted by recent updates to the Google Chrome browser. If you need any help with starting your download, please visit this Help page.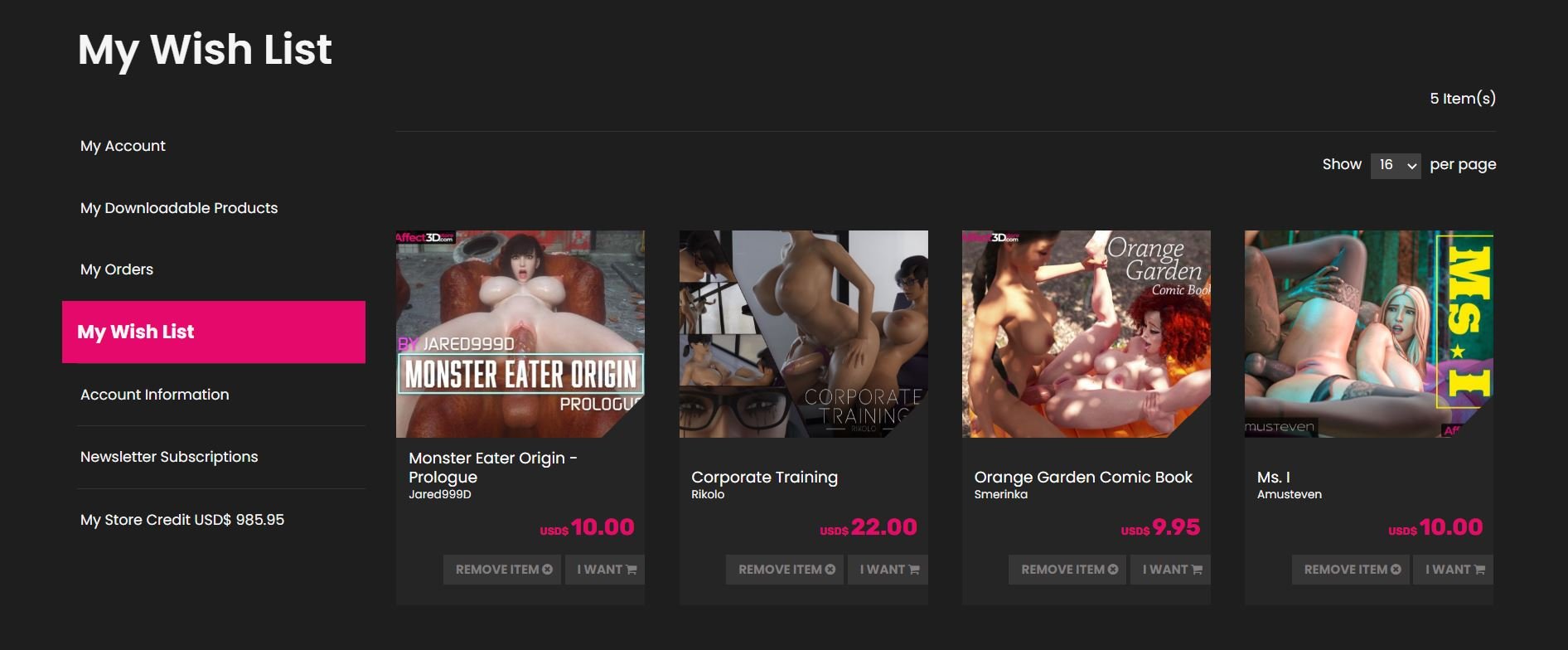 Wish List Page
We have made the Wish List page available again at the beginning of December.
Any products that you may have stored in your wish list before we upgraded the store to the new system will be there when you open the page on your user account. For now the page has a clean, simple design that allows you to remove items and to add them to your shopping cart. In the future we intend to add some features, like sorting product titles alphabetically from A-Z and Z-A, and adding a search engine to find products quickly.
To add new products to your wish list, open a product page and scroll down until you see the add to wish list button. Click the button and the product will be stored in your wish list.

Thank you for reading this development update. We will share more news of the latest store development in the next update. As mentioned earlier in this post, you'll receive a heads-up of new posts if you follow us on Twitter.