Affect3DStore Development Update #2
Hey, it's Alice. I'm back with some status updates about recent work we've done on Affect3DStore.com. I'll list the points that I'll talk about in this post down below, so you can check which topics tickle your fancy.
return of the You already own this product notification
store's loading speed
WebP image optimization
bug fix for inability to access orders
bug fix for Epoch
One thing I would like to mention if you're new here – for more info about what topics will be covered in store related development updates and when you can expect to find a new update on A3D, please read read Development Update #1 over here. 
Return of the 'You Already Own This Product' Notification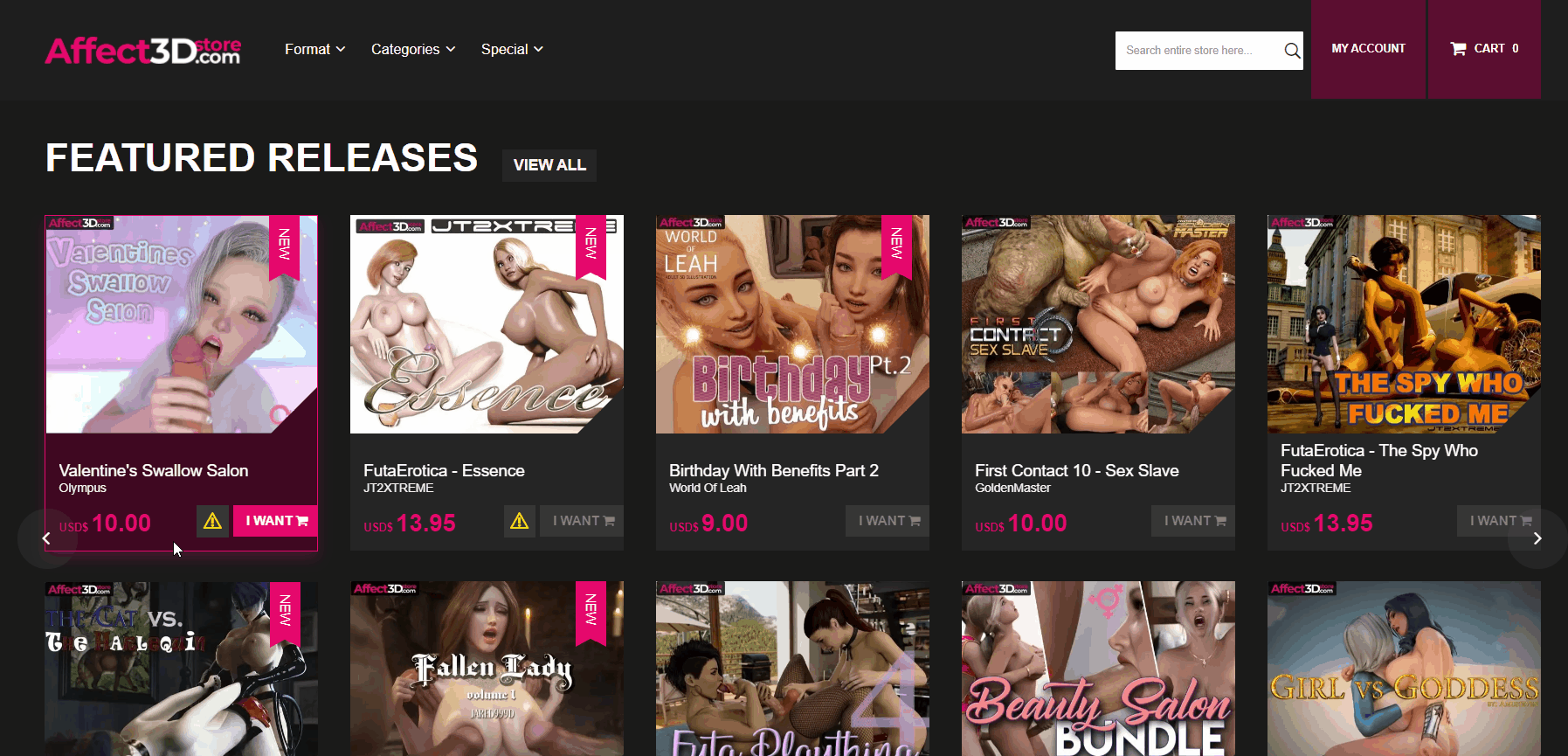 The you already own this product notification is a feature that tells you whether you already own a product, as long as you are logged into your Affect3DStore customer account. The notification will appear in the form of a yellow warning sign. If you click the icon, you will be redirected to your My Downloads page to view the products you own.
It is a custom built notification feature that our programmer developed on our previous store theme, which we weren't able to reintroduce immediately on the new site. We know that many of our longtime customers have been eager to regain access to this feature, so we're very pleased to be able to bring it back to you! The you already own this product notification has been programmed to work exactly the same way it did on the old store, so you should be used to it again in no time. 😉
Store's Loading Speed
Just a short update on this topic for now – our programmers are working hard to improve the store's loading time. To spare you the technical lingo, they've found some areas in the backend that require further optimization. Some of these areas take more time to finetune than others, so we're rolling out updates as they become available. Once again, we'd like to thank you for your understanding and your continued support.
WebP Image Optimization
To alleviate some of the time that your browser may spend loading images while you're browsing the store, we've converted our banners and product images to WebP. WebP is about 25% smaller than ordinary PNG or JPG images. Images become compressed with minimal quality loss. So although our images have become smaller and easier to load, you still get to see high quality preview images of our products.
Bug Fix for inability to access orders
Some of our customers were unable to access their download after placing an order. We discovered that this was due to a bug in the login form of the Personal Information section on the Checkout page. The page sometimes failed to recognize an existing customer, offering them the login form that's meant for registering new customers. This caused orders to become disconnected from the customer's account. Our programmers have resolved this bug.
Bug Fix for Epoch
After placing an order with Epoch as the payment method, some orders stayed stuck on 'Pending' status. We found that this was happening because of a minor bug in the payment method selection on the Checkout page. Epoch can only successfully process orders with a total order amount of $2.00 or higher, but it was still displaying as a payment option for customers who had a smaller order amount. To avoid confusion, Epoch will be unavailable as a payment method if your total order amount is below $2.00.
That wraps up what we have to report for now. If you'd like to receive a notification when we've posted another development update, please follow us on Twitter. You can also search the keyword a3dstoredev on our site to find updates. See you next time!