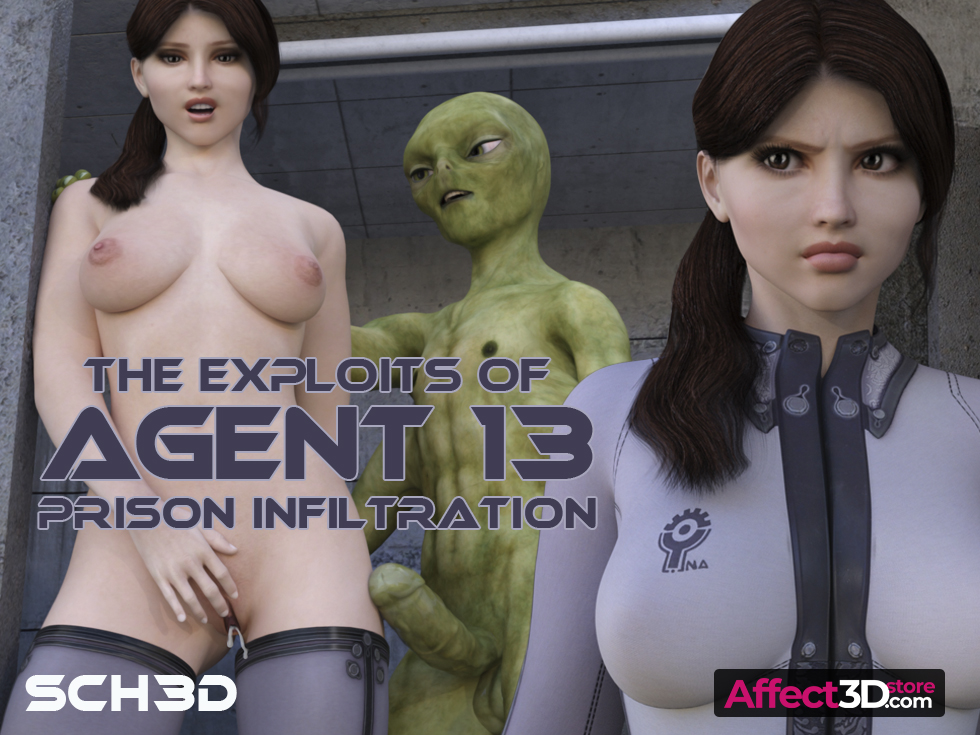 Redeeming yourself can be a bit of a daunting task, especially if no one believes you can do it. In the latest from SCH3D, Exploits of Agent 13 – Prison Infiltration (now available in the Affect3D Store), Agent 13 is on a mission to rescue her friend from a Coraxian prison. While she had no problem getting in, trying to find her proved to be more difficult than she anticipated.
The prison she wound up in contains alien prisoners who need to 'release' themselves at least once a week or they die. However, they can't please themselves, it has to be someone else. Agent 13 has no qualms over this but wants to do this mission alone. After making the Croaxian guard cum in a matter of seconds, he agrees to leave her be and she goes off trying to find her friend. She comes across a cell with a four armed alien and he saw was she was capable of with her hands but that's not going to cut it.
Exchanging a passionate kiss, the alien turns Agent 13 around and bends her over. He thrusts inside of her with his massive cock, sending her into a frenzy. She loved the orgasms this alien gave her and agreed to make a deal with him. He would help her find her friend and she would help him get out. Course, it's more for selfish reasons but hey, who can blame her.
Agent 13 meets up with the alien the next day in a sultry lingerie set but the more she's fooling around the more she's putting her mission in jeopardy. The alien luckily gets intel on where they moved her friend. She plans on getting her out in two days and the alien wants to be included in her plan. Curious to know how this escape plan is going to work. Only time will tell.
Exploits of Agent 13 – Prison Infiltration spans across 50 pages + cover in comic format as well as 108 textless images for your viewing pleasure for $10.00. You can also grab the futa version for the same price OR snag both the futa and non-futa version as a bundle for $14.