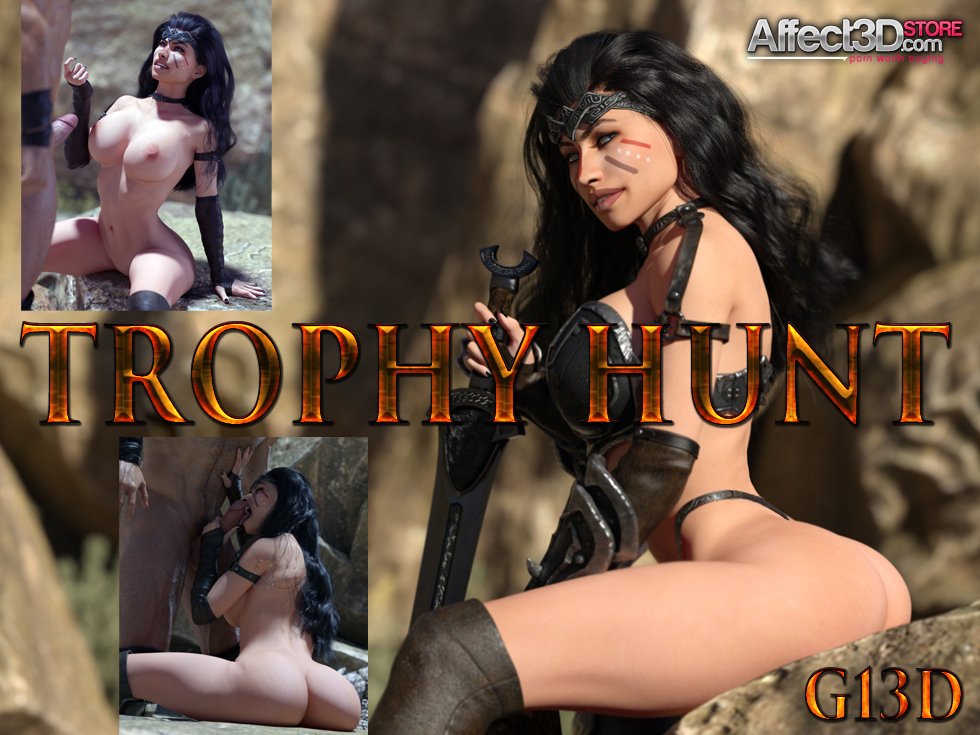 I've lost track of how many new creators have joined Affect3D this year! This is definitely an exciting time to be a 3DX fan. 😉 Welcome G13D and their debut release Trophy Hunt, showing us how hunting terrible beasts can lead to sexy consequences.
In a set that totally reminds me of Conan, barbarian babe Wex gets in over her head when she tries to bag a Sand Serpent head for her clan. Outmatched and wrapped up in its tight scales, she's suddenly freed by the appearance of a powerful warrior.
Distracting the monster counts as teamwork, right?
With the threat vanquished, the two immediately spark a fire in each other's loins, and off comes the armor. Wex shows appreciation to her savior first with her mouth before bending over and spreading her legs. He's all too happy to get up and close and personal with the buxom lass, and his dick is an impressive match for his sexy, sexy arms. I wonder if they'll team up for real after this?
Their thrusts end in a tasty creampie over the corpse of the fallen Serpent, which is the right perfect of metal imo (and a great way to start a relationship). Check out G13D's barbarian fuck debut, Trophy Hunt, a 69-count (nice) image set – available on the store now for $7.95!