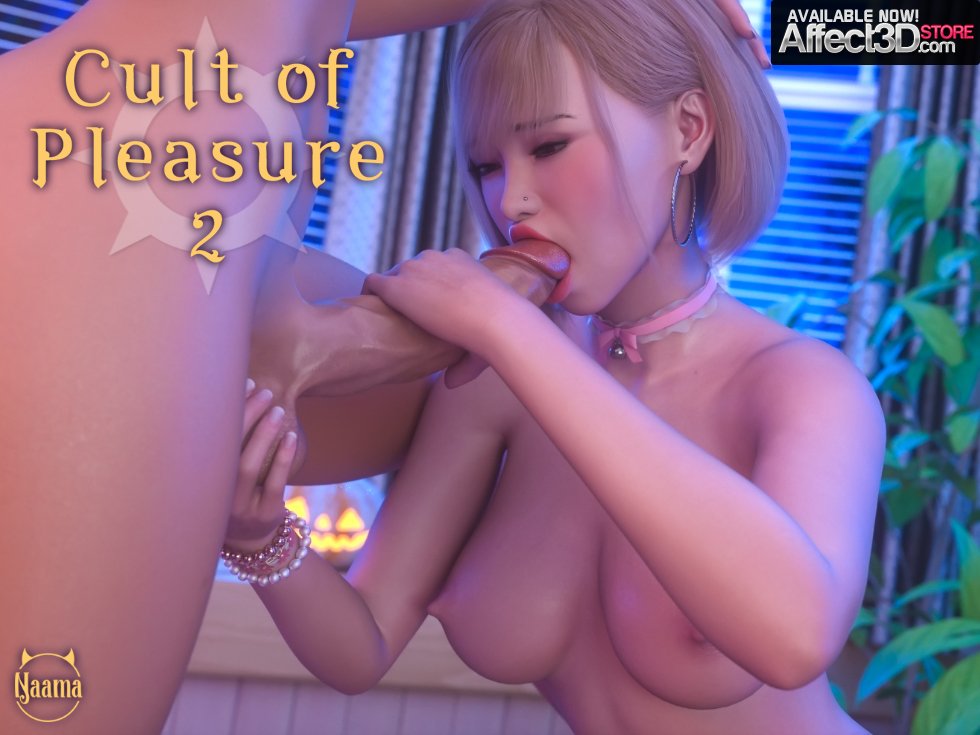 Naama strikes again with the release of Cult Of Pleasure 2 – Episode 1! This installment in an already stunning saga follows on with the previous episode and is available in the Affect3D Store now!
Part two picks up where the artist left us. Indeed, a small group of worshippers has brought an innocent blonde to the middle of the forest. The blonde then witnessed a demon spring forth from a portal and take over the body of one of the worshippers to fuck her and another cultist. It's at this point that a busty angel appears from the sky and picks a fight with the demon. Just as it seems the angel might win the fight, with the help of the blonde sacrifice, the demon manages to teleport to a completely different place. She finds herself on the main road, right in front of a car driven by an unsuspecting babe.
Naturally, the demon uses her powers to convince this stranger to take her back to her place. (To be honest though, with that body and lack of clothes, who needs powers?) Once back at home, the demon loses no time and begins making out with her new victim. Once again, she conjures up a massive cock and balls to the delight of her host. The latter immediately begins sucking her demonic friend. And this at first tentative blow job leads to a hot 69 and face fuck.
Then, the hypnotized human babe rims the demon's amazing ass, jerking her off at the same time. Even a demon can't resist this treatment and she cums on the sofa. She then reasserts her authority and makes her new victim lick up the cum.
Cult Of Pleasure 2 – Episode 1 proves to be just as lustful and hot as the previous installments. Naama continues to deliver exceptional work and this particular set of 85 HD renders is available in store for a sinful $10!