The final part of Gonzo's Blackmaled – Kirsty's Story has arrived. In Part 4, Kirsty finds out some things about her husband that changes their dynamic forever… leading to intense cuckoldry and breeding with her new beaus.
Kirsty has been caught up with cheating on her husband…. over and over and over again. She enjoyed having unprotected sex with multiple men while her husband was away on business trips. One week her husband comes back home early and she has to leave her new lover to meet him. She does… and decides that she needs to stay away from her 'activities'. She manages to do so, that is until she runs into her lover at work. He gives her a folder and tells her that the contents will 'enlighten' her.
And enlighten it does. The 'business trips' her husband was going on weren't for business at all. He was having an affair! While she doesn't care about the sex, she's more furious that he was sneaking around behind her back. Constant fighting breaks out between the two and one day it escalates, causing Kirsty to stay with her lover and his wife. She immediately comes up with a plan to get back at her husband. She has her husband tied up to a chair to watch her fuck all the men she's been with while he's been going on his 'business trips'. Revenge has never been sweeter.
With a divorce finalized and a new family to call her own, Kirsty's life just might be able calm down a little bit.
Sexy3DComics' Blackmaled – Kirsty's Story Pt. 4 spans across 75 high-quality images, ending the saga following Kirsty and her extracurricular activities in cuckoldry and breeding. Don't miss out on the ending and snag your copy for $8.99 today!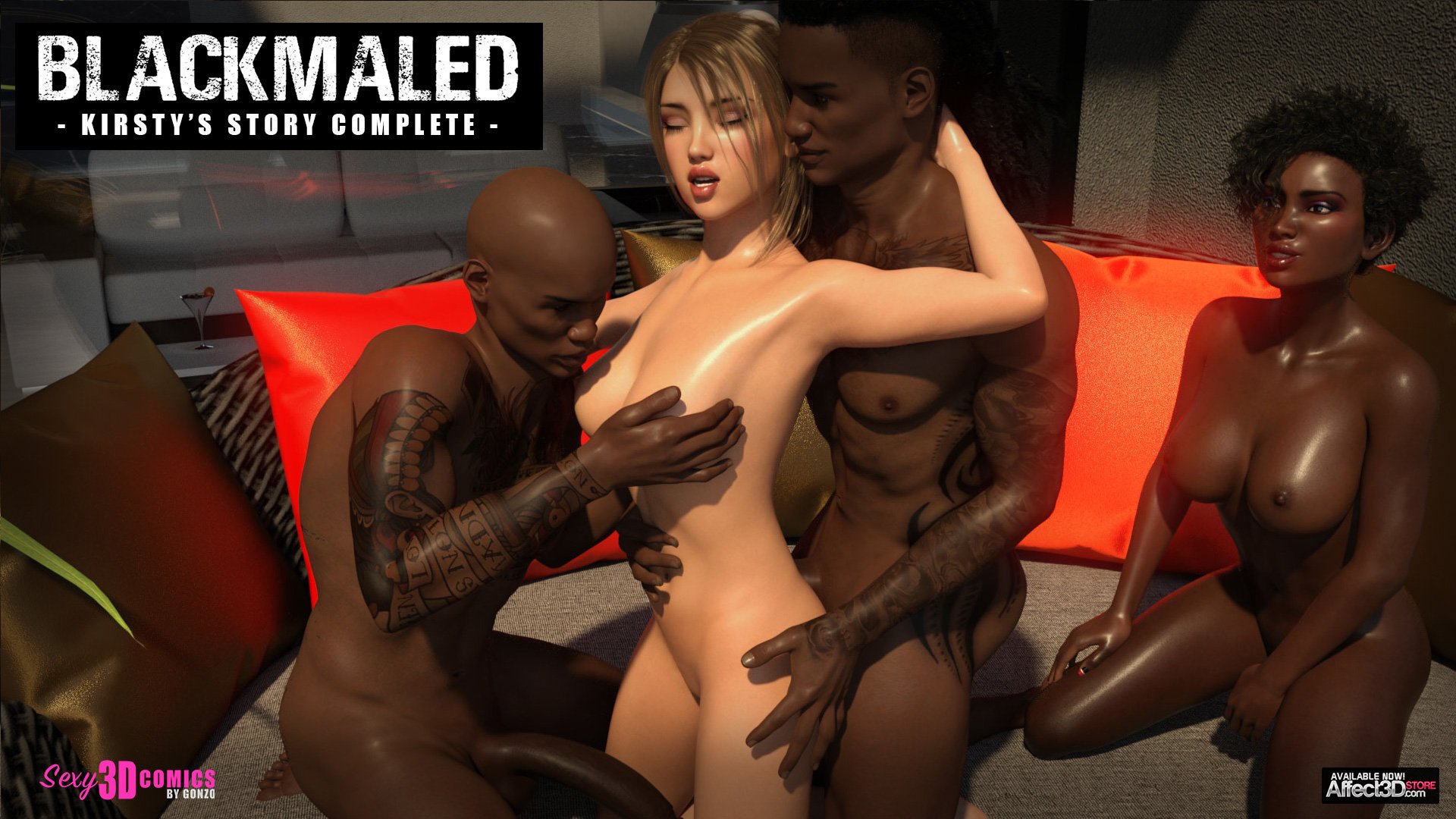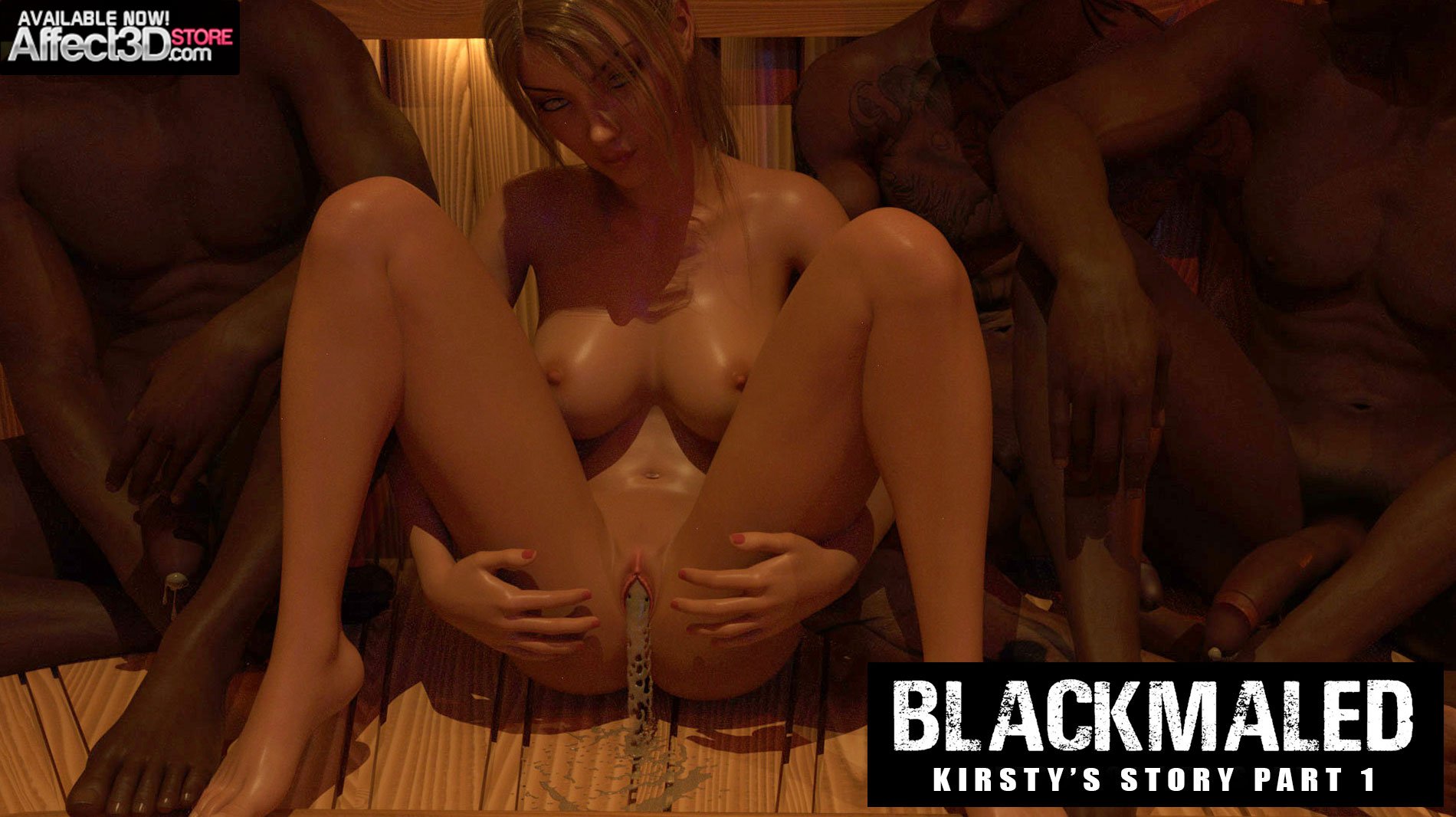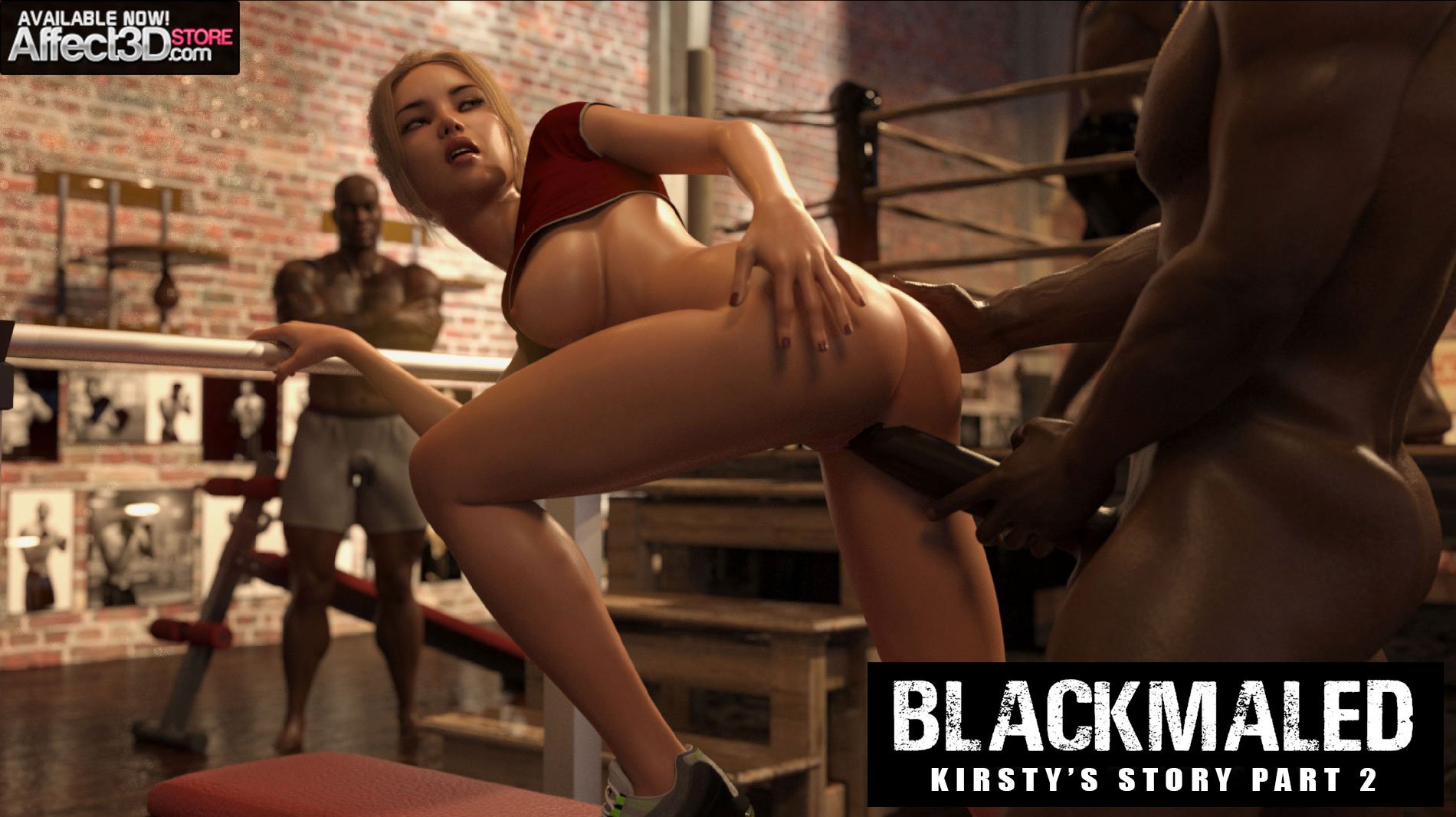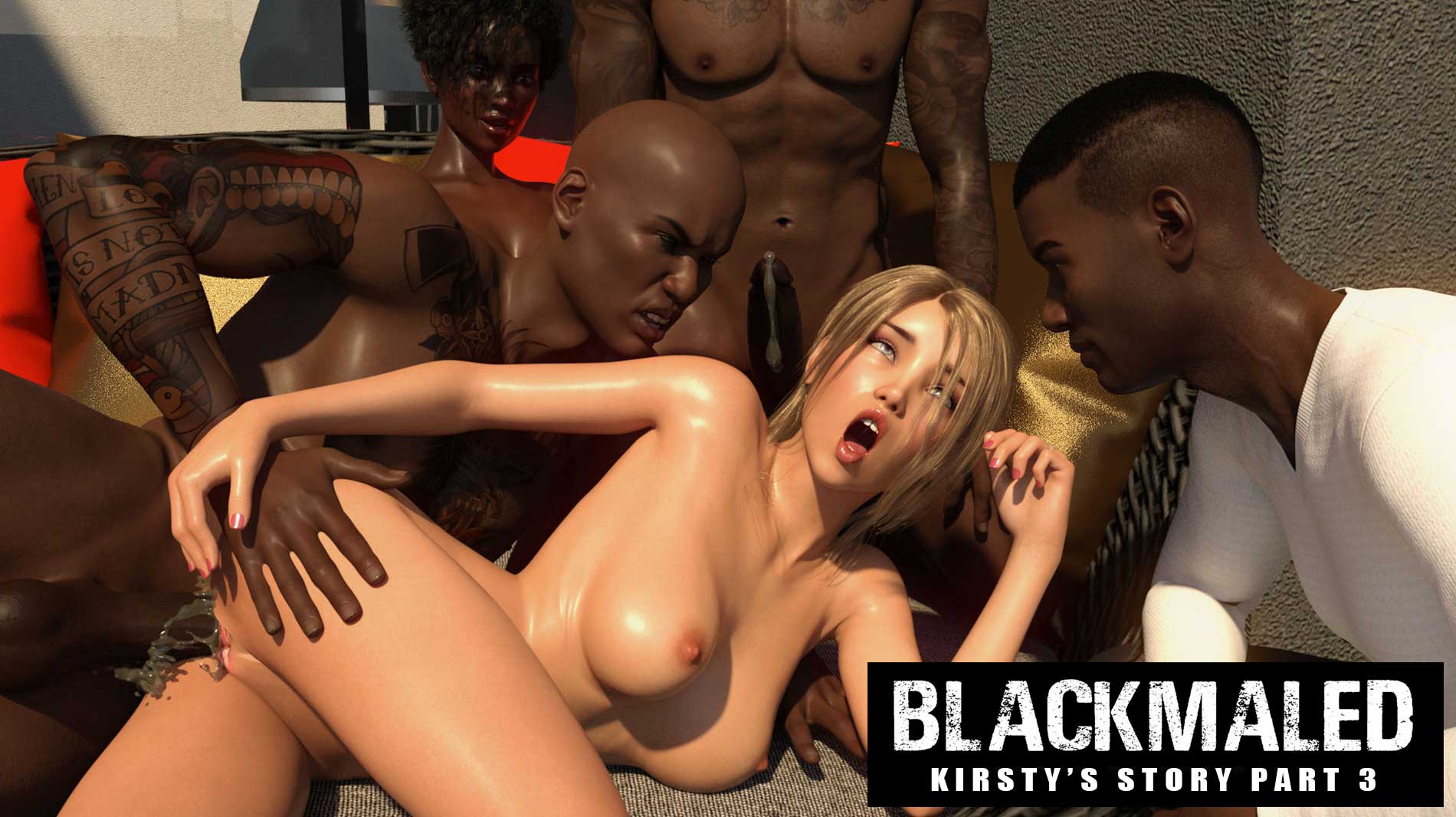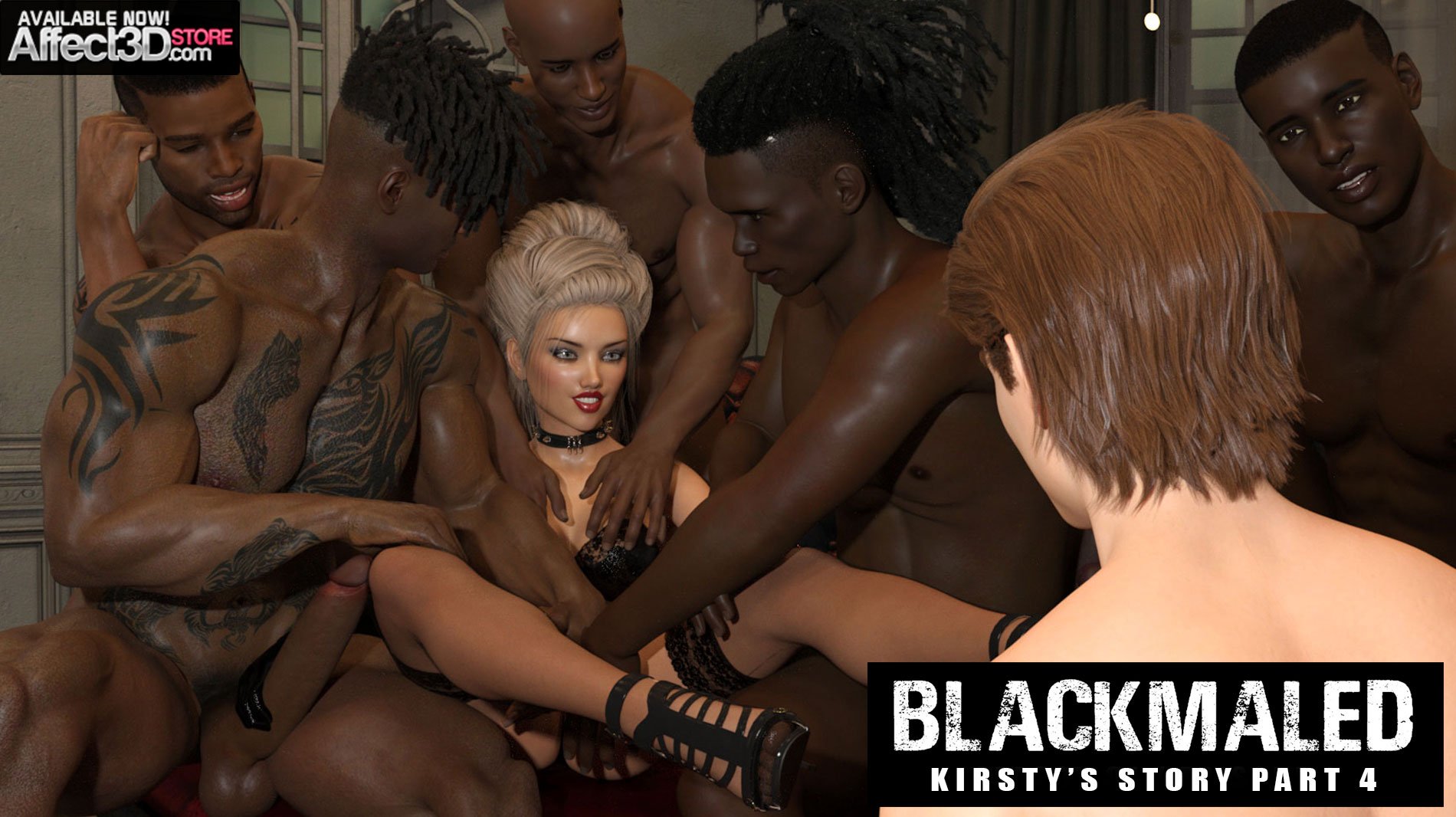 Didn't get a chance to snag any of Blackmaled – Kirsty's Story by Sexy3DComics? Never fear! You can get the bundle today containing all 4 parts spanning across 333 pages and see Kirsty get black-maled (that means fucked, and fucked by a LOT of guys).
Episode 1:
Kirsty's story begins! In Part 1, her date night gets cancelled by their good friends – two fighting spouses, broken up by infidelity. Trying to cheer up her friend Jenny, she ends up out at a club with some handsome black gentlemen… who are anything but gentle when they fuck her in the alley behind the bar. What begins with some thrilling steps out of Kirsty's comfort zone turns into a descent into unprotected adultery with a veritable rainbow of cocks.
Episode 2:
Kirsty tries to put her previous indiscretions in the club and sauna behind her, as she attempts to sate her new desires with her new dildo and porn… but falls into temptation once again when her husband has to work away for a few days. Her resolve quickly spirals out of control and her fantasies start to become real as she indulges herself in an unprotected, late-night booty call, and then gets swept away at a breeding party, where she's the main course and the rules are simple: No birth control, no condoms, and no pulling out.
Episode 3:
Kirsty calls in sick to run away for a few days with her black lover, and finds herself in an exotic location with some unexpected guests leading to new and erotic experiences.
Episode 4:
A close call makes Kirsty decide to try to give up her new kinky lifestyle. But revelations about her husband Mike send her back into the arms of her black lover, things quickly spiral out of control culminating in a unprotected gang bang right in front of her husband.
Grab Sexy3DComic's BLACKMALED – Kirsty's Story bundle for $27.99 from the store and watch Kirsty enjoy lots of cock!