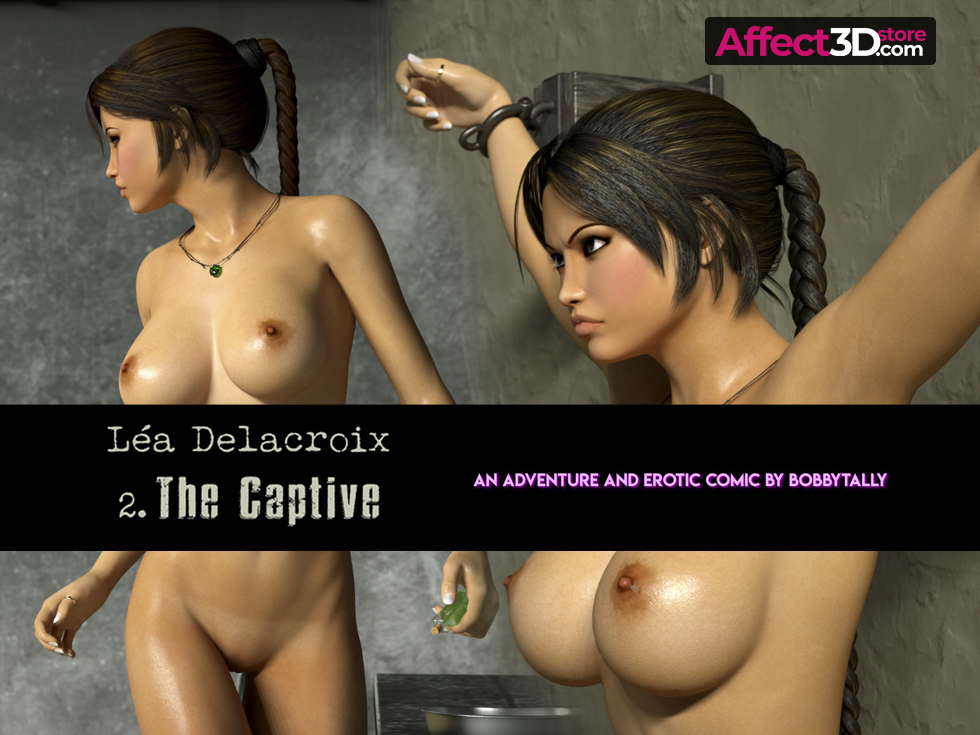 Archaeologist Léa Delacroix is back in bondage for Episode 2 – The Captive! Originally showing up in her Prologue and Episode 1, BobbyTally debuted the buxom lass in her first adventure and a lascivious dream. Now, following up on the phone call, she discovers a lead on a fantastic wonder – and is captured by a rival!
Meeting the mysterious contact in the park, John Waterhouse, Léa's told more of her mysterious father and how he came to be with her mother. He met his demise searching for the fabled Fountain of Youth to cure her mother, but failed and took his life when she died. Having a clue at last, Waterhouse offers it up to Léa to pursue.
But before she can, an agent of Mr. Arlind Cena – billionaire art dealer – invites her to a meeting. Accepting, and visiting his 'humble' abode, Mr. Cena is full of formalities and grace before getting to the point: he wants Léa to find the Fountain of Youth for him. Declining, with particular vehemence after learning he's been spying on her, she nevertheless accepts a token of celebration… and promptly collapses from being drugged. Tsk tsk, Léa!
She awakes in her underwear in a sort of interrogation/sex dungeon. There, Mr. Cena's agent eagerly interrogates her after giving her a sex drug. Can Léa hold out against her questions? Or will she be a slave to her deft fingers? And, even then, there's still the matter of Mr. Cena, who's yearned after her mother for decades… Find out everything and more in the 162-page comic, Léa Delacroix – Episode 2 – The Captive! Available in the store for $7.00.