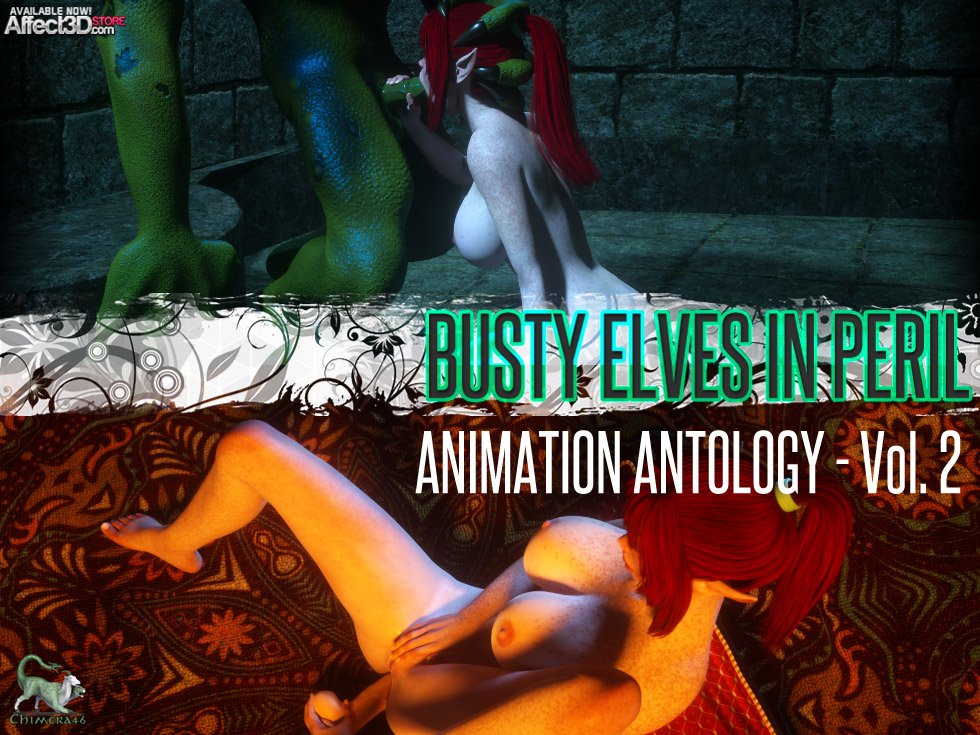 Rounding out today's releases is Busty Elves In Peril – Animation Anthology: Vol 2, from Chimera46! Animation is always a really hot treat, and Busty Elves In Peril clearly had enough fan appreciation to warrant more of it.
It's hard to go over this one in full, as it's a hodge-podge collection of TEN different loop-based animations, featuring quite a few different configurations of fantasy fucking. Hetero, MFF threesome, monster sex, tentacle porn, lesbian, solo – it just goes on. Their length and story varies widely, rather than being a mingling whole, so it reminds me of LOVE, DEATH & ROBOTS.
And that's just exciting.
Multiple voice actors have put their talent on display for these animations, and they bring porn from hot to heavenly, so they're totally getting credit: SilkyMilk, Lorelei Martine, FatBoiiPanda, Karissa Presents, *Star*, TheMonsterBoyfriend, Oolay-Tiger, Pixie-Willow, CottontailVA and KumBomb ~all~ show up in this series.
That's more than a mouthful, and I'm already tingling.
These 10 .mp4 clips amount to about 15 minutes of run time in total. Of note, these are also now exclusively available here, as they've since been removed from the artist's Patreon (though some parts of the works were previously available in the wild-fire charity release – thank you, Chimera46!).
But, not only can you get this sexiness for just $9.95, Chimera46 has also put some discounts on other works of theirs in the store. That's just.. nice. Really. <3 So, go take a look at Busty Elves In Peril – Animation Anthology: Vol 2!