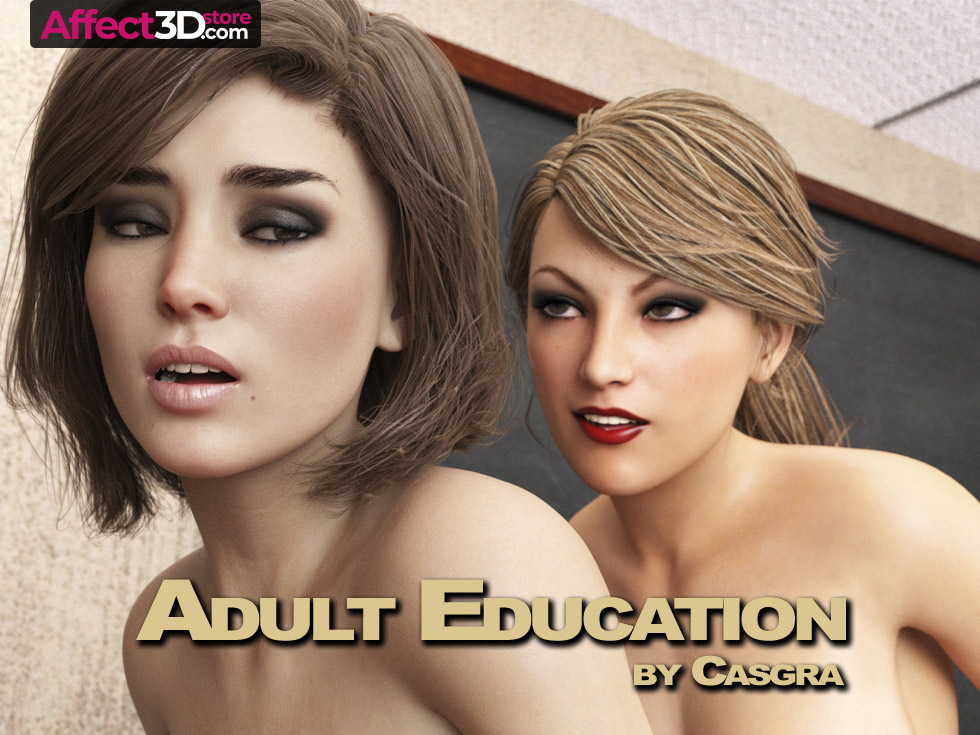 I totally admit it: I'm a sucker for the lesbian sets. I know, I know, but don't worry, I still love all of the futa content. 😉 I'm happy to introduce Casgra's Adult Education set today, featuring some tasty lesbian femdom in a school setting, with even more fetishes thrown in.
Adult Education opens with teacher Stacy meeting student Vera, who completely blows her off in a coffee shop. 'Unfortunately' for her, Stacy doesn't forget her rudeness or let her off for inappropriate dress at school. When she shows up dressed more modestly the next day, Stacy still has it out for her, and makes her switch desks when a male classmate is noticed whispering to her.
After class, Stacy offers to apologize and make it up to Vera. Leading her to a strangely-designed classroom, with just one desk and an elevated front of the room, Stacy then tells her to write how she's such a bad girl, and then steals her phone when Vera puts up a fuss. Their conflict leads to some more closeness, when Stacy brings up her attraction to Vera. They make out in the heat of it, and it's not long before Stacy's fucking her with a strap-on. I swear it's more romantic than it sounds. 😉
Their games continue in the classroom while an old man blackmails another gal in the library, with the story ending in a bathroom. You'll have to read it yourself to find out what that entails. 😉 The 140-count image set, with text, is on the store now for $11.95.