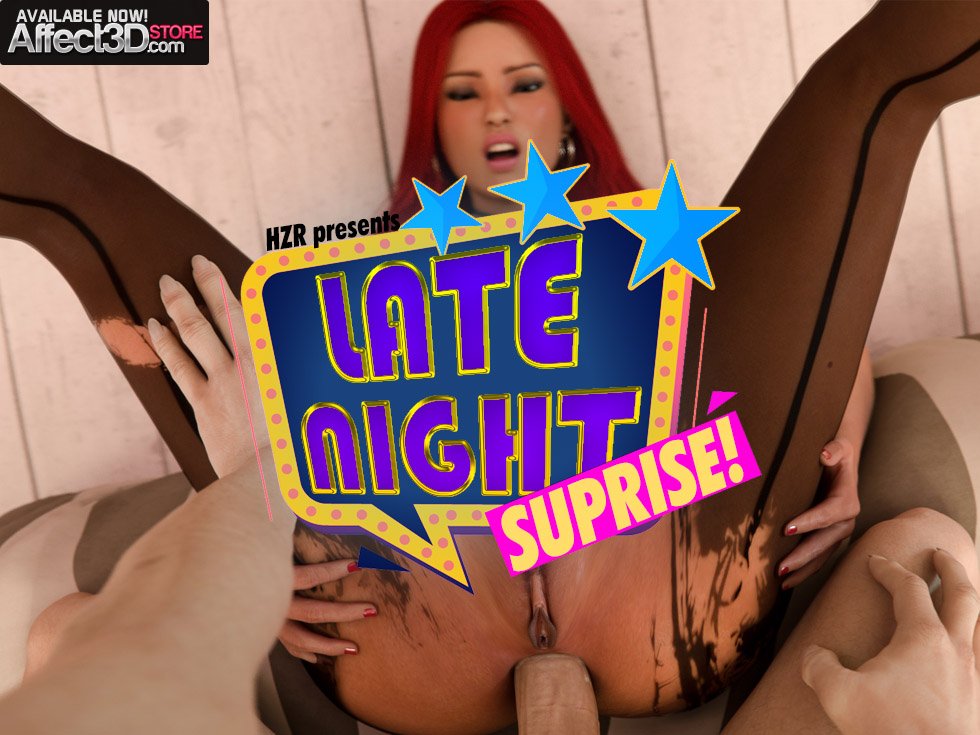 HZR makes a big return today with their late st piece Late Night Surprise! This HD set of over 170 renders is a fun, sexy set to play with on a lonely night, putting a whole new twist on the term cat burglar. And it's available now in the Affect3D Store! The story begins with Chloe, who has had a long day at work. This sexy redhead is ready for a relaxing night in bed with a good book. And, arriving home, she's intent on doing just that. Naturally, things don't go quite as planned.
The redhead starts by stripping off before doing a little reading. At this point, however, she is joined by an unexpected guest – a mysterious cat. As she plays around with the pussy (not that one, an actual pussy this time), she can't help wishing the feline was a man. Lo and behold folks, the cat morphs into a muscular male with a massive, erect cock!
Of course, Chloe can't let such an opportunity fly and the two immediately throw down on the bed in missionary. The tall mute male thrusts into the redhead, who still can't believe her eyes. Once he begins fucking her though, there's little time to question reality. The cat burglar fucks his hostess long and hard on her back, switching between a side position and missionary. Then, the two go to anal, Chloe pressed down on her tummy against her sheets. At first, she's a little shy, but it's not long before she's imploring her feline lover to fuck her hard and deep.
She cums on her floor as he destroys her ass. Grateful, she then generously offers to let her mysterious man fuck her mouth. HZR delivers a hot, magic and sex infused set of 171 renders bound to make you crave a similar experience! All for a tantalizing $10.99, it's available in the Affect3D Store now!