Wow, fans of cumflation, belly bulges, gangbang, milk spray, breast expansion, monsters impregnating and breeding, oviposition and more will delight at this latest cum filled release from Jared999D. And if you're not a fan of breeding? Well, Jared has you covered for that as well. Jared999D's latest image set collection, Elf Slave 3: Two Elves comes bundle with two full versions, one for fans of all the kinks I just mentioned, and one without the pregnancy and oviposition (the non-pregnant version still has the cum inflation, penetration bulge, and squirting tits and more though.) In this particular story, we find heroine Karen locked away in an monster dungeon where she appears to have been getting fucked and filled by orcs for some time. A captured Suzi arrives just as a fresh load of cum is pouring out of Karen's pussy, promising Suzi that she'll soon be receiving the same treatment Karen's been enjoying.
Before Suzi can take all that monster cock, however, she needs to get warmed up, so one of the orcs shackles and chains her to the ceiling while her pussy and ass get warmed up by dildos. Karen's pussy begins to drip profusely, lubing up both dildos and causing them to slip out… Just in time for the six, big dicked monsters to return. (After all, if you're going to add an extra elf girl, as the Elf Slave 3: Two Elves title implies, you need to add in a lot of extra cocks to keep a healthy cock to girl ratio!) The orc's dicks are long, hard, and ready to indulge in the girls' wet holes.
The monsters begin taking turns on Suzi, and horny Karen doesn't want to miss out on the action, she spreads her pussy lips and ass and presses her body against the bars of her cell, inviting one of the waiting monsters to user her holes while they wait for a turn with Suzi. The rest of the 147-image set treats us to both elf girls milked, filled with cum, and fucked by even more hungry orcs. Monster fans, take my word for it, you absolutely won't want to miss Elf Slave 3: Two Elves from Jared999D. It's available in the Affect3D Store now for $10.00 so go go go!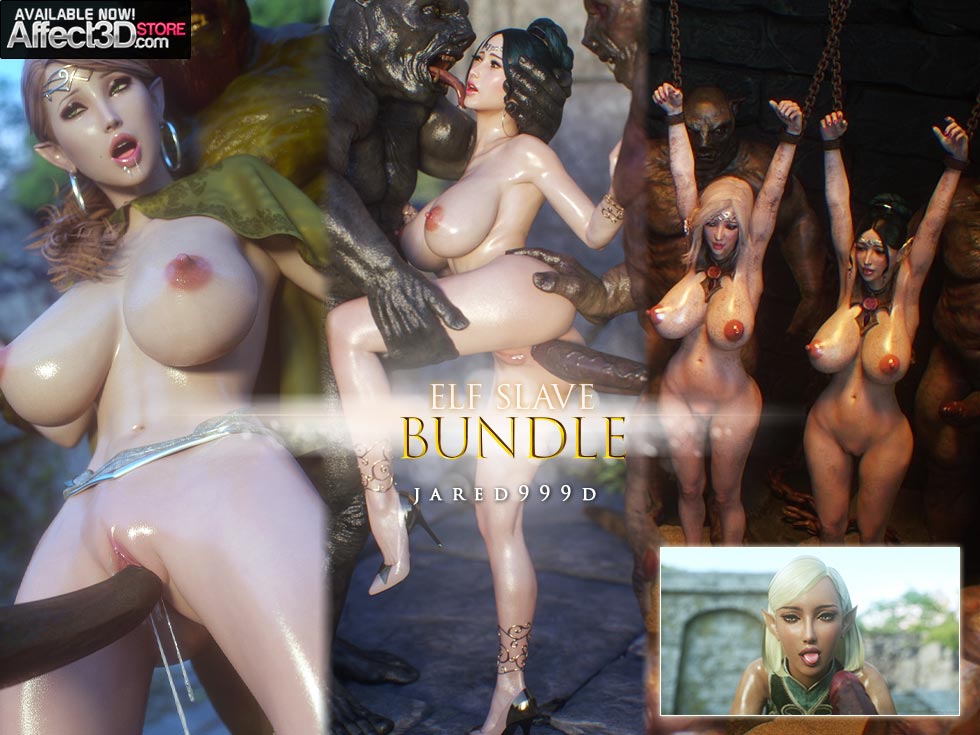 Jared999D has also upgraded his bundle offerings. If you're new to the Elf Slave story, you can currently grab the whole series for just $24.99. Elf Slave Bundle 2 includes 785 images in total across four titles: Elf Slave: Volunteer, Jenna's Revenge – Elf Slave Story, Elf Slave 2, and today's release, Elf Slave 3. This bundle is a steal!