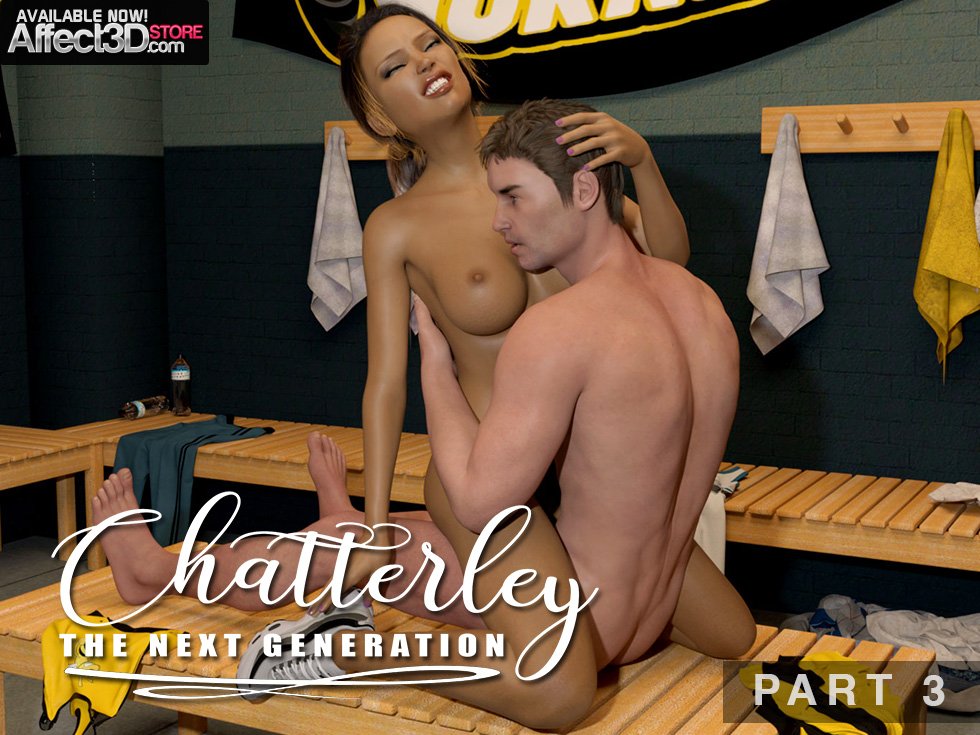 Things get a little complicated in the latest release from Gonzo Studios, Chatterley TNG Part 3, now available in the Affect3D Store!
Crystal is adjusting to college life and things have been fairly interesting. One day, she notices that they're having cheerleading tryouts. She goes and is put through the ringer and she manages to get picked. Sadly, the head cheerleader Cindy isn't the nicest and makes a point to not include Crystal in her squad.
The football is having a big game coming up so cheerleading practice has gone up as they want to be ready to cheer on their team. Once practice is over, James, Cindy's boyfriend, wants to officially welcome Crystal on the team. He says he wants to show her something and if she has a minute to follow him. Intrigued by what he could possibly show her, Crystal follows him. He shows her the football locker room and wants to give her the official welcome to the team experience. Crystal knows what this is code for and while she hesitates, she wants to get back at Cindy for being so ruthless during tryouts.
Things quickly escalate as clothes come off but someone from the team walks in on them. He's not interested in joining but is annoyed with what James is doing. He informs Crystal that if Cindy were to find out about what happened, her life is going to become a living hell. He leaves but not without making James worry about whether or not his 'extracurricular activity' is going to surface. He's not the only one Crystal has to make sure that Cindy doesn't find out for her own sake!
Chatterley TNG Part 3 spans across 65 images and is now available in the Affect3D Store for $6.00. Grab your copy today!
Also, you can check out Chatterley TNG Part 1 for free! Take a look if you haven't yet.