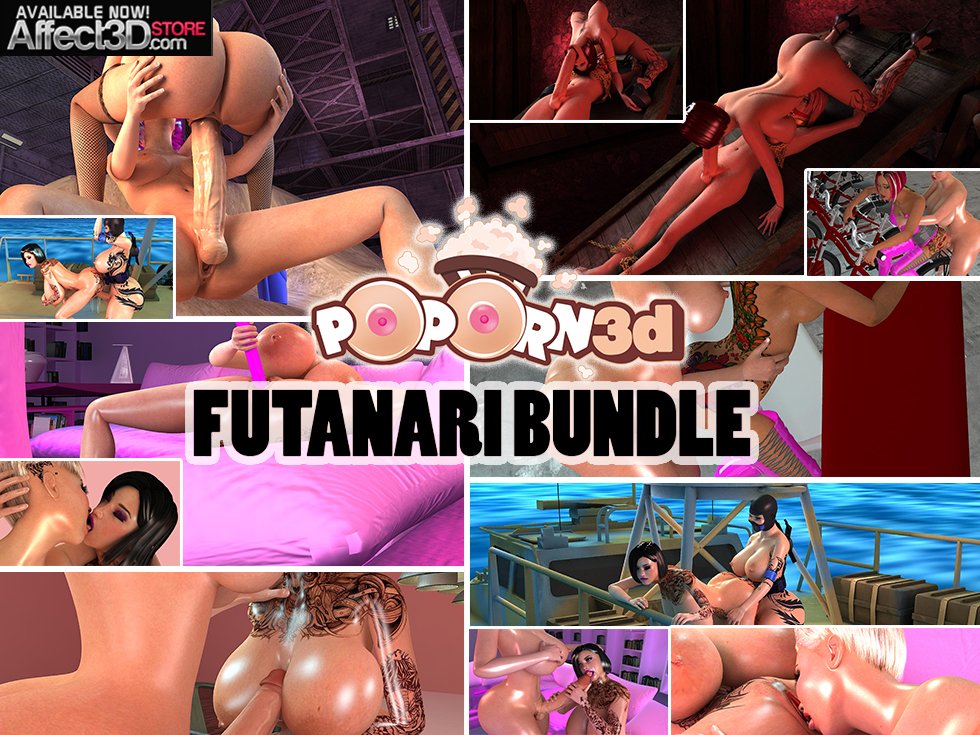 If you've missed out on any of the futanari action by Poporn3D then here is your chance to get your hands on this amazing Futanari Bundle, now available in the Affect3D Store!
Hard Up Movie 1
The animation starts off with Eliza laying on top of a table stroking her massive cock. Alina walks in on Eliza and helps her release some sexual tension but not before she gives her one hell of a show. Alina begins to use a dildo on herself in front of Eliza. Eliza is now standing in front of Alina, stroking her cock and ready to play.
Eliza puts her cock in between Alina's huge tits before moving things to a table and going down on Alina. The rest of the evening concludes with Alina feeling every inch of Eliza's cock in various positions. These two are always ready for sex anytime, anywhere.
Hard Up Movie 2
The movie starts immediately with Eliza, laying on the ground fondling her massive tits. It doesn't take long for her cock to become fully erect and she wastes no time stroking it. You get to see her cock in all its glory from various angles as well as witnessing great cum shots. Eliza cums a few times and eventually Alina steps in to help finish the job. Alina has come fully equipped with sex toys to really get the most out of this fuck session.
Hard Up Movie 3
Alina is lying on the couch and notices a book nearby realizing it's a book of her and Eliza. Excited by the idea of having a book full of lewds featuring herself, she begins to masturbate. She thinks back to her last hookup with Eliza and has one hell of a solo session. That's when Eliza walks in and joins her for another round.
Game Of Sword 3
A fantastic story about the Vampire Kira. Our story's protagonist possesses the Ancient Magic Sword, which gives her tremendous power. Episode 3 shows us more of Kira with her Magic Sword, using it for her many interesting perversions.
Sex T-800
This new movie features sexy futanari Laura and Lacy. See what perversions have been prepared for you….
Challenge Of The Futa Ninja
The legendary futanari Ninja goes into action! Mission to free Elina from a group of paid kidnappers. Watch the ninja and Elina fuck passionately on the boat.
Charge Me
Biking and fucking? Have you ever tried to fuck in a bicycle stand? Futa girls have it and have fun.
This bundle also comes with the image sets of Hard Up Movie 2 and 3 resulting in 241 images for your viewing pleasure. With all these movies and image sets combined, you can fulfill all your naughty futanari fantasies all in one space! Futanari Bundle is available in the Affect3D Store now for $60.00!