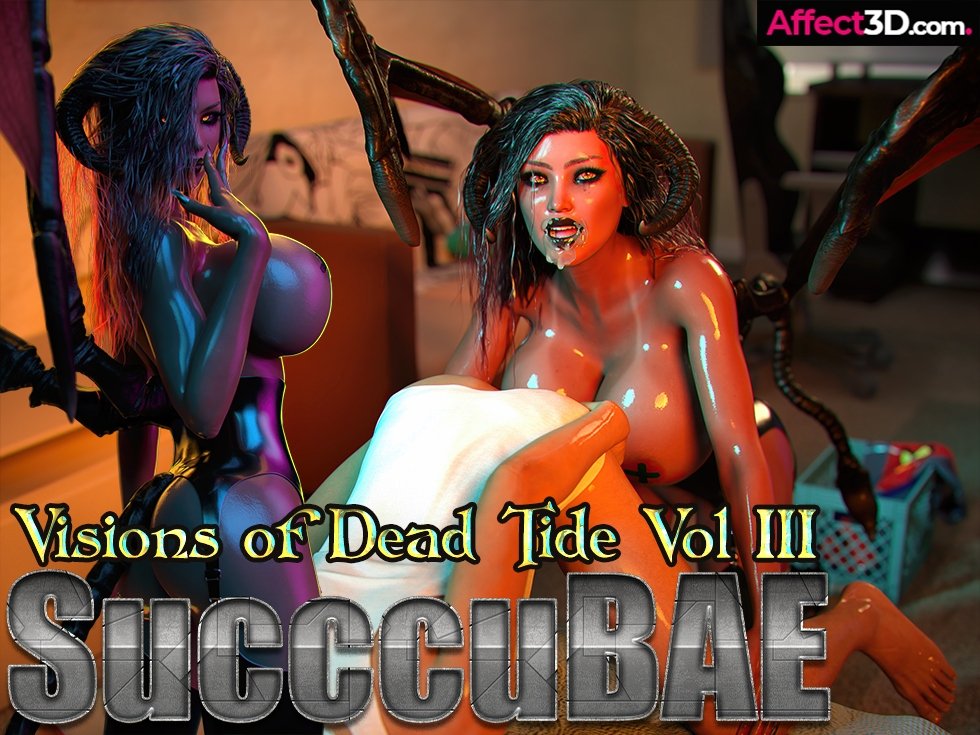 For a series called Dead Tide, it sure gets a lively reaction from viewers… 😉 Gazukull's got another present for us in Visions of Dead Tide Vol III: SuccuBAE! (I admit it, I giggled at the title.) The third in a series of vignettes from the Dead Tide universe, this time we get to enjoy the Dread Pirate Queen Jessenia in her SuccuBAE form. Which involves lots of hot demon-in-black-latex femdom, of course.
… I don't quite get the tape over her nipples, though.
Ambushing a well-endowed "nerd" type, she interrupts his masturbation time with some more interactive entertainment. Moving him across the room at her bidding with magic, she quickly milks two orgasms out of him with her boobs. (I don't know what kind of magic that is to keep him hard, but I want some.)
Then she mounts him for some pleasure of her own, taking a break only to drown him with her piss and then get him licking her clean… and, of course, draining him again with her mouth. I wonder if balls get sore after so many orgasms?
Grinding down on him with her ass and her cunt, she milks out another two orgasms before letting him have any control over his own movements. He picks her ass, of course – pervert. 😉 She extracts another several orgasms from him, cum dripping out of her mouth and down her legs – and that's only page 61. Yum. You can see the rest of this cum-filled demon femdom set – amounting to 111 pages in total – for $7.00 from the store. Happy Visions of Dead Tide Vol III: SuccuBAE, y'all.