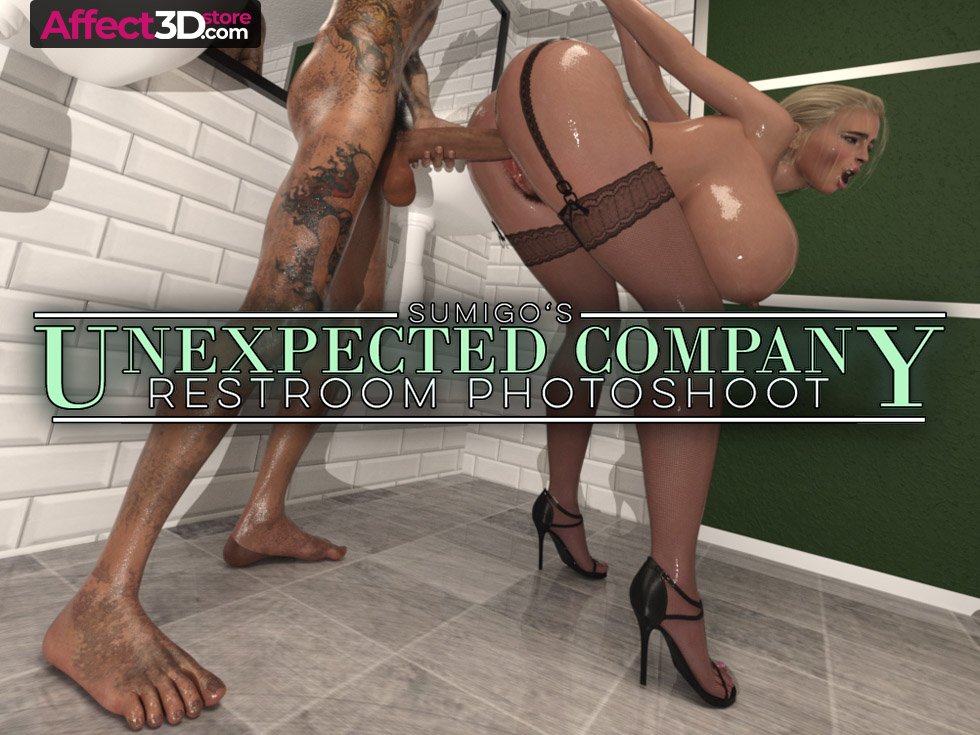 Going through a divorce can be a bit nasty. All the legal work and you may be down financially. In the latest from Sumigo, Unexpected Company – Restroom Photoshoot (now available in the Affect3D Store), Cassie is in need to work as she lost everything in her divorce with her ex-husband. Things take quite the turn though as she runs into a guys who prove to be more than a handful.
Being a retired model needing to get back into the scene can be a little hard. Especially so if you've burnt all your bridges and are forced to do a ridiculous shoot with the only photographer that will still work with you. Opting to do a photoshoot at the beach in lingerie, Cassie agrees as she can't be picky with what work is thrown her way.
Whilst at the shoot, she needs to take a break to wipe off as it's a particularly hot day. She walks into the wrong restroom however and comes across a man, who is naked, sitting at a stall. He runs after her but she escapes and goes into another. Unknowing to her there is another man who sneaks up behind her and rips off her clothing. It's apparent what he wants and her chances of escaping are pretty slim so, why not fuck? The first guy she encountered finds her and joins in making it a threesome fast. Her photographer catches the action and decides to take photos – not sure how much Cassie will like this but hey, maybe she can take advantage of this opportunity.
Shortly after a third man comes in and every orifice on Cassie's body is filled with massive cocks. Maybe she's found a new line of work to participate in after this unexpected encounter?
Unexpected Company – Restroom Photoshoot spans across 43 images and is available in the Affect3D Store now for $6.00!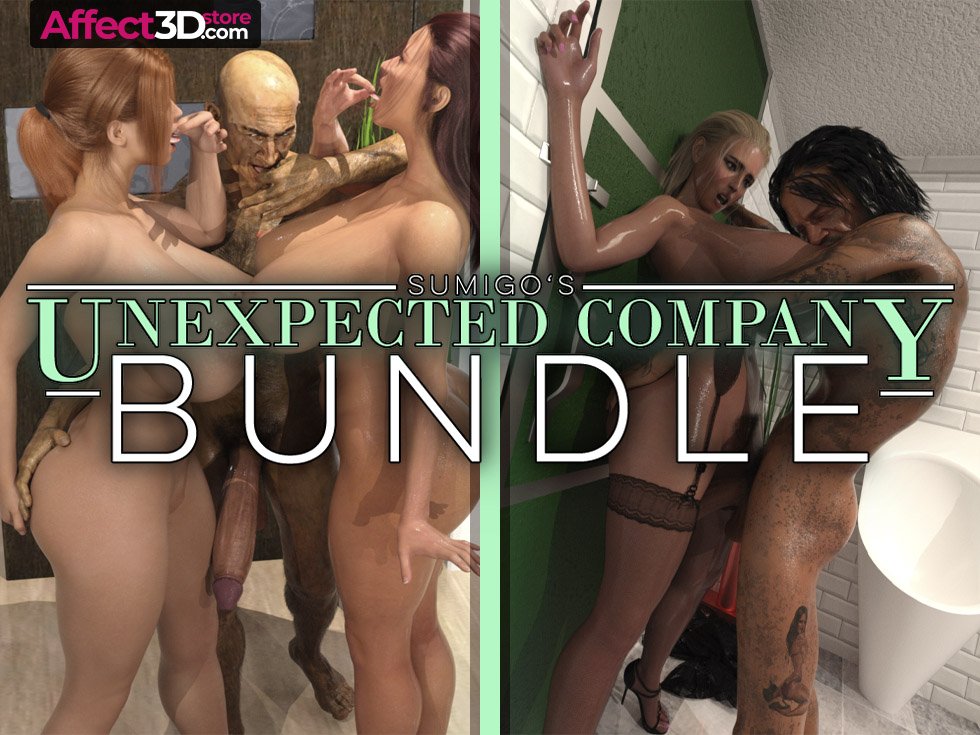 Looking to buy some bundles? Why not grab the latest bundle from Sumigo? In this bundle is the newly released Unexpected Company – Restroom Photoshoot and it's accompanied with Unexpected Company – Summer Rental!
In Summer Rental, Frannie and her stepdaughter Vicky plan a summer trip together. Frannie's father wants her daughter to get to know his new young wife. Vicky isn't fond of this so she devises a plan to prove to her father that Frannie isn't worthy of being with him.
During an odd trail of events, her plan backfires some and she gets tangled in the thick of it all. Let's just say her and her stepmom get a bit….close. Wanna see what happens? Then snag this bundle that's in the Affect3D Store now for only $12.00!