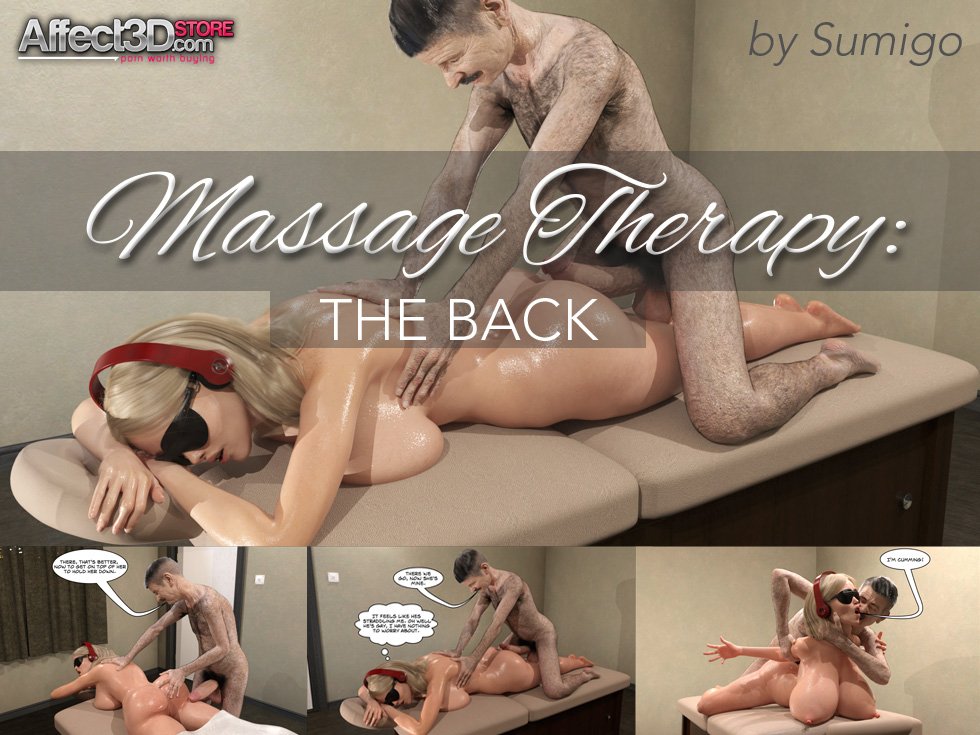 We have a treat for you as Sumigo is back with Massage Therapy: The Back, now available in the Affect3D Store!
Things take a bit of a different spin with this title. It's the same story but with a different ending. Our hot blonde milf has come for a massage but has been introduced to try an experimental technique. In doing so she must wear a noise cancelling headset and a blindfold. She's hesitant but once she finds out that the massage will be free upon agreement it was hard to pass up.
The proprietor's Uncle Floyd comes in and observes the hot blonde ass. He hops on the massage table and gives her legs a good stretch before he thrusts his massive cock inside of her. Things are far from finished when the janitor comes in to join the fun. Uncle Floyd and the janitor switch sides and the janitor is behind the hold blonde while Uncle Floyd has his cock inside her mouth. I like to think of this as a deluxe massage 😉
Massage Therapy: The Back spans across 21 images and also has looped animations of the hot blonde getting penetrated in an array of positions by both Uncle Floyd and the janitor. Get your copy today for $7.00.
Missed your chance to snag Massage Therapy: The Front? No worries! You can get Suimgo's Massage Therapy Bundle! Combined you'll get 41 images and a slew of looped animations of our hot blonde getting penetrated. Head over to the Affect3D Store today to grab your copy for $12.00.