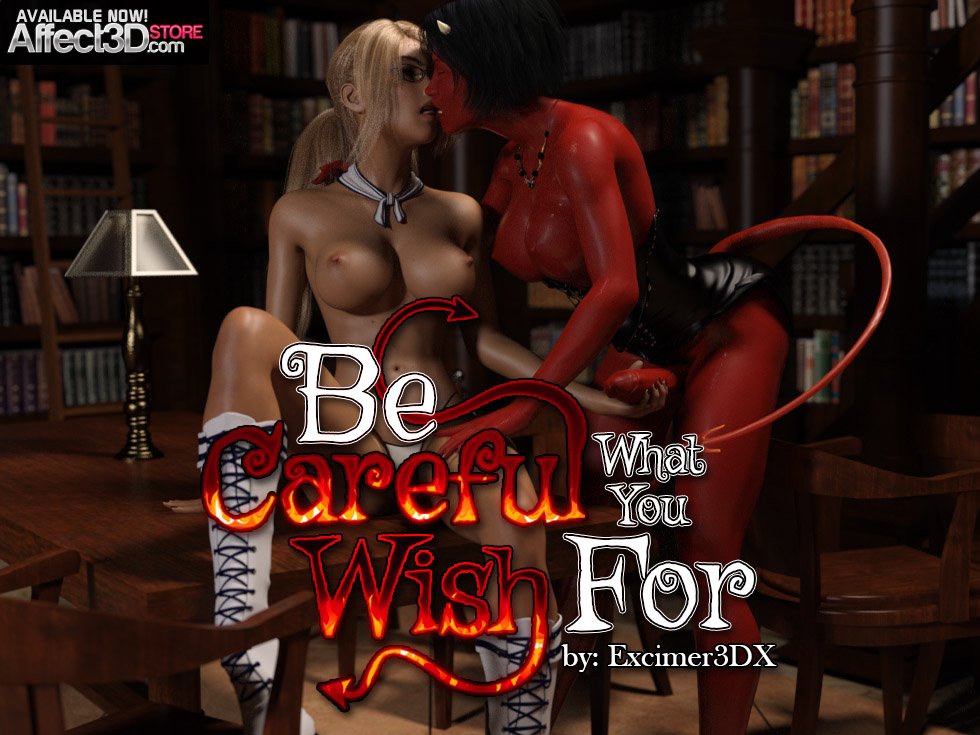 Give a warm A3D welcome to the latest of our lovely creators: Excimer3DX! They're starting strong out of the gate with a devil dickgirl set (yum!), Be Careful What You Wish For, and the night of fun that follows after her appearance on the mortal plane.
And I know I can't be the only one who's had this sort of fantasy.
Our sweet blonde heroine Fay sneaks into the college's old library to make use of its grand pentagram with her Tome of Erotic Summoning. That's a straightforward title for a book with… many uses, I'm sure. 😉 She quickly summons forth a demoness, but it doesn't look like her binding is particularly astute, as she walks right up to Fay and gives her an earful of what she has in mind.
Curiosity and lust overwhelm caution, and Fay undresses with the demoness' help, quickly diving into a 69 and a mouth full of cum. They make good use of their surroundings to fuck and suck on each other, enjoying a lot of positions before Fay finishes her off with a huge paizuri cumshot.
The set's titled Be Careful What You Wish For, but this all looks like upsides to me. 😉 You can get the 60-count image set from the store now for $6.49 – and I must say I particularly liked their use of the library set for fucking. That's a pretty hot place for sex, imo.