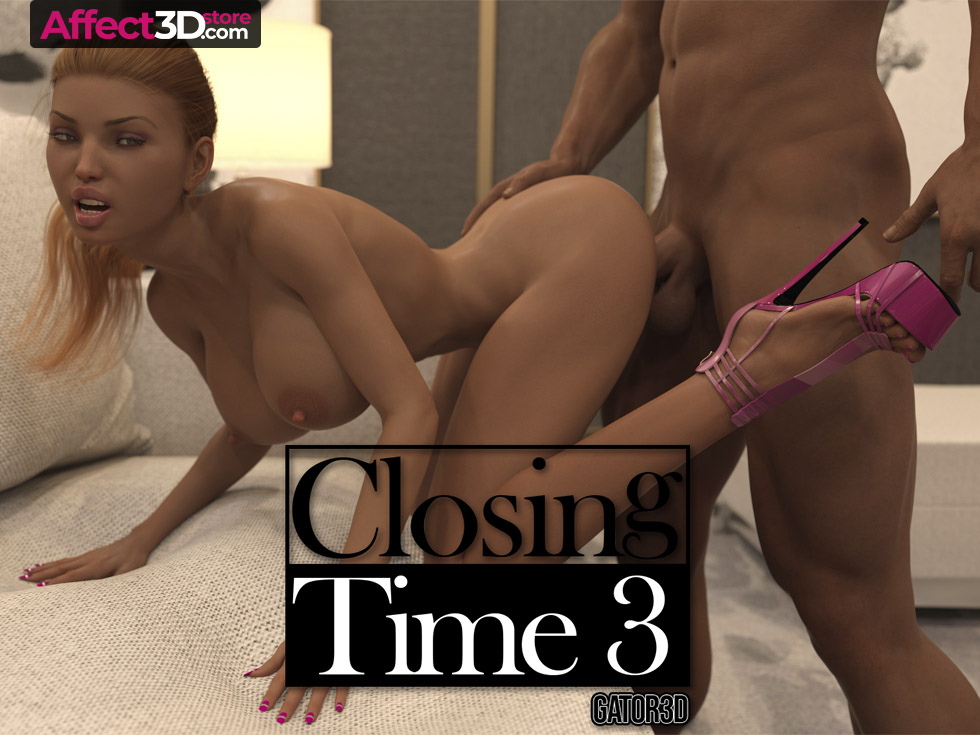 There's this natural association with bodies working hard, getting all sweaty and toned and strong, and… well, fucking. 😉 It just makes sense! In a small twist of the natural setups the gym-fit tend to get up to their sexy shenanigans, Gator3D's Closing Time 3 uses a fitness contest to bring together its hot lads and lasses to get dirty together on the sheets.
It opens with one of the hung men looking over some stills of the ladies in the contest. He meets two of them downstairs with his friend, their cardio trainer. Amidst the banter, he brings up the possibility of them modeling for him, and the guys get chatting while the ladies go up to change. And, "Well if cumming over and over from a 40-something with a 10 inch cock is wrong, I don't ever want to be right" is definitely my take-away quote from this set. 😉 It's clear they're setting up to a foursome!
Once they're back downstairs, the flirting starts up pretty much immediately. The two gals are eager to get fucked, so they head back upstairs pretty quickly to unveil their hot bodies and lascivious appetites. While enjoying the big cocks, they get the idea to take turns getting both of their holes filled, and revel in the deep-dicking double penetration.
But from there a fifth shows up for fun, and it blossoms into even headier sexy action! You can nab the 169-count image set, Closing Time 3, in versions with or without text, from the store now for $10.95.