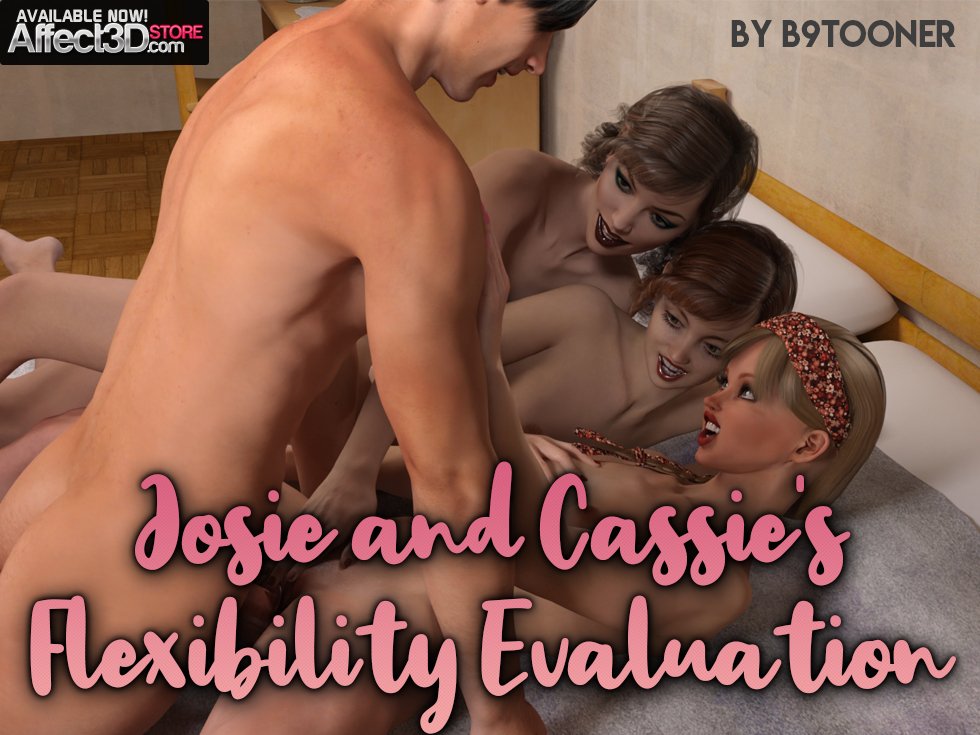 Josie and Cassie are back at it again in the latest from b9Tooner, Josie and Cassie's Flexibility Evaluation (now available in the Affect3D Store)!
The two girls are back at their dorm talking about how much fun they had at the pizza parlor. Getting the sausage special was exceptionally fun and would love to do it again. After taking off their clothes and cuddling Professora comes in with a guest.
It's Teacher and they're here to test their flexibility. Teacher instructs classes revolving around modeling and photography. Teacher takes on Josie and Professora spends time with Cassie. Cassie enjoys pleasing Professora with her tongue which prompts her to teach Cassie the 69 position. Completely engrossed in licking Professora's wet cunt, it's time to switch partners and let Teacher test Cassie's flexibility.
Cassie doesn't want to do it alone so Josie and Professora join in and pay attention to Cassie's breasts while she's being fucked by Teacher. Ultimately spending the day taking turns with Teacher and Professora, Josie clearly has more flexibility and gets to be covered in Teacher's cum. There's nothing like having a nice fat cock to end your evening. I wonder who else these girls are going to meet?
Josie and Cassie's Flexibility Evaluation spans across 234 images and is available now in the Affect3D Store for $9.99!