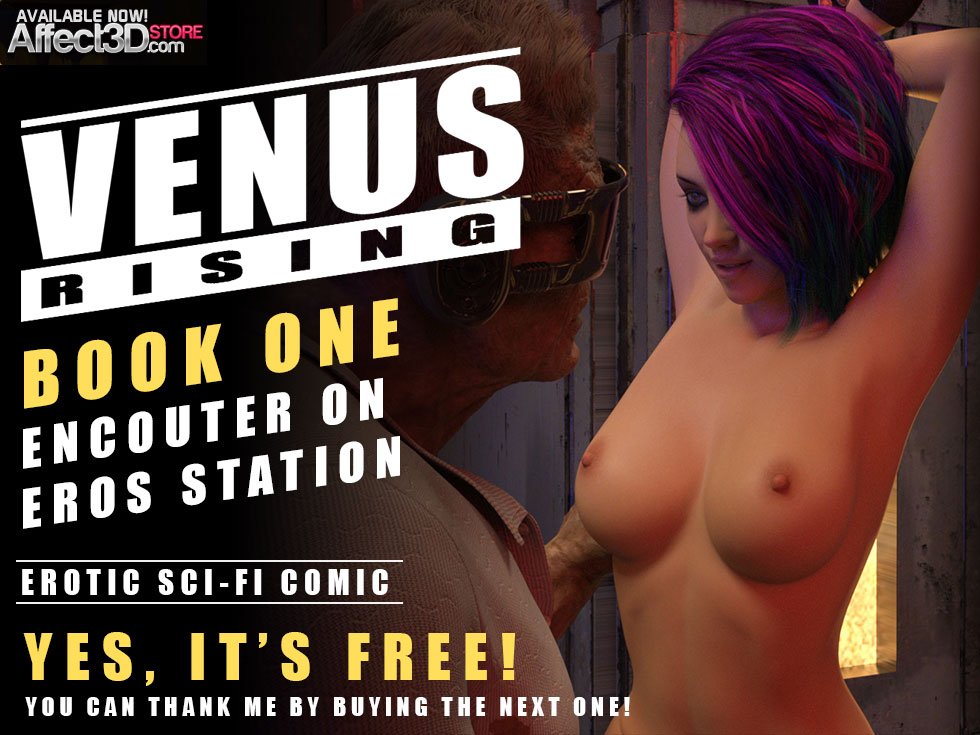 Gonzo Studios has graced us with another story and it's set in space! Now available in the Affect3D Store, take a look at the first installment of Venus Rising: Encounter on Eros Station!
Bella and Tanya are in a bit of trouble which isn't surprising. Their commander wants them to take the time to better themselves and they promise to do just that. Once at Eros Station, Bella and Tanya are approached by an alien who is trying to entice them to play a game – first try is free. Tanya is aware that it's a con but Bella ignores her comment and follows the alien. She enters a room and is told that all she has to do is press the red button in front of her to see if she's a winner or not. Fairly simple, right?
She's a winner and her prize is behind door number one. However, before she opens the door she must change her clothes. Confused as to why she must do this, she complies and changes. When she comes out she's in a sexy lingerie set. A little uncomfortable with what she's wearing, the alien confirms that it's quite alright and she looks splendid. She introduced by a blue-skinned alien who says they only have 30 mins and the timer is running. Unsure of what's going on she's informed that they're together to have sex. Bella hasn't had sex the traditional way – through penetration but after this prize she won't view sex the same again!
Tanya, on the other hand, is looking for VRX experience disks. The ones she's after aren't normally sold and are pricey. Unfortunately, she doesn't have the money but she's given an opportunity to get her hands on these filthy disks by being in one herself. All she has to do is have sex with Bruno, the alien who films these and she can take whatever she'd like. Tanya doesn't hesitate to be fucked in exchange to watch others.
All goes well but not without consequences. The two are in trouble yet again for their actions and are sent back to Earth for more training. Maybe these two will learn but who can turn down hot sex?
Venus Rising Book One: Encounter on Eros Station is the newest from Gonzo Studios featuring a 70 image set filled with hot women, even hotter aliens and lots of sex. Grab your copy today absolutely FREE! That's right! Get this brand new title at no cost to you!