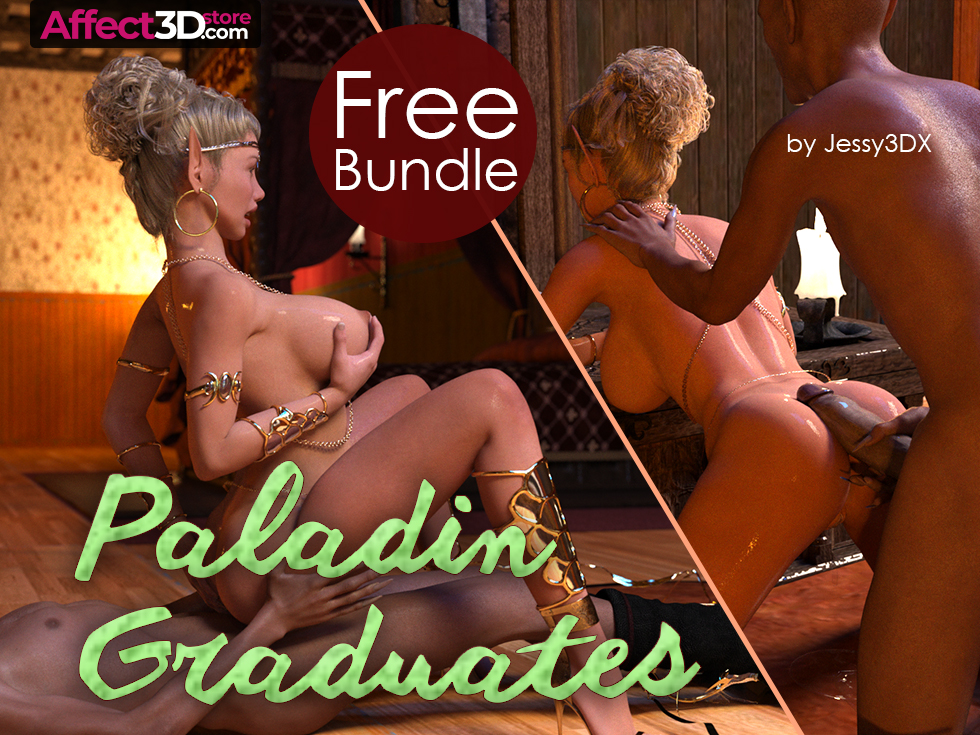 We all love bundles here but what about a free bundle? You heard it right, today's bundle is a nice one and it's absolutely free!
Paladin Graduates: Paladin Ilya and the Mirror
Ilya is standing in front of a mirror when she begins to start pleasing herself. She's calling for the Fleshgrater Melcinitan – he's responsible for giving her the voluptuous body she has now and is wanting to show her gratitude. He promptly comes and wastes no time in getting getting his cock ready for her. Filling all her orifices, Ilya is overcome with euphoric pleasure and the Melcinitan ends their session with a hot cum shower.
Paladin Graduates: Mission Briefing
Ilya and Tainlee have officially graduated from the Paladin Academy and now it's time to get their first mission. Ilya goes in first and she is given a mission to complete fairly quickly. She takes it with pride and walks out. Tainlee walks in after her and the two men who are responsible for handing out missions are surprised and a bit confused. Upset by this, Tainlee demands to be given a mission as Ilya was given one no problem. One of the men, although annoyed, gave her a mission but while doing so he walks over to give her a special 'parting gift'. 😉
Paladin Graduates: The Get Together
Ilya and Tainlee are discussing their missions when Ruby appears to congratulate them. Things begin to get hot and heavy as the three of them start having some fun – nipple sucking, fingering and the like. They decide to take this to one of their rooms. Tainlee offers her room and they follow suit. They may not see each other again and they want to make their last night together one they'll never forget. Unknowing to them, there's someone watching from the shadows….
Paladin Graduates Free Bundle spans across 3 sets totaling up to 127 images. And the best part? It's FREE! So head over to the Affect3D Store now and get your copy!