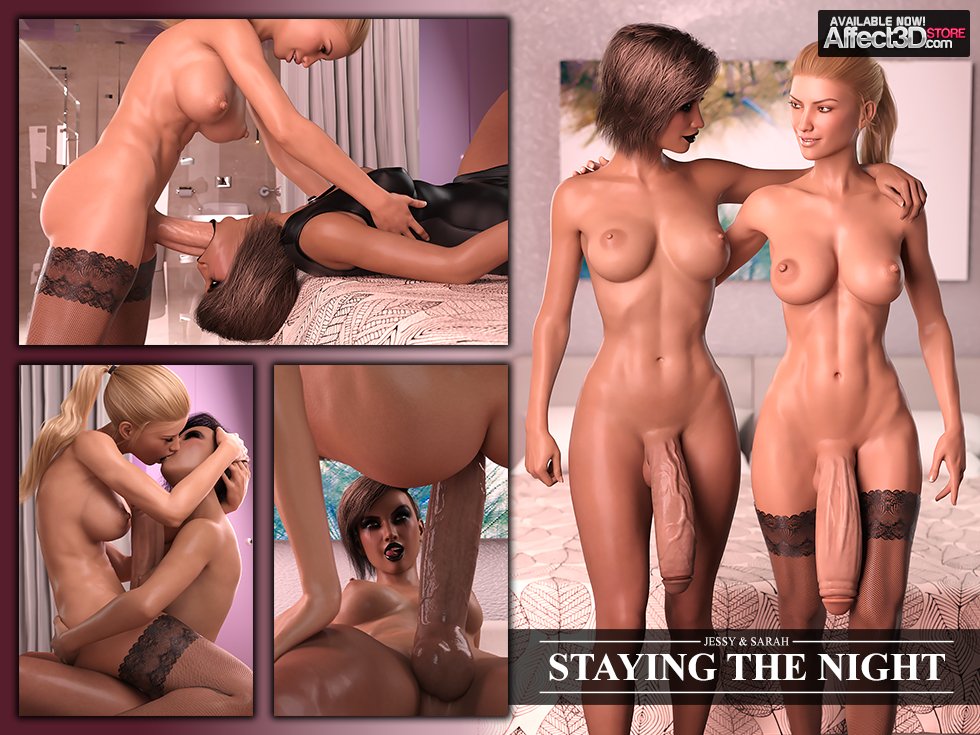 Today's release comes from CrazySky3D and picks up with the lovely Sarah and her erotic adventures! Staying the Night is indeed the latest installment in this very cute and hot series!
The setting is Sarah's apartment. And what a home! Indeed, this busty blonde entrepreneur has it all: the body of a cheerleader, the cock of a god, and all the riches and success anyone could dream of. And now, she has a new plaything to have fun with. Unbeknownst to her, however, Jessy (a cute brunette goth dickgirl) has other plans.
The pair start making out against Sarah's door before switching to the bed. It's at this point that Sarah's plan of having her way goes a little sideways. You see, Jessy quickly gains the upper hand and rims Sarah before presenting her cock between her lovely legs. Without waiting for her lover's approval she thrusts it in and fucks her missionary. This decisive action leads to Sarah cuming in her own mouth before Jessy Creampies her.
However, things aren't anywhere near over. Indeed, Sarah decides to grab back control and flips Jessy over. She thrusts her massive cock down the would-be dominant's throat and goes deep and hard. Sarah revisits on Jessy what the brunette had just done to her. And just like that, the roles are reversed. By this point, the goth is utterly under her new mistress' control. The tables have turned!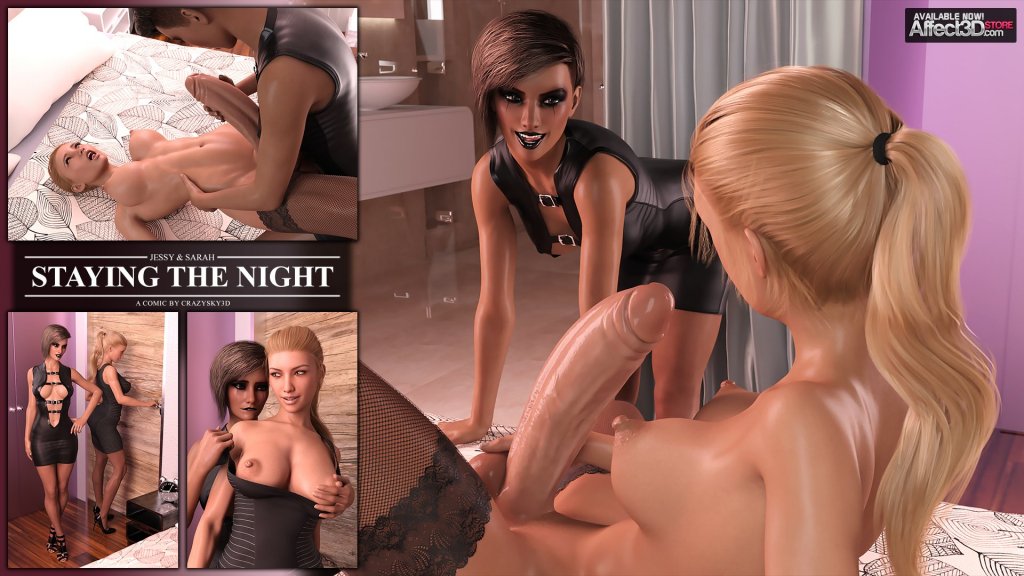 Jessy lets Sarah first rim her then fuck her from behind hard. She can only marvel at the blonde's superiority. The couple then switch between roles, fucking each other, and cumming everywhere!
CrazySky3D really does a brilliant job of setting up a dynamic and fun powerplay between the two characters here. And man is that sex hot! I can't wait for the next episode!
Staying the Night is available for $10.00 in the store now, and this stunning release is a value! It contains 106 HD renders with both a comic and text-free version. It also includes an extra set of 4K and HD renders for your pleasure. Also, CrazySky3D is offering a German language version, Ubernachtung, for those of you hailing from Germany (or happen to read German)!