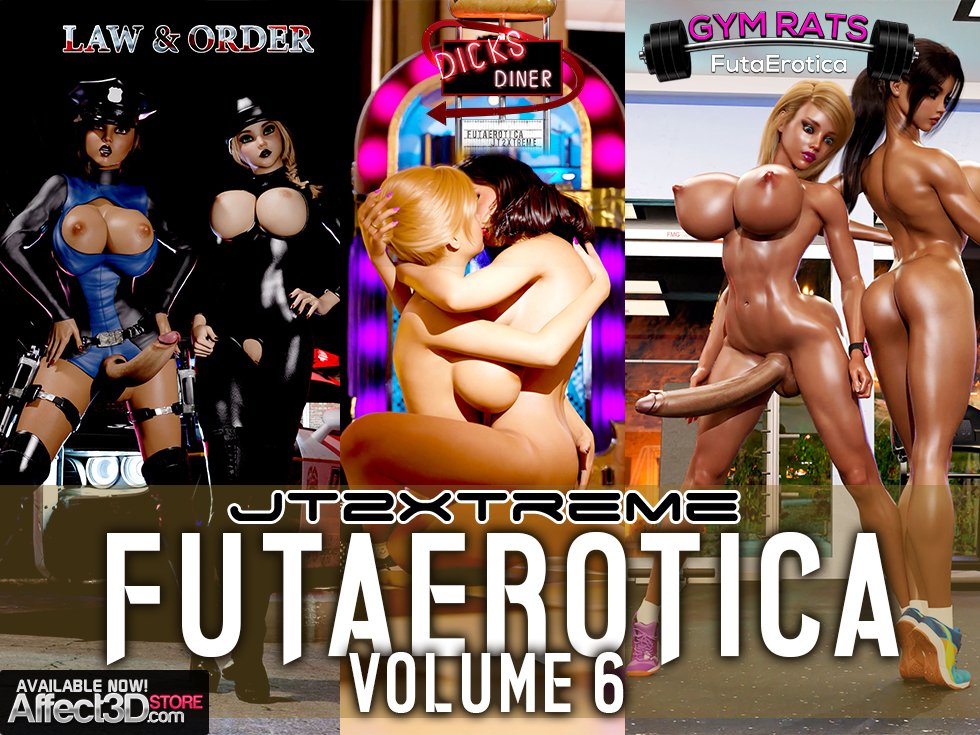 JT2XTREME is really on a roll with their bundle releases! They just dropped FutaErotica Vol. 6, which contains releases 13-15 of theirs: FutaErotica Dick's Diner, FutaErotica Law & Order, and FutaErotica Gym Rats. All three are packed with animated video of dickgirl fucking, totaling over 71 minutes of MP4 porn!
That's a lot of lewd.
Animated works are definitely some of my favorites, so I'll jump straight into the summaries:
DICK'S DINER
Period porn! A trip to the local drive-in diner for a burger and shake ends up having so much more on the menu. I do love the 50s aesthetic, and those heels are just amazing! This is some straight fucking from JT2XTREME's finest, so enjoy the public fucking in style.
GYM RATS
The most fun kind of exercise has always been sexercise, and this set just adds more proof. These two fitness fanatics add some 'new exercises' to their late night gym workout routine, and while flexing their toned muscles, they can't help but want to pump a different kind of iron. I can't help but giggle at the gym shoes, but they're definitely true to form. And the gal enjoying her dickgirl partner is one of my favorite models. <3
LAW & ORDER
There's three chapters in this release, which is as nice as it is unusual. First we have the burglar getting apprehended by a well-hung police officer who's packing something much more fun than the standard issue firearm. After being taken into custody, the burglar faces her day in court. Her defense attorney tries a very… unusual strategy for the defense. It draws the judge's ire, even though they eventually join in to create a threesome. So unfair! Sentenced to jail, our burglar ends up being less than hapless, as she gets a beautiful cellmate – and they have know how to keep busy around the cellblock.
These three releases each contain an image gallery along with the animation, giving you lots to look at. And, best of all, the bundle is discounted – so you can get the three video releases for just $29.95! That's a lovely price for so much dickgirl fucking. Check out JT2XTREME's Volume 6!