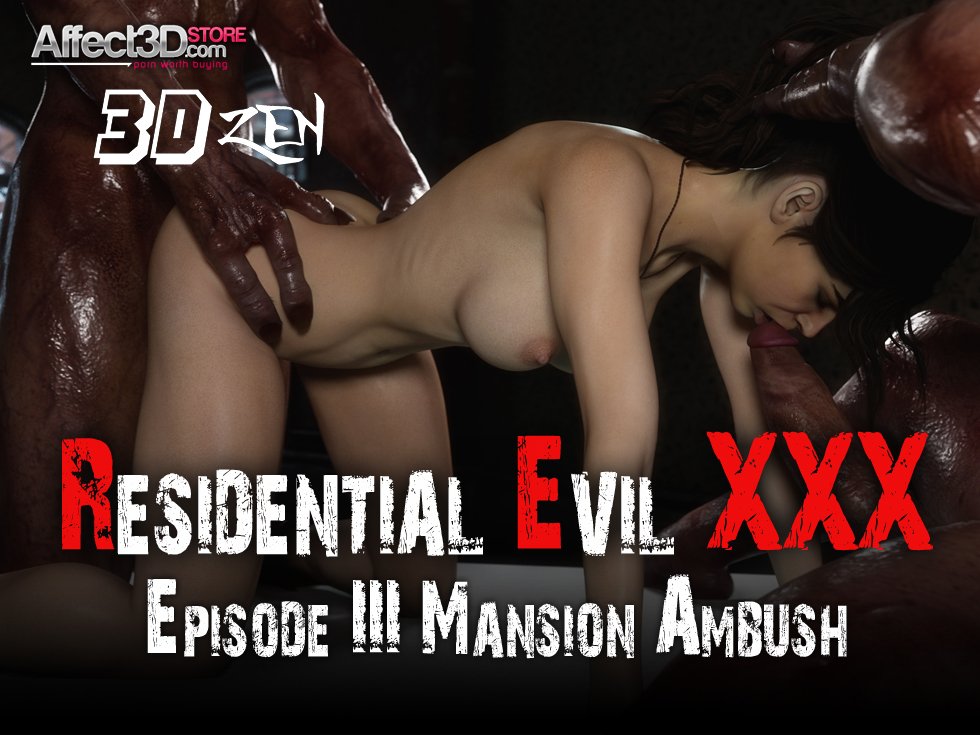 Your favorite zombie 3DX parody is here guys! Yup, 3DZen is back with Residential Evil XXX Part 3 – Mansion Ambush! And as far as weirdly hot/messed up 3DX goes, this really hits the spot! So grab a copy in-store now!
Clair is back to her usual business of saving kidnapped damsels in distress. Once again, she finds herself in an abandoned mansion surrounded by well-hung zombie mutants. She attempts to hide but one such mutant sneaks up on her. Together with another zombie, the pair strip Clair and get about their sole purpose in this world: fucking females.
The zombies start by licking Clair's pussy whilst she is forced to take one of their massive cocks in her mouth. Naturally, this then leads to her being fucked in both her pussy and mouth by the mutants as she lays on her back. The trio switch to doggy-style before the mutants cum on Clair's tits and face. Things aren't going to plan for the zombie killer babe!
Fortunately, Clair is rescued by Ana Woo. But the minute this sexy side-kick kills one of the mutants, another erupts from its stomach in the shape of a cock-headed serpent! It penetrates both women and uses its aphrodisiac venom to subdue the rescuers. Little does she know, but Clair is also pregnant with the zombie offspring!
The two girls are dragged off to be fucked by another mutant whilst Clair gives birth to the mutant larvae. However, in another turn of good fortune, Jill – the third zombie killer – enters the fray and rescues her partners.
This is proving to be one hell of a bumpy and slithery ride folks! Part 3 of Residential Evil XXX really builds on that dank, post-apocalyptic vibe 3DZen really captures. And of course, it's just as hot and weird as the previous installments! So be sure to grab your copy for a mere $10,99 in the Affect3D Store now!