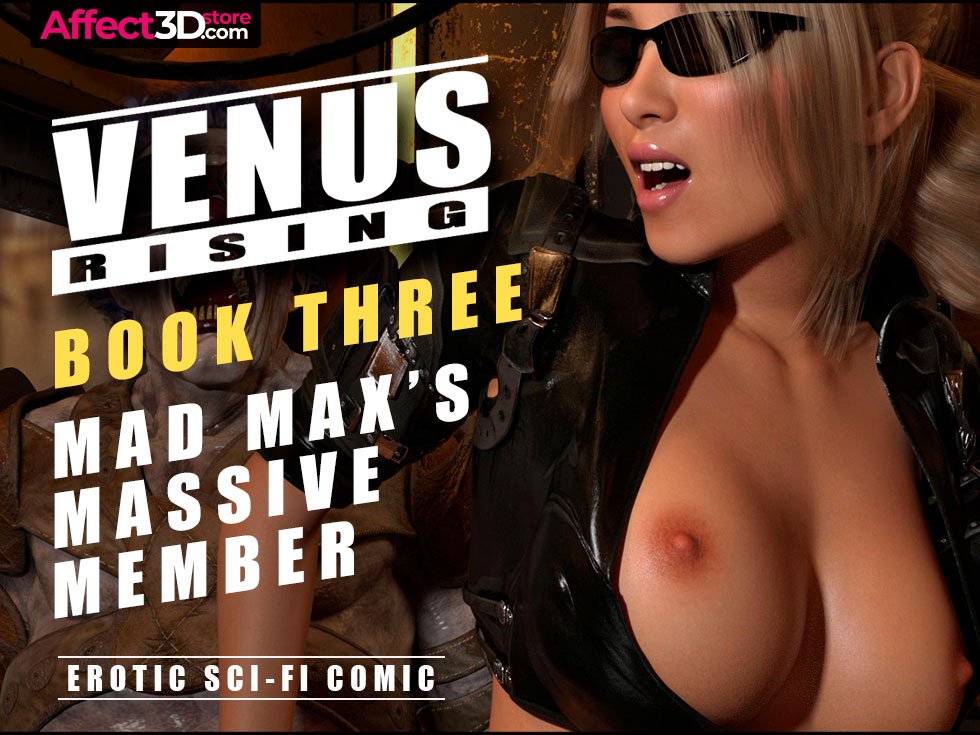 Our favorite galactic misfits are back and are in need of some soldiers! In the latest from GonzoStudios, Venus Rising Book 3 – aka Mad Max's Massive Member (now available in the Affect3D Store), Bella heads off to see Max to get soldiers from him. Earth is in need of defense from Draconians and he's their last hope. Course when you're broke you have to get creative with your negotiations.
In route to Ceti Gamma 4 Bella and the gang are met with some hostility resulting in losing their main stabilizer. Reaching the city Bella, Xena, Tanya and 4Q-2 split up – Bella to speak with Max, Tanya and 4Q-2 to find a stabilizer and Xena….well, she's just to stay out of trouble.
Tanya comes across a stabilizer pretty quick and it's ironically the specific one that's needed for their ship. The dealer tells her what the price is and Tanya explains how she's broke but she's willing to make an offer. The dealer is on the same wavelength and whips out his cock – Tanya gets on her knees and wraps her mouth around it. He returns the favor before thrusting his massive member deep inside her. Ending with Tanya covered in cum, she gets the stabilizer and is on her merry way.
Xena is looking at some weapons and comes across a rocket launcher. Not necessarily needing it but thinking it's pretty damn cool Xena finds out she can't afford to purchase it. But she offers a tradeoff with the owner….sex and lots of it! And who can say no to fucking a human? 😉 Leaving the owner satisfied, Xena is given the rocket launcher without hesitation.
Bella has met up with Max and he has plenty of soldiers but with the enemy she's facing it's going to cost extra. He proposes a test and if she passes he will help her. Now what could the test possibly be? 😉 The test of Mad Max's massive member of course! Desperate to defend Earth, Bella agrees to the test. And what a champ she is with it! Max has nothing on Bella and she's able to make him cum, passing with flying colors.
The gang all meet up and head back to Earth – who knew all you had to do was have sex to get what you want?
Venus Rising Book 3 – aka Mad Max's Massive Member spans across 101 images and is available now for $8.99!