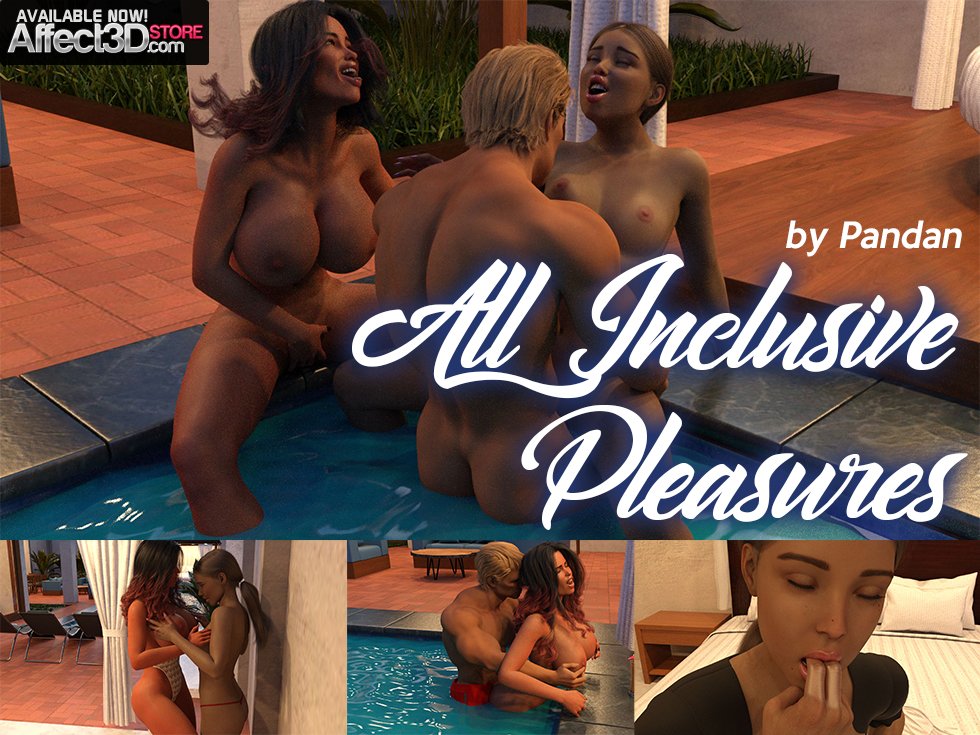 I bet a lot of us are dreaming of an idyllic vacation somewhere warm with a pool and all-inclusive service. Well, dream no more folks! Today's release introduces a new artist – Pandan – and it deals with just such a vacation! All Inclusive Pleasures is available now in the Affect3D Store!
A hot couple has booked themselves a villa in a warm country and is enjoying their vacation by the pool. As the two bask in the evening warmth by the water, a young maid comes out to bring them towels. Now, I'd gather by her reaction she's not used to having such attractive clients. Indeed, she can't keep from staring and rushes back inside to touch herself, thinking of the wife's huge tits.
Determined to seduce the pair of holidaymakers, the maid returns outside and quickly catches her mistress' eye. As the husband continues to swim, she starts making out with the horny maid before the pair quickly strip off and get down to more serious business. The two women take turns licking each other's pussy, making themselves cum.
By this point, the husband has finished his swim and finds his wife returning to him, apparently still horny. Now it's his turn to pleasure her. He starts off by eating her out before fucking her from behind and then missionary. Naturally, that naughty little maid can't stay away and joins the couple to be fucked on the pool edge. The wife watches on in delight, pleasuring herself.
Gotta say, I'd really love one of those holidays myself! Pandan makes a great foray into 3DX with All Inclusive Pleasures, available for a mere $10.00 now!