3DZen returns with the latest episode of their Futa Step Sisters series! Indeed, Futa Step Sisters III: Pool Party is available now in the Affect3D Store!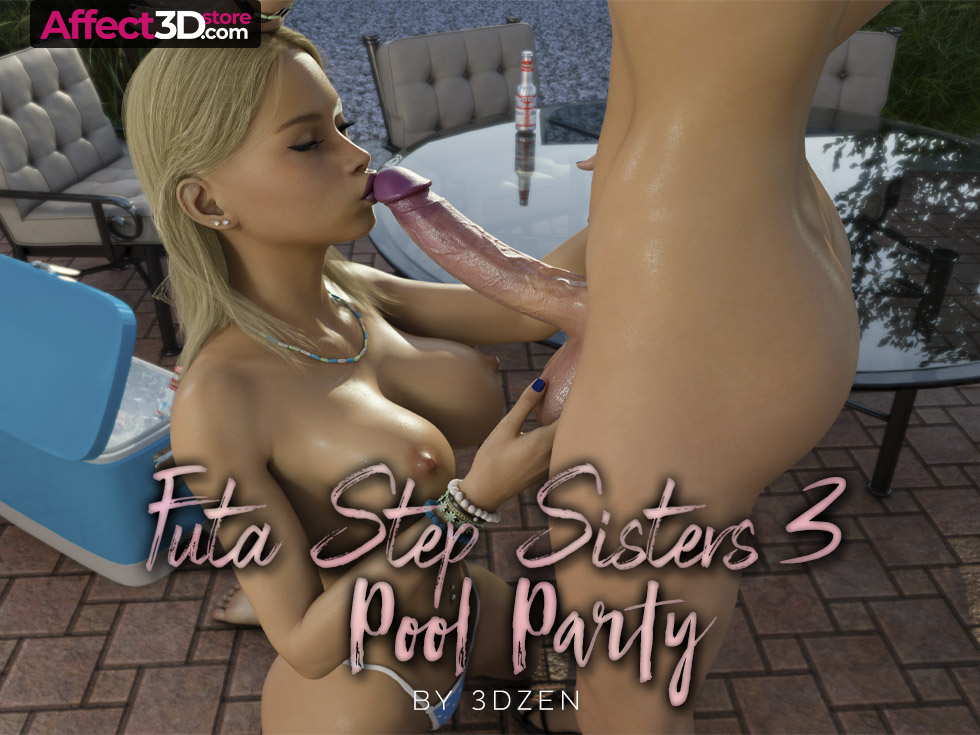 We meet up with the two hot futa step-sisters, Kylie and Kayla chilling by the pool. Whilst they wait for their friends Lauren and Shelly to arrive, Kylie reminds Kayla about the blowjob she got last week at the Spa. Naturally, Kayla can't control her Futa instincts as the memory is still fresh. So, of course, the two horny babes decide to relieve some tension. Kylie obliges and blows her step-sister's throbbing cock. There is however a condition attached – Kayla has to promise to give Kylie her first anal action. A deal is a deal after all!
A while later and one of the friends – a super hot Swedish blonde bombshell – has arrived. Turns out, Shelly is running late so it's not long before the three are flirting.  The newcomer Lauren wastes no time reveling she noticed the girl's huge cocks through the glass table and of course proceeds to give Kylie a mind-blowing BJ ending in a creampie and facial!
Meanwhile, Kayla takes care of her new erection with help from her loving stepmom Amelia of course. The hot MILF redhead rides Kayla hard for a creampie! Once relived Kayla wonders back out to only find Kylie fucking Lauren's ass, Kylie can't get enough anal sex it seems.
You can grab Futa Step Sisters III: Pool Party and all 150 text and textless images for just $14.99!