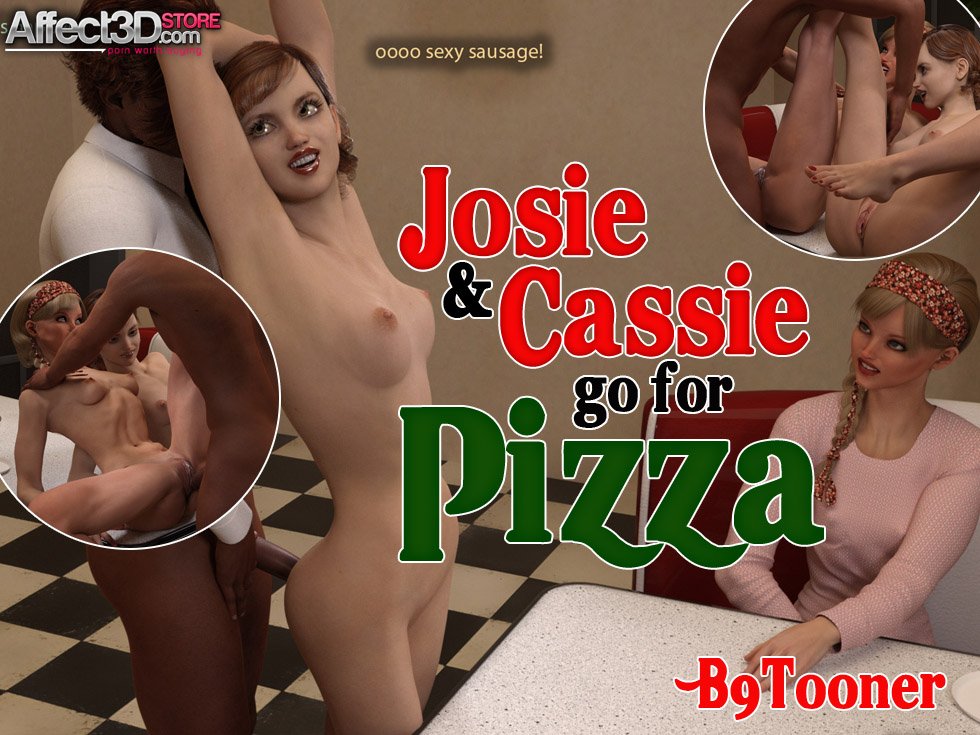 Cassie and Josie have had fun with their session with Professora but now they're hungry! In the latest from b9Tooner, Josie and Cassie Go for Pizza, now available in the Affect3D Store, these girls will be putting what they learned to the test!
They decide to go to the local pizza parlor and are greeted by a waiter named Alfred. He asks them if they're students of ErosU and they say yes. He takes them to a private room in the back and they place their order. Alfred points out the sausage special and Cassie and Josie excitedly ask for it. However, the sausage special isn't for pizza. 😉
Alfred pulls down his pants and his cock is stiff and ready to penetrate. Josie grabs his cock and begins to stroke it before wrapping her mouth around it. Josie takes off her clothes and Alfred wants her to turn around and bend over onto the table. He thrusts deep inside her as Cassie watches. It's short lived and Cassie wants to join in on the fun. She removes her clothes and Alfred suggests that they both sit on the table facing him. It's now Cassie's turn to feel every inch of his cock inside of her but he won't leave Josie out – he fingers her simultaneously. He comes on both of them and while the girls had fun, they're ready to finally have some pizza.
b9Tooner's Josie and Cassie Go for Pizza spans 191 images and contains oral, fingering and penetration. Grab your copy today for $9.99!