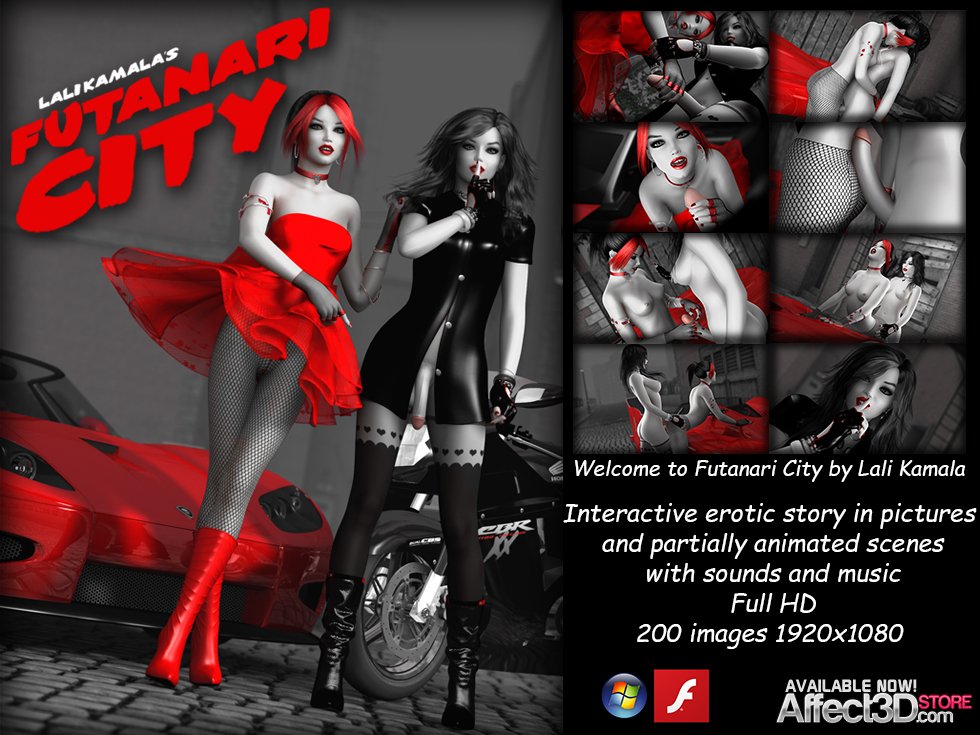 We have another artist giving us their first submission – gosh, it's fun seeing all these new, tasty lewd creations. 😉 Welcome Lali Kamala and their Futanari City, a dickgirl story with some partially animated scenes, sounds and music. Like many similar visual works, you move the story forward at will, but can linger where you like, as you like.
It's nice being in control, isn't it?
You can see Lali Kamala's lovely style work to the side there, and really, I adore how it uses the colors. Adapting them to 3DX is just so obvious, yet how often have I seen it? Exactly. And with those character designs, I'm thrilled to see them getting sexy. They're fucking hot.
I also love that they get right down and dirty in the street. That adds a nice note of public 'humiliation', exhibitionism and vulnerability that also fits the setting deliciously. Add in their hair, those sexy tights and boots, and yum. Yum, yum, yum.
You can get Lali Kamala's first contribution, Futanari City, from the store now for $14.99. The noir-style erotic story between Cassie, our red-clad newcomer, and the sexy af stranger includes 200 images in total.