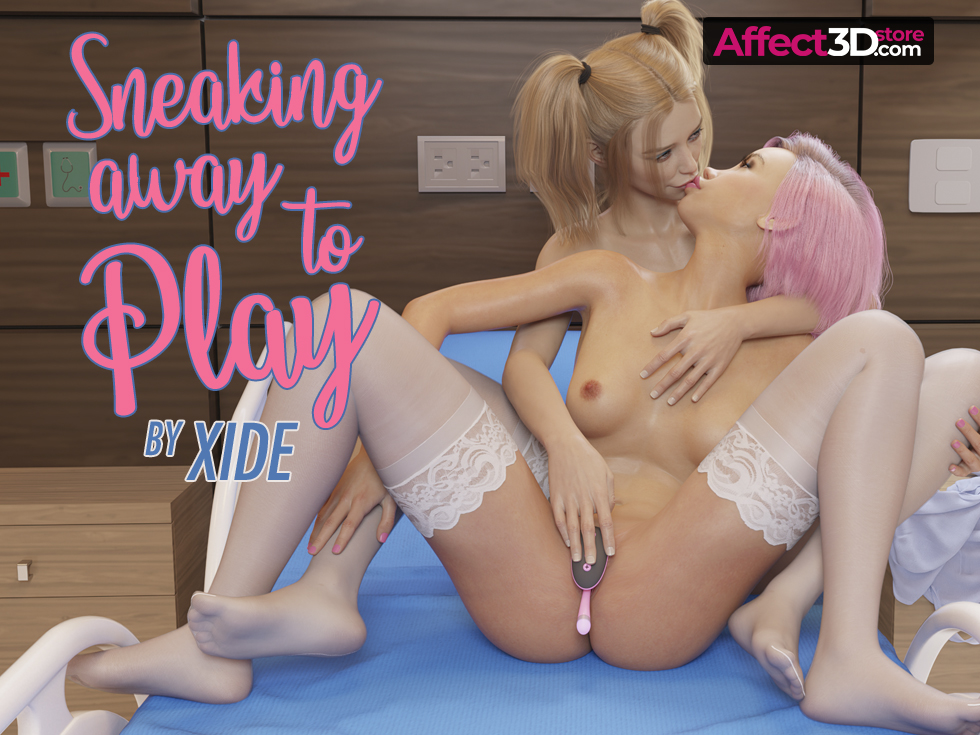 Hospitals can be very high-stress environments with difficult patients – especially of late – so it's very important they get some rest and relaxation in to de-stress. In Xide's Sneaking Away to Play, these two lesbian nurses know exactly how to relieve themselves in an unused patient room.
Triniti finds herself with a little time on her hands and an empty room, so she slips out of her uniform down to her stockings and gets herself intimately acquainted with a bulbous vibrator. Playing with its settings, and different angles of contact with it inside her, she cums hard on the bed with a squirty mess. Yum! And, bonus, these beds are absorbent. 😉
Fellow coworker Xayla comes in, and there's shock on her face – shock that Triniti didn't invite her to play! They quickly brighten with hunger and a solo masturbation session becomes a fun couple session. Making out while the vibe continues its work on Triniti, another orgasm rocks her and she squirts all over Xayla. She has quite the ahegao face!
Xayla then enjoys some oral attention leaning back against Triniti's face before she gets on her back and gets eaten out proper. Happy to help her back, Triniti keeps it up until Xayla has a squirting orgasm of her own. And that… really sounds like the best way to get a break in at work. 😉 You can get this 149-count image set, Sneaking Away to Play, from the store now for $6.99.