On Saturday, Miki3DX released a new futanari visual novel titled Finally Together. Today the comic version is available in the Affect3D Store for fans who aren't interested in the interactive visual novel format.
Nothing can really top the emotional rush one gets when they meet someone in person for the first time. There is anticipation, nervousness, even a little anxiety all wrapped into one. For Anna and Emily this is the very moment they've dreamed of. They've been dating for a few months but never had the chance to physically see each other. Today changes everything. There aren't many words exchanged between the two. The only thing on each other's mind is fucking and plenty of it.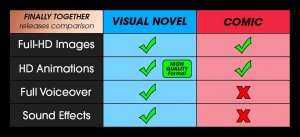 The comic version of Finally Together contains a 93-image comic, 93 textless Full-HD images and 18 HD animated GIFs! If you want to read a little bit more information regarding Finally Together be sure to take a look what Elayn had to say about it on Sunday. If you're on board, you can snag your copy today for only $10.00! And if you haven't already take a peek at the free download of Anna, don't miss that!