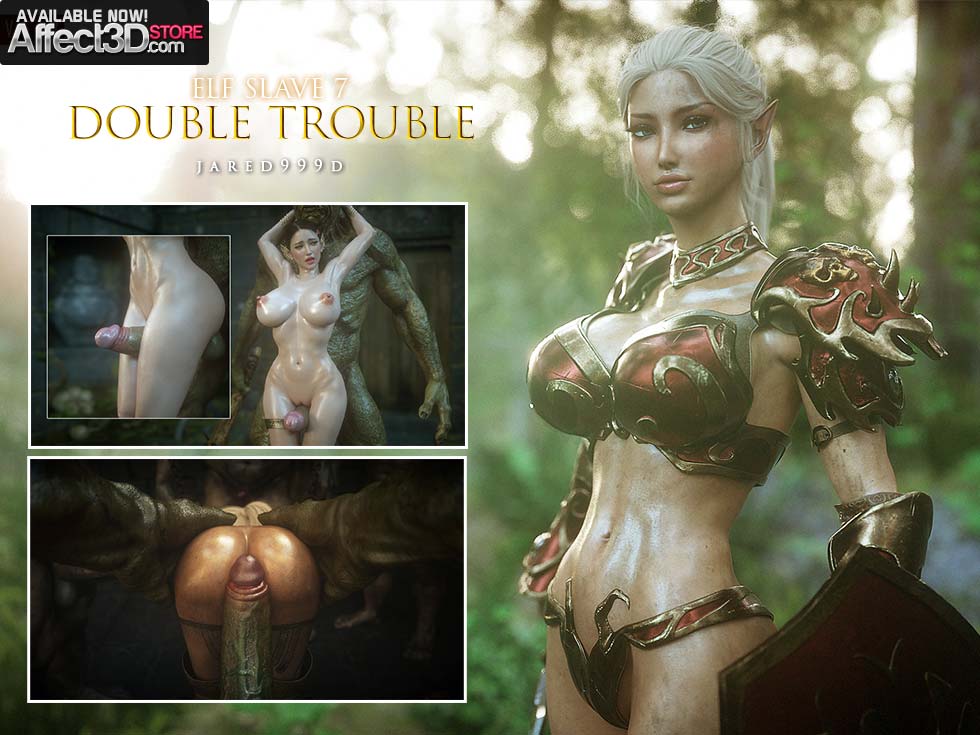 Man, I love Saturday release posts. And I love them even more when it's another installment of Jared999D's Elf Slave series! Indeed, Elf Slave 7 – Double Trouble is here! And boy does its title say it all!
In this episode,we meet up with Suzi who is lost in the forest searching for her friend Karen (and might I add in very revealing attire). She comes across a lone man, drinking at a pond. When he sees her, he just can't resist. Hence, he offers to exchange what he knows about Karen if Suzi agrees to let him fuck her.
Just as the pair get down, a massive orc arrives and the man runs off. Suzi is then dragged back to his lair. Just as all seems lost, Suzi seizes back control (literally) by taking her captor's cock between her fingers and caressing it. The orc lets her continue as she blows him. She is then stood up and the monster slides his cock between her thighs, rubbing against her skin. Naturally, faced with such an exquisite elf, he cums fast and Suzi seems relieved. But rather than softening, his cock just gets harder!
Suzi is lifted up and then gradually lowered down onto her "lover's" member. And to think that's just the beginning!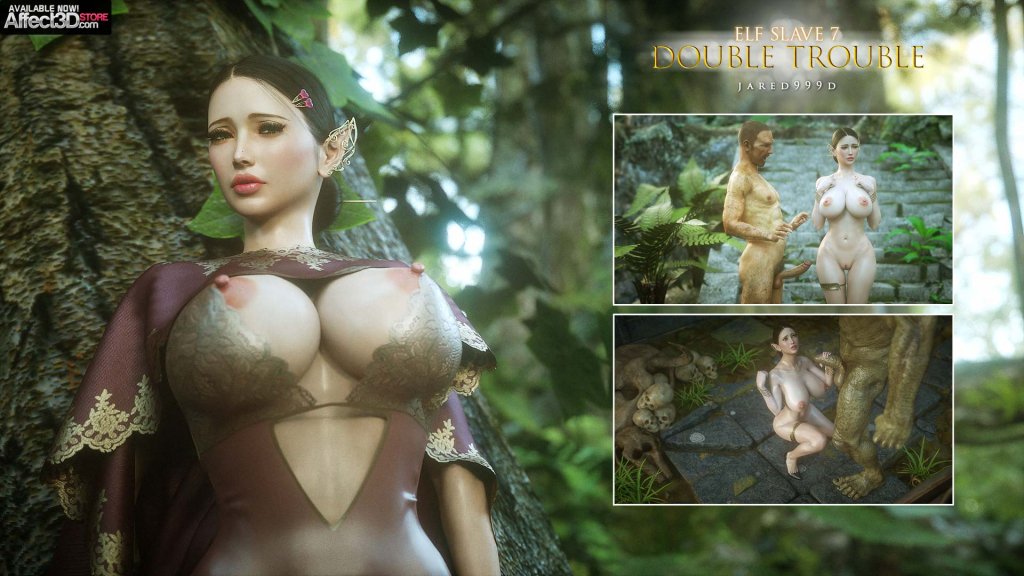 Meanwhile, we catch up with Jenna, who's found herself in the dark dungeon that once housed Karen and Suzi in Elf Slave 3. She's got her hands full fighting off a horde of orcs. Although she seems to get the upper hand, the orcs end up overpowering the elven warrior. As she comes to, she finds herself naked, chained up, and once more with a host of orcs around her. The biggest one, who appears to be their leader, slides his massive cock between her legs. But rather than fucking her immediately, he starts by playing with her tits. And we can see, Jenna doesn't resist him either!
Damn is this one hot! Elf slave 7 – Double Trouble is everything you can expect from the very talented Jared999D – fun, fantastical and downright kinky (but in a very sexy way). The entire collect totals in at 221 images, plus Jared has included a story digest (to catch you up on what has happened in earlier chapters) and concept art for Jenna's new character design, and Suzi's latest outfits. Make sure you pick your copy up in the Affect3D Store for the small price of $10.00!
Elf Slave Bundle 6!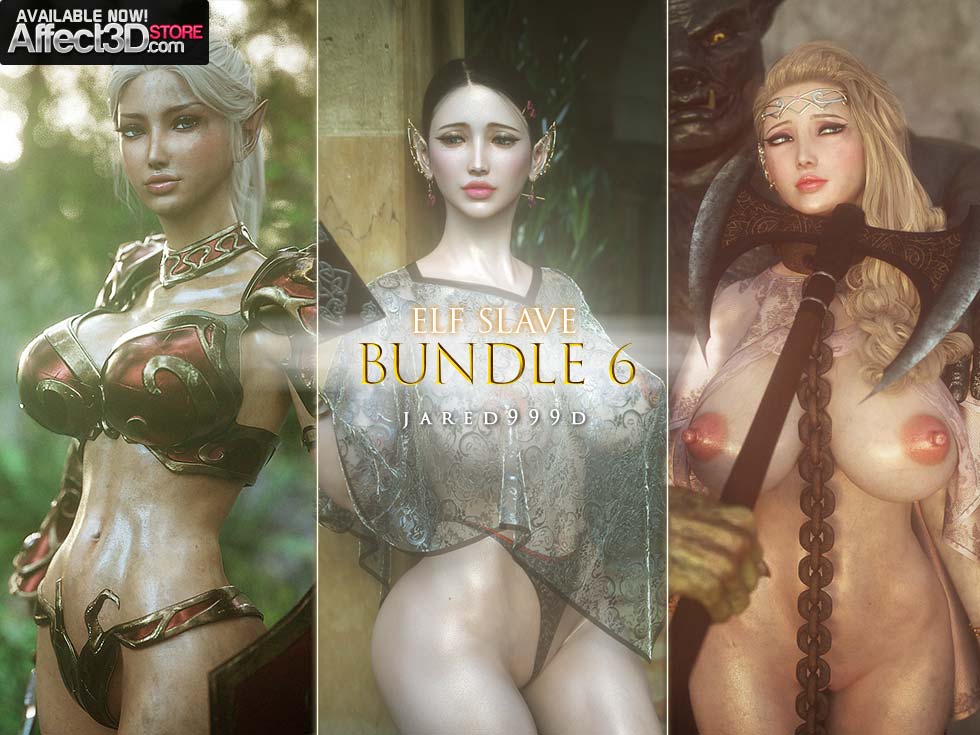 If you've never purchased anything in the Elf Slave series before, this very special bundle contains all you need to indulge in some enslaved elven fun! Elf Slave Bundle 6 contains every title in the series.
Elf Slave: Volunteer One elf, Karen, heard a rumor about sex slaves. Some orcs are trading female humans and elves… Especially if the elf slave is rare and expensive.
Jenna's Revenge Elf Slave Story It has been several days since Karen disappeared. The rest of the elves don't know where she went, nor that she volunteered to become a sex slave. One of her fellow elves, Jenna, decides to head out and look for Karen.
Elf Slave 2 The pure elf Suzi is still looking for her missing colleague, Karen. Suzi had been searching in the forbidden forest for a long time. Finally, she runs into and old little goblin. But can the goblin help her?
Elf Slave 3: Two Elves Karen was imprisoned in the dungeon cell for several weeks. She seems to enjoy her life now, although many things have changed.
Elf Slave 4: Cross Fate Two elves Karen and Suzi constantly had sex with Boer Orcs. They had to accept their demands always. They did not know how many Orcs' eggs they had. Karen was afraid that she could not escape forever with this extreme pleasure. Also, Suzi wished this was a dream. During their life, a goblin sneaks into the prison cell. He was a goblin who looked at Suzi until the end when Boer Orcs took her. Can they get out of here now?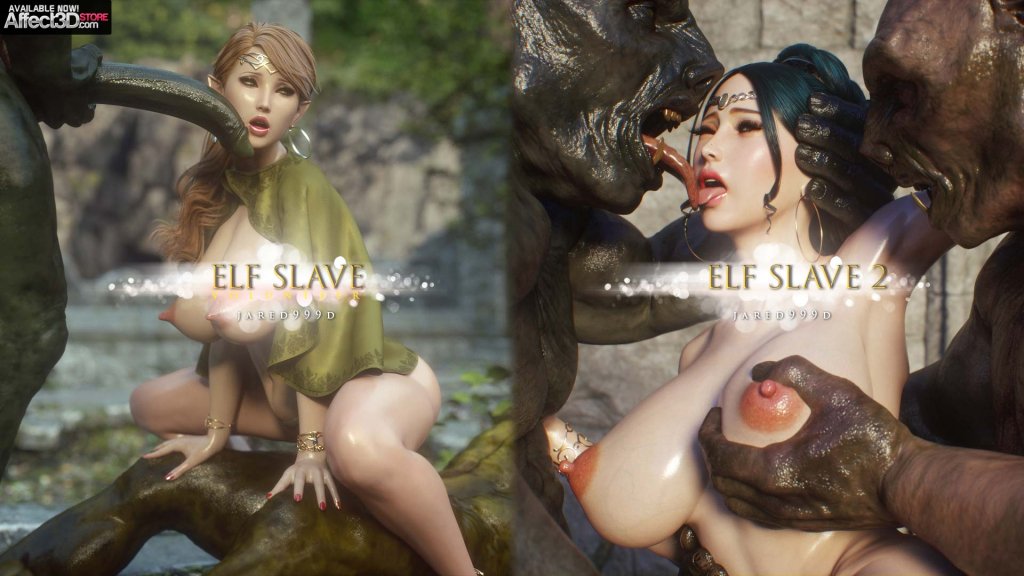 Elf Slave 5: Goblin Bride The Boer Orcs think Karen is no longer useful and decide to sell her. On the way, they meet various humans and monsters, each time Karen had to give her body to them at cheap coins. They meet the Spiky Orcs and decide to stay there overnight. Suzi accepted the proposal of Vics (the goblin who saved her from the Orc's cell). Vics' friends wanted to share Suzi, but Vics did not allow it. But other wicked goblins have an evil plan. One peaceful day, the goblins visited the Suzi couple.
Elf Slave 6: Love and Lust Suzi and Karen continue on their wild journey of enslavement. But they seem to be developing a Stockholm syndrome and are really enjoying themselves. On the one hand Suzi has found a secret goblin lover that fucks her in tandem with her owner and on the other, Karen gets kinky with her pimp orcs.
Elf Slave Bundle 6 is a great way to enjoy Jared999D's Elf Slave series. I mean, for one you'll save a few bucks on the older titles and be able to binge through this epic adventure. It's available at the Affect3D Store now for $43.95, and with the entire bundle adding up to over 1800 images, it's well worth the price!