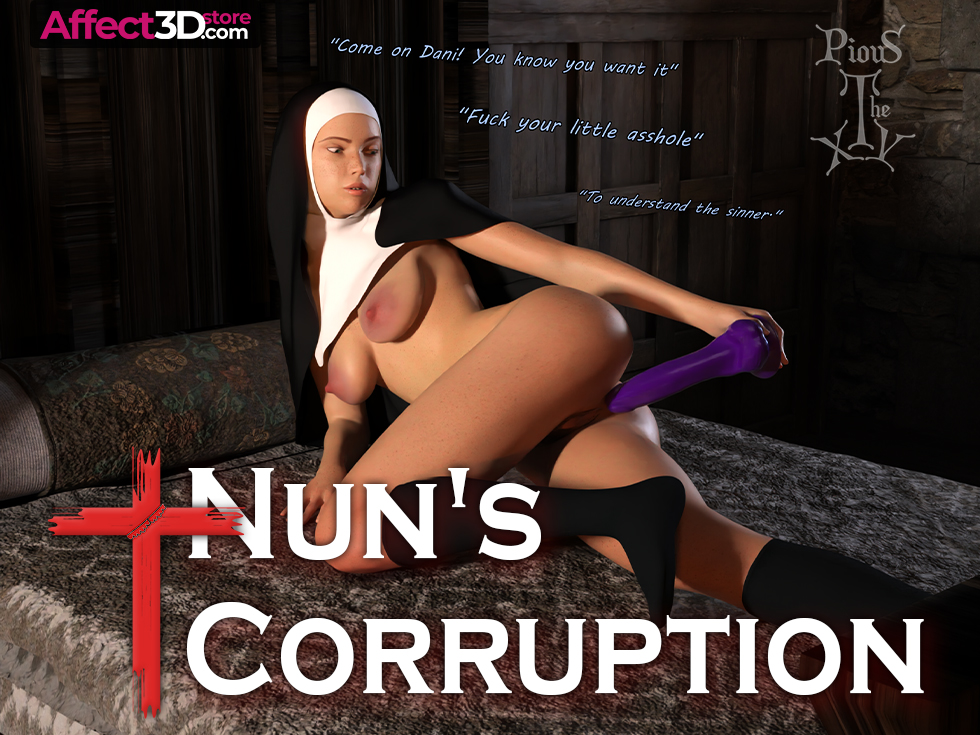 Being a nun you aren't exposed to things of the 'outside' world. Naturally you'll be curious about the things people delve into when they confess. In the debut release by Pious the 15th, Nun's Corruption: Episode 1 Daniella's Discovery, Daniella finds a large purple dildo in the courtyard and decides to take it into her room and learn more about being a 'sinner'. 😉
Taken aback by the dildo she begins sucking on it – she finds herself enjoying it and keeps going until she feels a tingling sensation. She realizes that she's gotten wet from sucking on it and wants to do more. However, being a nun she must remain pure no matter what. She did remember someone confessing how they liked to be ass fucked and concluded that that's acceptable as she can remain pure by doing so.
Taking off her clothes she positions her ass right above the tip of the dildo and slowly lowers herself. Getting a rhythm going, she starts going faster but soon realizes she wants it to go in deeper. She takes the dildo to bed with her and starts thrusting it deeper and deeper inside of her. Exploding from the sensation and asking to be forgiven, she gets sleepy quickly and passes out. Another nun comes to check on her and it doesn't take much to figure out what happened. Will this nun keep her discovery a secret? Or did Daniella unknowingly make things more interesting for herself?
Nun's Corruption: Episode 1 Daniella's Discovery spans across 48 images and is available in the Affect3D Store for $5.00!