Affect3D has a new release from The Dude today, titled Glam Noir, and it's a girl-on-dickgirl title for those who have been craving it. After the steamy three-dickgirl-one-girl foursome that unfolded in The Bliss of Sin, Tatiana and Kayla are still eager to keep going. This time they're done with the pink, though… The sun has gone down and they're in the mood for glamour and black.
Kayla's token cock is gone in this special set — something TheDude has promised to explain sometime in the future — leaving Tatiana to the thrusting. It's a good thing, too, because it looks like Kayla has been longing for a good fucking. When the set opens, we find Kayla ready and waiting, wearing nothing but thigh high stockings, heels, and a cascading black lace robe. When Tatiana arrives, she's dressed similarly, and joins her lover by the window where the two proceed to caress, kiss, and squash their massive tits together. Things heat up quickly, with Tati getting on her knees to taste Kayla's pussy. Soon the two trade places, with Kayla taking charge… First sucking cock, then guiding Tati's cock into her friend's own mouth for some passionate self-sucking.
Even without a cock, Kayla can't help but run the show: moving them to the satin and silk sheets of Tati's bed, Kayla fingers her lover's pussy and sucks the head of her hard cock. Then, not being able to wait any longer, she climbs on top and takes every last inch of Tati's cock in her hungry pussy. After she bottoms out, Tati fucks her from ever possible angle, in a tangle of lace and long, luscious legs. When Tati finally comes it's a sight to remember, with Kayla's tits and face splattered in cum.
Glam Noir is 56 images of HD girl-on-dickgirl fun. Don't miss this installment of Lust Unleashed starring Kayla and Tatiana. It's available now in the Affect3D Store for $9.95!
Mari's Lingerie Obsession Bundle!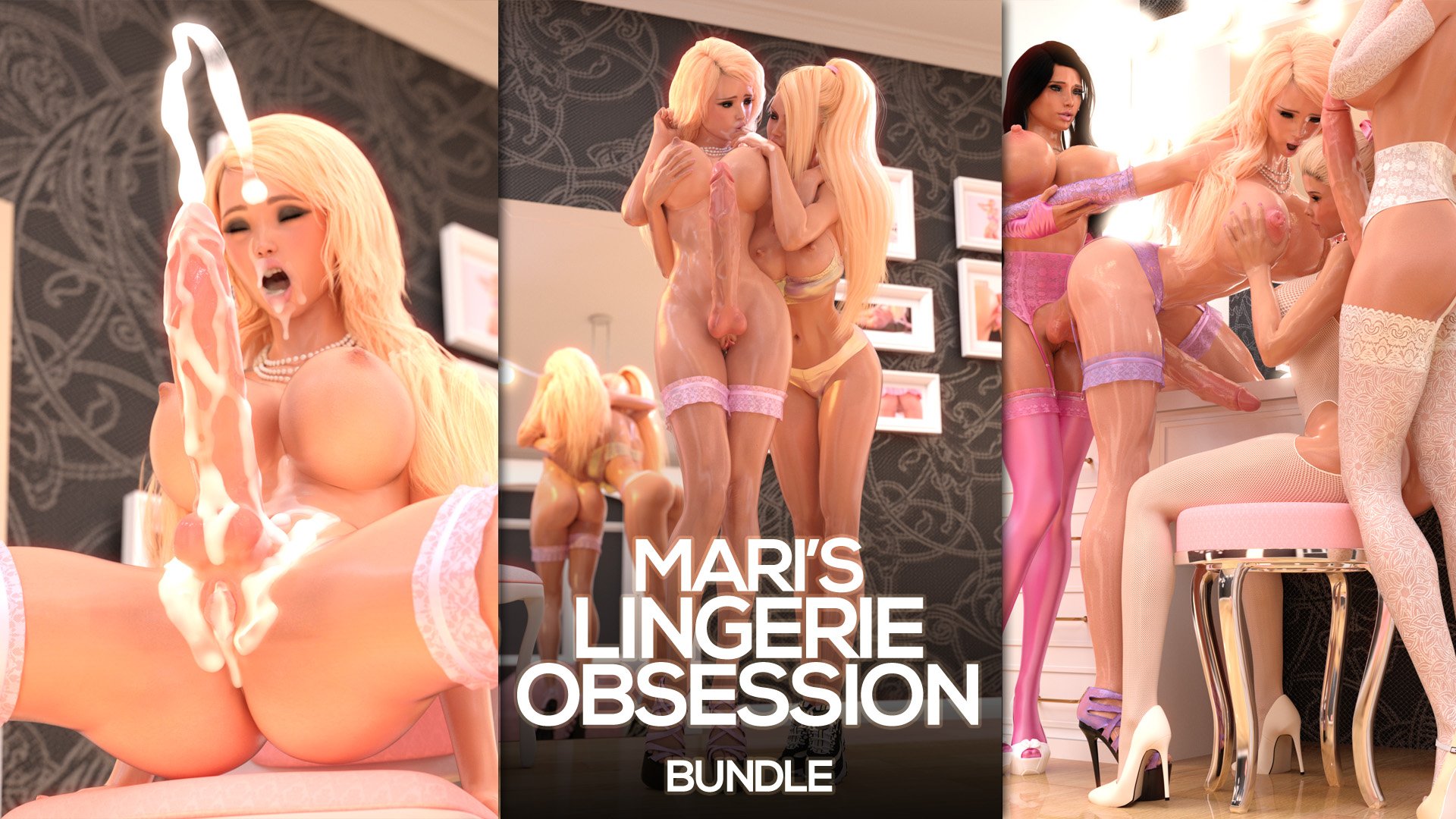 We all love binge watching or reading right? So I know you'll all be as excited as I am (and I mean that literally) for Mari's Lingerie Obsession Bundle. That's right, The Dude has decided to bundle the latest installments in his Lust Unleashed series! Yep, you got it, The Urge to Explore, The Desire to Submit, and The Bliss of Sin will all be available in the Affect3D Store in one convenient bundle for just 24.95! As a temporary promotion, The Dude is offering this bundle for 30% off if you purchase it and Glam Noir in the same transaction. All you need to do is add both products to your cart and the discount on the bundle will be applied automatically! That's 4 titles for $27.45!
Ok so if you're not familiar with the series, here's a quick recap: The cheeky Mari finds herself alone in Bree's futa cave (if that's not a thing, it is now). She marvels at the lingerie, vanity mirror, and paraphernalia that adorn the space. And, being a horny futa, she can't resist the temptation to suck her own cock! Of course, the equally stunning Kayla comes in to discover her new friend covered in cum.
Naturally, being a resourceful young lady, Kayla takes advantage of the situation and proceeds to "reprimand" cheeky Mari. First she has Mari to suck her massive cock on her knees before fucking her doggy style and then fisting her. Then, she takes her futa lover in missionary, making her cum for the second time.
The third chapter finds the two futa lovers playing with toys in very alluring lingerie. Of course, the scene rapidly gets steamy as Bree fucks her lover from behind. Even better, the couple is joined by none other than Tatiana and Bree! The four continue their play with vibrators and masturbation sleeves.
The Dude's work is, as ever, exceptional. And today's releases really gives you the chance to appreciate it in all its splendor! If you haven't purchased these three titles already, be sure to grab Mari's Lingerie Obsession Bundle and Glam Noir today at the amazing promotional price of 27.45!