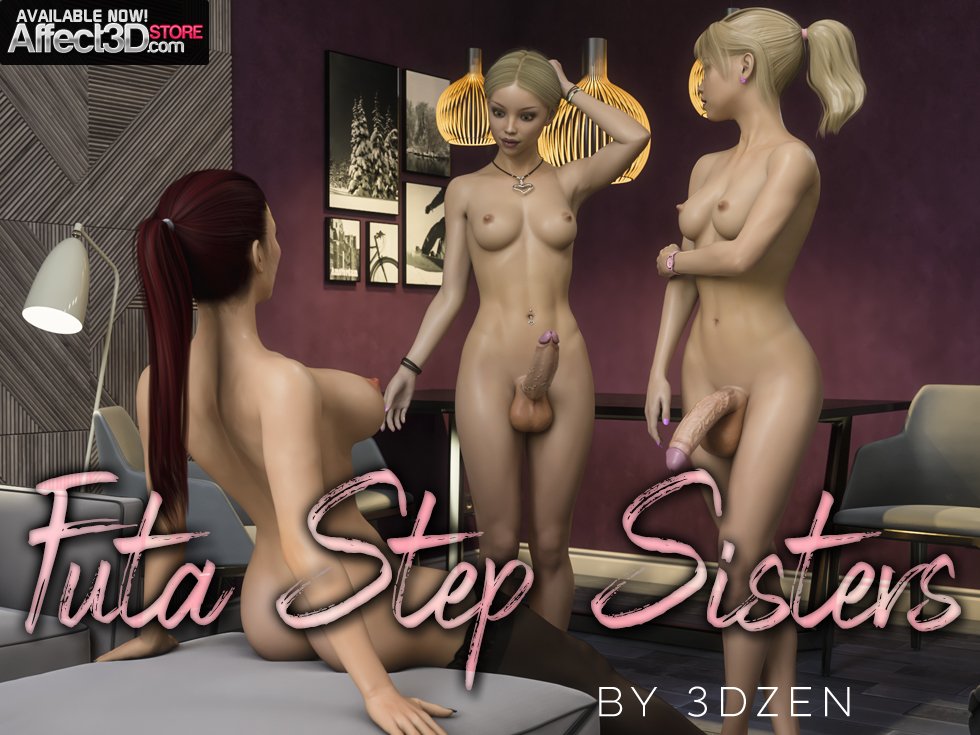 Attending college can be frustrating. New classes, new environment, new people – it's a lot to take in but for some there are other issues that get in the way of learning. In the latest from 3DZen, Futa Step Sisters, step sisters Kayla and Kylie are having some issues with their cocks. Constantly needing to jerk off between classes has caused them to be tardy and lose focus on their studies. Luckily they have someone to help, their stepmom.
Kayla and Kylie's stepmom, Amelia offers to help them with their cock problem. Having experience with futa girls in the past she has more than enough experience and is delighted to help. The key to release is unloading all the cum built up. She instructs the girls to take off their clothes so she can get a good look at them and what they're working with. Amazed by the size she tells them that by unloading they will be okay for at least a couple of days. Shy at first, they agree and they get right down to business.
Stroking Kylie's cock, Kayla couldn't help but become aroused. They've never had anyone tend to them in such a way. All they've done is run off into the restroom and masturbate for release. Amelia tells them that their cum is the key to making them complete horndogs. By consuming it, they'll be overwhelmed with sexual tension that they have to get a proper release. Opting to be their sex doll for the day, Kayla and Kylie tag team and double penetrate Amelia, making sure she feels every inch of their cocks.
Once it's all said and done Amelia tells them whenever they have alone time they can 'practice' in the hopes they will be comfortable with their 'gifts'. Sounds like an excuse to get fucked all the time and hey, who can blame her?
Futa Step Sisters spans across 115 images with text and textless versions for your viewing pleasure. Grab your copy today for $11.99!