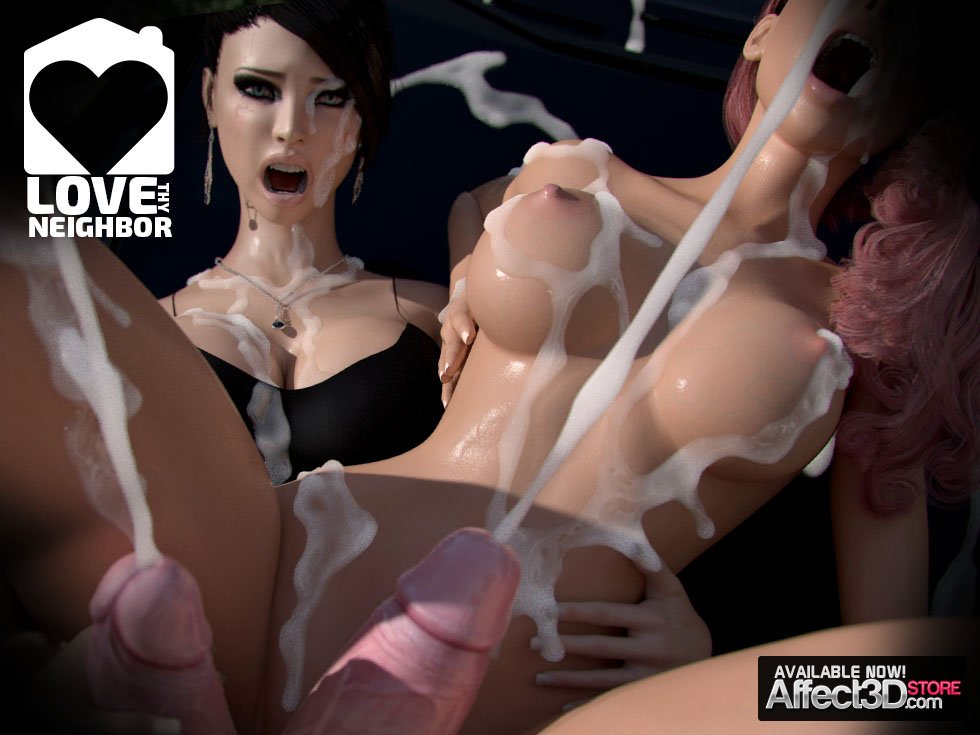 The latest release from miro and Affect3D, Love Thy Neighbor, is now available for just $10.00 in the store. The release contains 158 images and one short animation you won't want to miss.
Storyline
Lanessa and her alter ego Light Lanessa return in an image collection dedicated to neighborly love. Invitations for a house-warming party have been sent and the girls have just pulled up into the driveway of their new home. Seeing Light Lanessa's large breasts on the verge of spilling out of her tight little dress has Lanessa feeling hot and bothered all day, and she needs to have her and her cock all to herself before their guests arrive.
As Lanessa sucks the head of her girlfriend's cock, their new neighbor Arielle unexpectedly arrives at their doorstep. Arielle can't wait to give the new girls in town a warm welcome, but the steamy blowjob she stumbles upon isn't quite what she had in mind. When Light Lanessa gets down on her knees to swallow Lanessa's cock right in front of her, Arielle can't believe her eyes and records the whole thing with her phone.
Amazement quickly turns to arousal, and Arielle's fingers wander down to stroke her pussy in time with Light Lanessa bobbing her head up and down Lanessa's cock. She can't help wishing that thick cock was moving in and out of her instead. Luckily for Arielle, her new neighbors are more than happy to put their dicks wherever she wants them, including the tight fit of her pussy and her ass.
What's Included
158 HD images in JPG format:

126 final images
9 cumshot variations
24 outtakes
8 WIP images of Arielle

1 looping DP animation (25 seconds long, with vocals) of Arielle taking Lanessa's cock in her ass and Light Lanessa's cock in her pussy.
Important for Miro's patrons: if you are an active (Founders) tier 1 subscriber of miro's Patreon, you already have access to this image set via Patreon! If you're an active (Founders) tier 2 subscriber you have access to the image set and the DP animation!