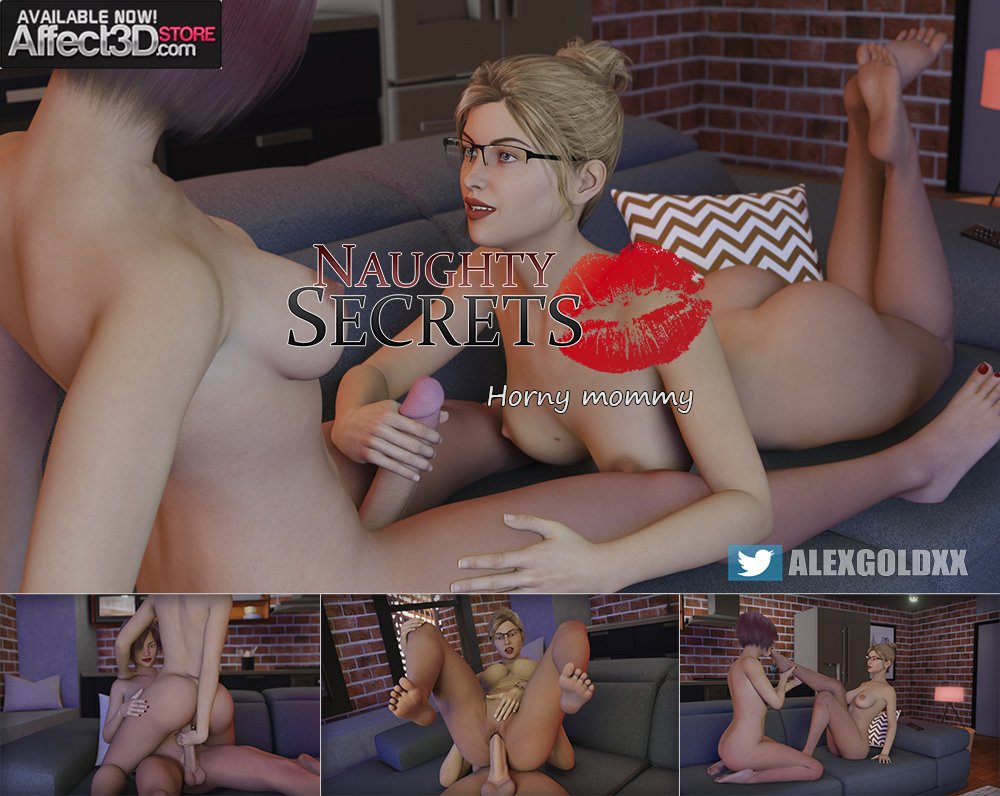 Sometimes you need a little 'me' time here and there. Especially if you're a mother and just want to release some sexual tension. In the latest from AlexGoldxx, Naughty Secrets – Horny Mommy (now available in the Affect3D Store), Martha returns home and wants to unwind. She comes across a porn movie and decides to touch herself but unknowing to her Vicky catches her in the act and decides to give her a hand.
Vicky comes downstairs and startles Martha. Embarrassed, she turns off the television. Vicky tells her she thought that they could watch a movie together. Still trying to collect herself, Martha tells her that she doesn't want to be seen, naked but Vicky says she can help. She drops her skirt and what do ya know, a nice fat cock hiding underneath. Surprised at first, Martha caves in and wants to wrap her mouth around it which Vicky happily obliges to.
In return Vicky licks Martha's cunt and it doesn't take long before they're 69ing. Martha can barely contain her excitement as she immediately mounts herself on top of Vicky, making sure to feel every inch of her member. Some foot play comes before Vicky thrusts herself into Martha's tight ass. Before Vicky cums, Martha insists that she does it on her face which Vicky does and lets out quite a load. Looks like the perfect bonding experience.
Naughty Secrets – Horny Mommy spans across 104 images as well as 7 bonus images and 1 animation with 4 varying angles for your viewing pleasure. Head over to the Affect3D Store and grab this title for only $9.95!