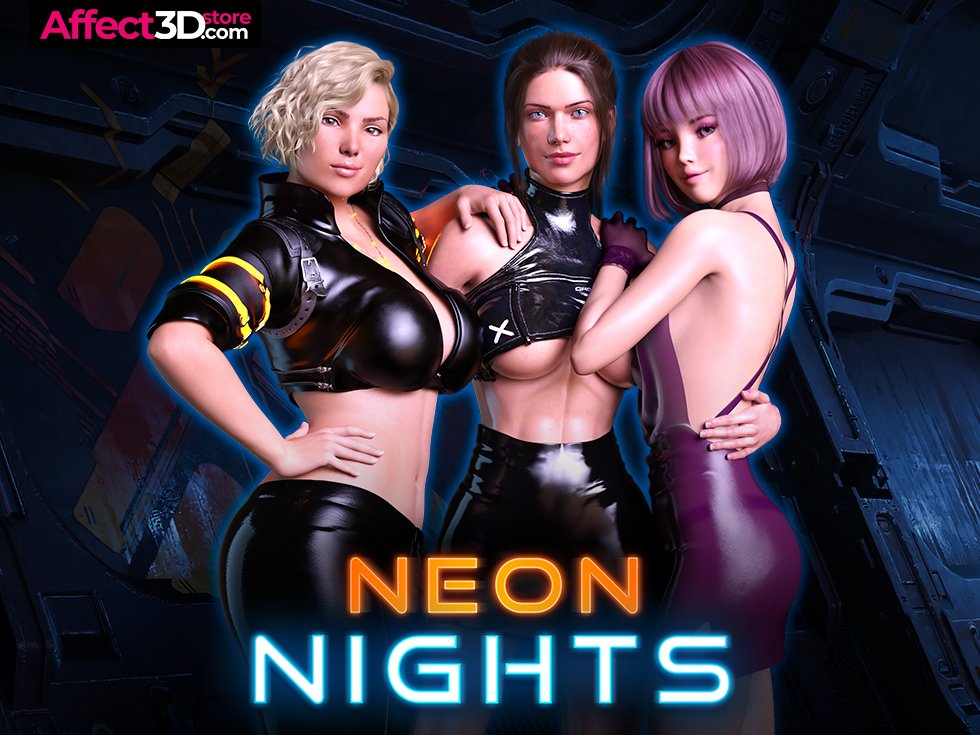 Living in the future can mean a number of things. From everything at your disposal within the blink of an eye to having your entire body modified like an android. For some it's heavenly but there are others who crave the 'real deal'. In Neon Nights, now available in the Affect3D Store, we have a woman named Kate, who is searching for 'pure' humans. And not only does she find one, she finds a pair.
Pulling up to two women Kate asks what they're doing in such a shady part of town. Violet and Jasmine tell her that they're prostitutes and are looking for a good time. This immediately grabs Kate's attention as she walks up to the two of them and shows them her massively thick cock. You don't see schlongs like this in the underworld so Violet and Jasmine are going to make the most of it.
Jasmine gets on her knees and wraps her mouth around Kate's member while Violet locks lips with her. It doesn't take long before Kate is wanting something more and she takes Violet. Assuring Jasmine she won't be left hanging, her drone whips out a little something of its own. Sure, it's not a human cock but it works just as good. The four of them enjoy an evening of pure debauchery but Kate has an agenda, that is, until she got busted by a cop.
Neon Nights spans across 560 images – two text versions alongside a textless version and 31 bonus images! Grab your copy today for $10.00!