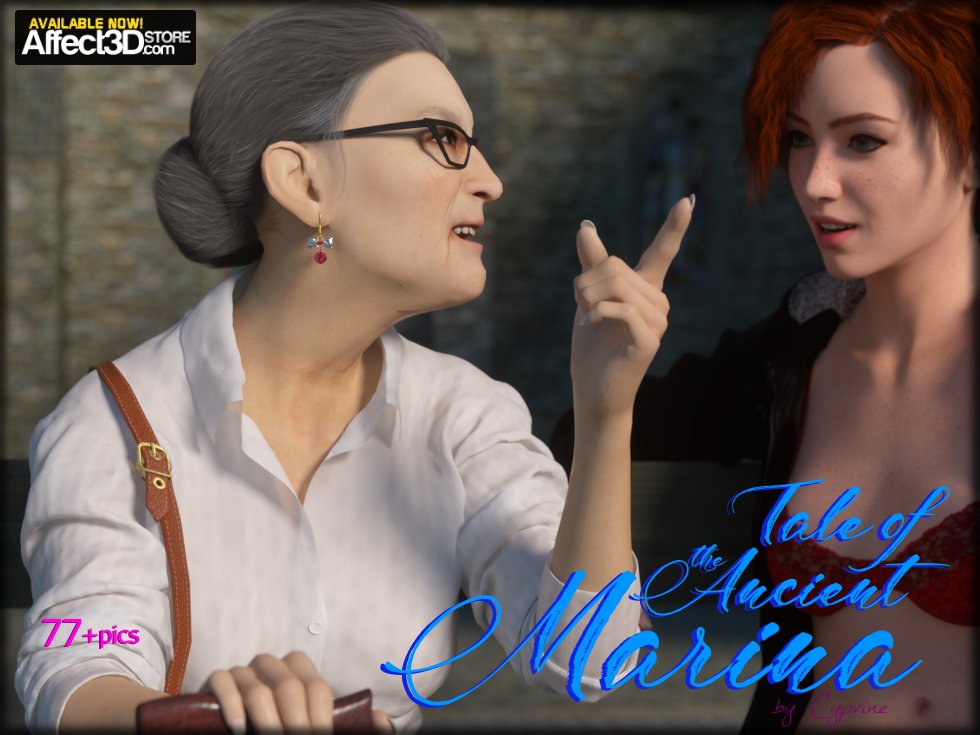 It's not everyday that you're interrupted by someone who reminisces on a memory and opts to tell you. In the latest from Cyprine, Tale of the Ancient Marina (now available in the Affect3D Store), Old Marina meets Roisin and Kay and tells them a story of how a special encounter made her feel alive again.
Roisin and Kay are fooling around on a park bench when Old Marina walks up to them. Seeing these two reminds her of when she was young herself but food was scarce and her town was in shambles. One day she noticed a black haired woman who was being chased by a burly man. Making sure to not be seen she couldn't help but watch what was taking place. The woman was clever but the man was a step ahead. Marina stepped in and helped, knocking the man out cold. Thankful for the assistance the woman wanted to show her how grateful she was…by embracing her with a gentle kiss. Things slowly escalate as they take off their clothes and explore each others bodies with their mouth.
After telling the story to Roisin and Kay, Old Marina walks off and as she's heading home she hopes that those two make memories of their own together.
Tale of the Ancient Marina spans across 54 images and also includes images of Roisin and Kay making their own memories in a park as well as some extras for you to enjoy. Altogether you get 77+ images for only $5.00! Grab your copy today in the Affect3D Store!